It's that time again! Can you believe it?
It's just about time to start packing up the kids to send them away to college. For some parents, it's your first time that someone is leaving the nest; for others, it has become second nature.
Whether your child is going into their freshman year or starting graduate school, we have a list of recommended school supplies for their dorm or apartment.
Also, just a special thank you to those of who also sent in your back-to-school gift ideas and suggestions for 2015. If you're looking for a gift idea, our annual gift guide features a wide variety of gift ideas in the categories below:
Technology
JBL Clip 2
The upgraded JBL Clip 2 ($59.95 – various colors) Bluetooth waterproof speaker features a built-in carabiner for easy portability, so users can easily clip it onto a backpack, bike, etc. for an active adventure! The speaker can even play through rain or during a shower. Users can enjoy crystal clear calls thanks to the noise and echo-free speakerphone. For even more amplified sound, the wireless daisy chain allows you to connect two Clip 2 devices together. The durable fabric and rugged rubber materials are built to last on all escapades.
JBL Charge 3
JBL Charge 3 ($149.95 – various colors) portable speaker features a high-capacity battery to charge all your devices while you're on-the-go (i.e. flying to your first cruise destination, ensuring you have a charged up smartphone for all the necessary photos). The ultra-powerful waterproof speaker includes JBL Connect so you can build your own JBL speaker ecosystem for an elevated listening experience. The JBL Charge 3 also includes a speakerphone for crystal clear calls thanks to the noise and echo-cancelling speakerphone.
---
Jabra Halo Smart
The Jabra Halo Smart wireless stereo headphones were created in response to consumer demand for a multi-purpose headset specifically designed to support the many scenarios of a busy lifestyle. The worlds of calls, music, voice and other media are converging thanks to smartphone usage today, and audio devices are pivotal to the mobile experience.
The Halo Smart features a neck-band wearing style and is perfect for on-the-go students who want to seamlessly manage calls, music and media using one device, but require optimal voice and call-quality, above all else. The Halo Smart fulfills the requirements of the converged world we now live in, and enables hard-working students to get back in the zone and remain "always available." Key features of the new headphones include:
—Best-in-class call experience as well as a superior wireless music experience
—High-quality microphones with integrated wind noise protection and 10mm speakers for superb in-call quality
—Dedicated Google Now / Siri button for enhanced voice capabilities
—Extended battery life providing up to 17 hours talk time and up to 15 hours of music listening time
---
Dashlane
Dashlane subscription gifts are big and there are a number of options available that will help set students (and moms & dads!) on a path to success. Dashlane ensures that your critical information stays safe online and across devices (especially mobile, which is increasingly important with more and more students spending time on their phone). 
Your college student is likely spending 8-10 hours a day on their phone, so it's important that they protect their information and identity. With both a free and premium product, Dashlane Premium is a steal at $39.99/year. This easy to install app works across every device to keep your identity safe (in fact, it was named a Best Identity Theft Prevention Tool).
---
Picture Keeper
Picture Keeper lets you download your photos from your phone, tablet and computer! Easily store your photos in one place and free up memory on your devices. Throw it in your pocket to take with you everywhere! Picture Keeper is amazing for traveling, the big recital and more!
You know that annoying "No Storage" message that pops up on your phone at the worst possible times? Never delete another memorable photo on your phone again with Picture Keeper. A USB back-up drive designed to free up space,  Picture Keeper protects irreplaceable memories on smartphones, computers and tablets.
Easily backup photos, videos, and contacts from your smartphone or tablet directly to Picture Keeper. It's compatible with both iOS and Android phones. Simple and convenient, Picture Keeper Connect is available in 16GB, 32GB and 64GB.
How it works:
Plug in your Picture Keeper to your Mac, PC, smartphone or tablet. Click "Start Backup" and let Picture Keeper do the rest. Your files will be backed up and protected in no time.
• On-The-Go –A must have during vacations, Picture Keeper can be used anytime and anywhere.
• Backup & Restore –Do you have an old phone with tons of awesome pictures? Easily transfer your photos onto Picture Keeper
• Easy Setup –No wires to connect, no complicated setup, no passwords to remember. Just plug it in and let Picture Keeper do the rest.
• Free up Space –Backup your current device and make room for more memories.
• Picture Keeper Connect – For smartphones, tablets & computers to store photos, videos and contacts. Download our free mobile app available in both the app store and google play store to get started!
• Picture Keeper Pro –For computers (Mac & PC) , to store photos, videos, music and documents.
• Picture Keeper –For computers (Mac & PC) to store photos
---
Simplified IT Products 
Since 2008, Simplified IT Products has been creating new solutions to help customers protect their irreplaceable files with ease.
The Expression ET-2550 EcoTank wireless all-in-one is just one printer in Epson's game-changing EcoTank lineup and addresses a big customer pain point – out of ink frustration. Students and parents will be a little less stressed when utilizing the ET-2550 for cartridge-free printing with super-high capacity, refillable ink tanks. The printer comes with enough ink in the box to print for up to two years.
This huge amount of ink is enough to print up to 4,000 black/6,500 color pages, or the equivalent to about 20 ink cartridge sets so students don't have to worry about running out of ink at inopportune times. In addition, the ET-2550 delivers convenience and value with ultra low-cost replacement ink bottles and innovative refillable ink tanks. It features built-in wireless connectivity for easy printing from a wide range of smart devices – perfect for students with connected lifestyles. And when it finally comes time to replace the ink, bottle refills are available for just $12.99 each.
---
Beauty and Personal Care
Almond Blossom Organic Body Wash
An all-natural sweetener, honey can be used for so much more than just your tea or coffee. Loaded with nutrients, antioxidants and healing compounds, honey can help moisturize, fight aging and fight bacteria.
From the hive to your beauty routine, sweeten your skin with Almond Blossom Organic Body Wash byFarmaesthetics. Providing a luscious, organic bathing experience with honey absolute, natural suds will cleanse, freshen and soothe the body without drying your skin.
The Almond Blossom Organic Body Wash is $45 and available online via www.farmaesthetics.com.
---
G.M. Collin Daily Ceramide Comfort is a replenishing and nourishing skin care supplement in practical single dose capsules for all skin types. The combination of sophisticated and unique ingredients, such as soybean oil and vitamin E, improves the skin's epidermal moisture barrier and provides skin with an instant and incredible comfort. This highly practical capsule with exquisite texture and scent will give the skin a silky smooth texture and a remarkable softness, while preventing wrinkles and fine lines. To use, twist the small tip until it breaks away from the capsule; squeeze to release the contents drop by drop and apply to the skin. $98.00 – visit GMCollin.com for local spa retailers.
G.M. Collin Native Collagen Gel is a visibly re-energizing, dermo-dynamic gel, formulated to protect, moisturize, restore the skin's natural defense mechanisms and fight wrinkles. With its unique combination of active ingredients, such as Soluble Native Collagen, Grapefruit Peel, Hydrolyzed Elastin and Oligopeptide-5, the revolutionary gel is perfect for dehydrated, devitalized and mature skin. $80.00 – visit GMCollin.comfor local spa retailers.
---
Hidraderm Facial Cream
We all know hyaluronic acid is an important staple in our beauty routine. But why have one type of hyaluronic acid when you can have three? The Hidraderm Facial Cream by Sesderma contains three types of hyaluronic acid for instant hydration and softness, visible reduction of fine lines and a deep hydration and repair of wrinkles.
The Hidraderm Facial Cream is $44 and available online via www.sesdermmausa.com.
---
Hemp Skin Stem Cell Serum
Stem cells contain two key components: growth factors, which play a role in cell division, the growth of new cells, and the production of collagen and elastin; and proteins, which regulate that stem-cell division. When applied to your skin, these two components help firm wrinkles and slow the development of new lines.
Dynamic Sonic- HEMP SKIN STEM CELL SERUM ($ 375.00)
This Stem Cell is a peptide formulated from a rare Swiss apple that did not shrivel when picked and stored. This stem cell peptide was formulated in a laboratory. The Skin Stem Cell Serum regenerates the skin by improving elastin, texture and tone.
Smooths fine lines and wrinkles while nourishing and hydrating the skin
Benefits
• Tightens and smoothes the skin
• Increases fibroblasts & stimulates cellular growth
• Rearranges the skin's extracellular matrix for a smoother appearance
• Increases skin elasticity, density and volume
• Helps reduce damage caused by free radicals
---
Good Karma Skincare
Good Karma Skincare wants to share their "enlightened beauty" with you to help get the word out to anyone interested in natural solutions for their skincare needs.  Good Karma Skincare products provide anti-aging, moisturizing and smoothing properties that result in a youthful radiance (withOUT any potentially harmful ingredients).
As a holistic practitioner with a demanding schedule, Cynthia Ransom was compelled to create much needed skincare products that are convenient, affordable, luxurious and truly natural….but most importantly, proven to yield genuine results.
Desiring an effective yet simple anti-aging routine, she began creating products using holistic ingredients and a few secret weapons. Her skin repairing arsenal included a mystical formula received from her client, a 68-year-old Shaman that Cynthia will tell you has "amazing skin!"  
The Shaman (or 'medicine woman') partnered with Good Karma to share her seven oil formula she received in meditation; thus Lux 7 was born. Using the oil as the foundation, Cynthia worked with bio-chemists for over two years to perfect her nutrient dense formulations. Once finalized, simplifying the beauty process was realized by taking four of her products; a daily moisturizer, a skin refining serum, an eye cream and a night cream and combining them into ONE JAR. Thus Lux 7 All-in-One Face Cream was born.
Using her holistic science knowledge and experience, Cynthia also helped to pioneer a new process used in all Good Karma products; Bio-Fresh™ is advanced homeopathy that helps to preserve the integrity of ingredients and direct the botanicals to work in synergy, creating beautiful complexions. And of course, they kept the original seven oil recipe as Lux 7 Rejuvenating Facial Oil. You can see the entire line of Lux 7 products at: www.GoodKarmaSkincare.com.
---
Nights are getting cooler, the sun is setting earlier and rising later. Toward the end of the month leaves on the trees will begin to change colors, which means many things- one being that school is around the corner.
Soon enough, 'back to school shopping' will begin – and while it's easy to pay attention to the more obvious things that enhance your external attire, what about the more subtle items that bring your look together?
Having the perfect fragrance to spritz on in the morning is crucial – not only is it the finishing touch to your outfit, but it's also a direct reflection of your personality. And with Fragrance.com (AKA FragranceNet.com), you can find nearly every fragrance under the sun to kick start the school year smelling fresh!
For Her:
Marc Jacobs Lola ($61.99 at Fragrance.com) – This fragrance is a grown-up version of Daisy. Lola is for the flirty, fun, free spirit. Lola is innocently sexy with dazzling notes of pink peppercorn blended with subtle vanilla, musk and tonka bean.
Vera Wang Rock Princess ($30.99 at Fragrance.com) – Rock Princess is the older, sexier sister to Vera Wang's original Princess fragrance. It contains some of the same sweet notes as Princess, but settles on the skin a little darker than its predecessor. It has notes of red raspberry, white peach, creamy coconut, jasmine and more. 
For Him:
Lacoste Pour Homme ($22.99 at Fragrance.com) – Edgy notes of cinnamon, juniper and plum make Lacoste Pour Homme the ideal fragrance for the sophisticated guy. The wearer is most likely to succeed, but still knows how to have a good time. Its notes consist of cinnamon, apple, juniper, plum, and woods.
Guess Seductive Homme by Guess ($20.99 at Fragrance.com) – This fragrance is intended for a charming, charismatic and magnetic gentleman. It is a crisp fragrance that gives off a woodsy and musky scent—mixed with a hint of black pepper—it'll make your masculinity go up a solid 10 points.
---
Giraffe Razor Extension Handle
In the evolution of the razor with all of its technological advances on getting a close shave; it has yet to evolve in the designing of the razor handle to include people limited in flexibility and mobility. How can you get a close shave if you can not get close enough to shave?
There are millions of women each year who are unable to shave their legs due to the discomfort of symptoms associated with a chronic medical condition or the postoperative phase of hip and knee replacement surgery and the third-trimester of pregnancy. All of these conditions decrease flexibility and mobility and therefore, make shaving difficult if not impossible with a short-handled razor. As a consequence, some women just "give up" on shaving their legs entirely or resort to a caregiver or loved one to carry out this personal daily care routine.
There is now an option for these women to shave their legs independently with comfort and safety. Introducing the Giraffe Razor Extension Handle, a shaving accessory designed to customize the length and angle of your premium disposable or reusable razor.
The Giraffe Razor Extension Handle is available for $29.99 on Amazon.com and Giraffebathandbody.com
---
Ecco Bella
Your wedding day is one of the most important days of your life and what bride doesn't want to look their best? You've got the dress and Ecco Bella has everything you need to help you look radiant on your big day! From skincare to makeup Ecco Bella has the recipe for what they call Intelligent Beauty guaranteeing all their products cruelty-free.
Having clear and beautiful skin is the best starting place for your wedding beauty preparation and Ecco Bella has an entire line of products to suit your individual needs. With a base ingredient of VitaminCells, their lines are top quality to help your skin glow while also giving it natural ingredients to help you stay looking young and beautiful even after your big day. Choose from the Anti Aging Anti Blemish, the Anti Aging, and the Revitalize Foursomes depending on your skin needs.
The Ecco Bella Makeup collection is just as beautiful as it is unique from other cosmetic lines. Inspired by the delicate beauty of flowers, their FlowerColor Makeup is infused with flower wax. The same coating that protects flower petals from the elements, can do the same for your look in a range of stunning colors and shades. Perfect for all skin types, including sensitive, Ecco Bella's face, lip and eye collections actually make you look better as the day goes on without the need for constant re-application. 
---
PurErb
PurErb has transformed the therapeutic secrets of Mother Earth into herbology-based skin care that will nurture skin and resonate deep within your inner being.  The new Serenity Calming Moisturizer is a luscious cream infused with exotic botanical extracts including Baobab, Bulgarian Rose, Kakadu Plum andEdelweiss.
EW PurErb Serenity Calming Moisturizer
Soothes, softens and hydrates stressed skin.

Improves tone and texture.
Delicate floral notes create a sense of tranquility.

Additional ingredients include

apple, rose hip oil, vitamin E, cucumber, marula oil, safflower, sweet almond oil, lavender, thyme, peppermint, lemon peel extract, cinnamon, oregano, frankincense

and 

tangerine.
Use morning and night after cleansing and toning.  Apply gently onto face and neck in an upward and outward motion.
$58 via www.myskincarebox.com.
---

Arm & Hammer Simply Saline
Arm & Hammer's Simply Saline makes breathing simple and easy – opening your senses to the possibility of new adventures and experiences.  Made with just three ingredients: water, salt, and Arm & Hammer baking soda- it can be used as much or as often as needed.
---
For Home and the Dorm
MAX One
One in five college-aged young adults would sleep through a smoke or carbon monoxide alarm going off in their college home or apartment.  Studies have found that 21% of young people don't wake up to the traditional high-frequency smoke alarm sound.
That figure nearly doubles if the young people have been drinking…38.5% don't wake up. In those same studies, every young person, whether drinking or not, woke up to a lower frequency sound. A new easy-to-use security device emits that frequency and is designed to make sure everyone gets up and out in time. The MAX One device plugs into any wall outlet and listens for the high-frequency sound emitted by most smoke and carbon monoxide detectors.
When it hears that sound, it emits a lower frequency sound that has been scientifically proven to wake up more people. In addition to sounding an alarm, the MAX One is also equipped with an emergency light that flashes when its alarm has triggered.
And once someone grabs the MAX One out of the wall outlet, the internal rechargeable battery kicks in and it becomes a flashlight to help light the way out. The unit also sports a motion sensor that can be set to flash and sound that same low frequency alarm if there is any kind of unwanted movement in a college apartment or bedroom.
The MAX One retails for $39.95 and can be found at Home Depot stores nationwide and online at www.MAXSmartHome.com.
---
T-fal OptiGrill Plus
There's no need to say goodbye to your BBQ favorites when the weather turns chilly. Bridge the seasonal gap from summer to fall and move the grilling indoors with the T-fal OptiGrill Plus.
This revolutionary "smart" indoor grill can easily cook up all of the family's tasty grilled recipes from the shelter of your own home, no gloves or layering required. The innovative OptiGrill Plus features a cooking sensor that guarantees a perfectly cooked meal every time. The built-in sensor automatically adapts to the thickness of your food and delivers perfect doneness from rare to well-done for six different programs: burgers, poultry, Panini, sausage and pork, red meat and fish. 
Below is a healthy fall grilling recipe for Carrington Farms Grilled Vegetable Skewers using Garlic Liquid Coconut Oil.
INGREDIENTS
½ cup lemon juice

½ cup soy sauce

Pinch of salt

½ cup of sliced red bell pepper

½ cup sliced yellow bell pepper

½ sliced red onion

20 cherry tomatoes

½ sliced zucchini

½ sliced eggplant
DIRECTIONS
1.Place all vegetables in a large bowl.
2.In a small bowl, mix together Carrington Farms Garlic Flavored Liquid Coconut Oil, soy sauce and lemon juice. Pour over the vegetables.
3.Cover bowl, and marinate in the refrigerator for 30 minutes.
4.Place vegetables on skewers (if using wooden skewers make sure to soak first).
5.Spray grill with Carrington Farms Coconut Oil Spray.
6.Set grill to medium heat.
7.Place vegetable skewers on preheated grill. Cook for 12 to 15 minutes.
---
Sylvania Lightify
Sylvania Lightify is an entire portfolio of smart lighting and lighting accessories that's easily controlled all at the touch of your finger—via the free LIGHTIFY app! It all starts with the wireless Gateway that can be plugged into any standard wall outlet and syncs with WiFi. Here are some cool features that would be perfect for those grads going off to college for the first time:
—It has a wakeup feature that naturally wakes you up with brightening light in the morning—with mom no longer there as the human alarm clock this is the perfect feature for making sure your grad gets to those early morning classes on time!
—You can control the color temperature of the lights—adjust to cooler white light for concentrating when studying for those exams and turn to warmer light when you want to just relax and wind down for the night.
—You can change the lights to 1,000s of different colors—perfect for those dorm room hang outs with friends (you can even adjust to your school colors to get pumped up for the big game!)
Products are available at retailers nationwide and online like Amazon.com and Lowe's.
---
Keurig
Keurig is great for dorm rooms, small apartments and even parents waking up early who just like to save counter space. Two particular models we like include:
Keurig K15 Brewer ($100) – Keurig's smallest brewer (10.8" H, 6.9" W, 10.7" D) comes in Black, Platinum, Chili Red, True Blue and Jade, and can brew three cup sizes in under two minutes.
Keurig K250 Brewer ($120) – Can brew both single cups and a four-cup carafe of coffee–perfect for roommates. Available in Imperial Red, Peacock Blue, Plum Grey, Oasis, Sandy Pearl, Black and White.
---
Post-it Brand 
The Post-it Brand will introduce a range of fun products for the school year. 
Post-it Pop-up Note Dispensers in new styles including a Camera and Polka Dot Purse
Fresh Post-it Note color palettes – featuring the Miami collection
Post-it Dry Erase Surface – a flexible whiteboard solution for your desk, wall, locker and more
Fun shapes like Cupcakes and Paw Prints and other trends, from metallics to prints
---
Photo Blankets from CVS
Photo Blankets (starting at $54.99) and Pillows ($34.99): There's nothing like a little touch of home when you're living on your own in the dorms for the first time. Customize a photo blanket or pillow for your grad with a photo of their furry friend they're sure to be missing!
---
Health & Fitness
Harmless Harvest Coconut Water 
Harmless Harvest Coconut Water is widely regarded as the best-tasting and most nutrient-rich organic coconut water on the planet. Some quick facts about what separates Harmless Harvest Coconut Water from the alternatives:
It's a hydrating all-natural alternative to sports drinks and juices
HH coconut water maintains a longer shelf life without the use of extra additives or preservatives 
It contains vital nutrients that occur naturally in Harmless Harvest's specific young, green coconuts
HH maintains its unique flavor thanks to the company's unique Muliti-Step Micro-Filtration process 
Harmless Harvest is fair-for-life certified, which indicates the company pays fair wages and supports the well-being to everyone involved in making and sharing the coconut water
Luckily, your kids don't need to know any of this—they can enjoy the refreshing taste and stay hydrated and energized throughout the day.
---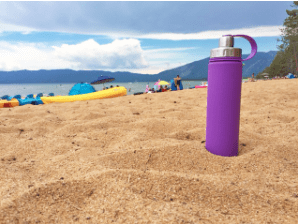 EcoVessel Triple Insulated Bottles
From a yoga class to a backcountry hike to running errands about town, staying hydrated is essential. To make this convenient, safe and fun, EcoVessel offers a great looking, durable line of insulated stainless steel water bottles that everyone in the family will love.  Stylish and affordable, an EcoVessel will keep your H2O level high and replenished for hours, so there's no longer any need to buy wasteful single use plastic water bottles.
EcoVessel's signature TriMax Triple Insulation Technology provides top performance in any climate, keeping drinks cold and fresh for 36 hours and hot for up to 8 hours, and has tested to outperform many competitors. In its quest to continually add improvements, EcoVessels now have interchangeable tops. The flip spout sport top and the leakproof dual opening top are also available separately to add even more value and versatility to their bottles.
All insulated EcoVessels are made of premium 18/8 stainless steel, are BPA and phthalate free and are recyclable.
Growler

 – Holds 64 oz for a crowd of beer lovers and keeps the brew refreshingly cold for 36 hours. For added versatility, this growler includes a stainless steel infuser so tea enthusiasts and sangria fans have the option to add the flavors of fresh fruit. Keeps drinks hot also, so perfect for filling at the coffee house.
Boulder – This best seller features a leakprooof dual opening top for easy filling and drinking, along with a stainless steel removable strainer for fruit, loose tea, and ice. Made for both cold and hot drinks, the Boulder is available in 20 oz, 24 oz and 32 oz sizes and a great choice of cool colors.

Summit – The sleek SUMMIT is perfect when you want the convenience of one-handed, tilt- free drinking.  It has a removable silicone flip spout that you can change up with different, fun colors. Available in 17oz and 24 oz sizes.
---
Skinny & Co. Oil
Skinny & Co. produces small batch, extra virgin, cold-processed coconut oil, made with nothing but 100% pure, raw, wild-harvested coconuts. No chemicals, fillers, or preservatives. It is the only 100% raw, alkaline coconut oil on the market today. Thus small family company and controls their entire supply line in every jar from their trees to your table. Skinny & Co. sources 100% of their coconut oil from their own factory.
Skinny & Co. coconut oil and coconut oil products are 100% natural:
● Cold Processed: cold-processed oil, not just cold pressed. They use a patent-pending Nutralock System and never heat the oil above 97 degrees. It's the only 100% raw, alkaline coconut oil on the planet. Other coconut oils are acidic, but Skinny & Co.'s alkaline oil registers between 7.3 and 7.8 pH. All of their coconuts are hand picked and wild-harvested from the Ben Tre jungles in Vietnam. Their oil is truly tree to table!
● Five Ingredients or Fewer: all of their beauty products have five ingredients or less, are non-toxic and edible. *Why would you ever put something on your skin if you wouldn't put it in your body?
● 100% Raw, Alkaline: cold-processed from wild-harvested coconuts using a patent-pending Nutralock System. Never heated. Pure.
● From Tree to Table: no chemicals. No fillers. No Preservatives. Skinny coconuts are pesticide free and handpicked from the jungles of Vietnam.
● Health Benefits: Skinny only uses the highest quality ingredients to handcraft products that benefit your entire body. Non-toxic and edible.
– See more at: http://www.skinnyconews.com/#about
---
Books
The Leader's Mindset: How to Win in the Age of Disruption
London Business School (the equivalent of Harvard Business School and a top 5 global business school overall) Entrepreneur Mentor in Residence, INC. Magazine Top 100 Leadership Speaker and writer for Sir Richard Branson's Virgin Media Pioneers Terence Mauri says it's time to rip up the rulebook on leadership and in his forthcoming book, THE LEADER'S MINDSET: HOW TO WIN IN THE AGE OF DISRUPTION (Morgan James Publishing; October 2016) unlocks the plan to do just that.
Mauri argues the future belongs to thinkers wired differently from the past generation of business leaders and in his book delves deeply into the hearts and minds of visionaries, risk takers, and pioneers who pursue moonshots, the revolutionary ideas that rewrite how business is done.
---
Finks: How the CIA Tricked the World's Best Writers
Finks: How the CIA Tricked the World's Best Writers by Joel Whitney. When news broke that the CIA had colluded with literary magazines to produce cultural propaganda throughout the Cold War, a debate began that has never been resolved. The story continues to unfold, with the reputations of some of America's best-loved literary figures—including Peter Matthiessen, George Plimpton, and Richard Wright—tarnished as their work for the intelligence agency has come to light. Find a full press release below.
Galley copies will be available in late August. Please let me know if you would like to see one. In the meantime, I am happy to provide an advance PDF.
DIGITAL VORTEX: How Today's Market Leaders Can Beat Disruptive Competitors At Their Own Game (foreword by John Chambers, Cisco). I thought you might be interested in speaking with the authors or seeing an excerpt/post from the book on how companies can take advantage of today's digital models to beat their competition. http://digitalvortex.com/
---
Digital Vortex
A summary…Digital disruption sounds like another business buzzword–until it happens to your company. Seemingly out of nowhere, startups and other tech-savvy disruptors attack. Your customers bolt for the door and revenues stall. Senior executives ignore the problem or turn to yesterday's management playbook. In months, instead of years, you've gone from market leader to also ran.
This scenario is beginning to play out in every industry. Everything that can be digitized–from products and services to the entire value chain–is being digitized to the advantage of companies that can harness disruption. With Digital Vortex anyone can learn how to use the business models and strategies of startups to their own advantage. Instead of waiting to be disrupted, companies can maximize the value of its existing businesses and move into profitable new ones. Most importantly, readers will learn how to build the agility to anticipate threats, sense opportunities, and seize them before their rivals do.
Jeff Loucks is a director with the Cisco Digitization Office and a visiting scholar at the Global Center for Digital Business Transformation, an IMD and Cisco initiative. James Macaulay is a director with the Cisco Digitization Office and a visiting scholar at the Global Center for Digital Business Transformation. Andy Noronha is a director in the Cisco Digitization Office, where he works to develop research and insights that will help guide the future of digitization for the company, and its customers. Michael Wade is the Cisco Chair in Digital Business Transformation and Professor of Innovation and Strategy at IMD, a Swiss-based business school focusing on executive education.
---
Coach! The Crucial, Deceptively Simple Leadership Skill for Breakaway Performance
With your audience, Sarasota-based executive coach Andrew Neitlich, author of the new book, Coach! The Crucial, Deceptively Simple Leadership Skill for Breakaway Performance, can discuss that coaching continues to grow because it gets results and when boomers sell their company, retire, or get tired of corporate life, leadership coaching could be an excellent way for them to continue to share their wisdom and experiences. The following are six things to consider for boomers to find success and fulfillment developing others as an executive-level leadership coach.
Launch an entrepreneurial venture based on a gap in the market.

Take the next step in a natural culmination of a rich career and ongoing growth.
Build on a passion for helping others develop and be successful.
Escape burn out and lack of fulfillment
Build on one's great experiences with mentors and coaches, and help others in the same way
Enjoy a more flexible lifestyle, one with more control
---
The Book of R
The R statistical programming software, the world's most popular, is used by millions for everything from genetic research to mapping mountain lion populations. The Book of R (No Starch Press, $49.95, 832 pp., July 2016) is a complete beginner's guide to this essential tool for data analysis, combining programming techniques and real statistics discussion.
The Book of R uses in-depth discussions, real data examples, and exercises covering essential statistics concepts to encourage readers to learn by doing. "My book isn't just an instruction manual for using R," author Tilman M. Davies says, "but a way for the reader to put these analytical methods and programming skills into practice and to understand what it is they're actually doing."
In addition, The Book of R covers visualization skills, including how to fine-tune detailed plots and use the rgl package to produce stunning data visualizations and infographics, like 3D contour maps of earthquake data and interactive, color-coded graphs of air quality.
A comprehensive guide to R and statistics, The Book of R is sure to be a valuable resource for students, researchers, and professionals looking to explore the world of data analysis.
The Book of R is now available online and in fine bookstores.