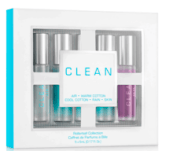 Clean Perfume
Mother's are easy to please when all they want is your company but why not go the extra mile for your Mother (or wife) and upgrade your gift giving game.   Experience a special moment with your mother and evoke a sense of nostalgia with CLEAN Fragrances and CLEAN Home Fragrances.
Let your mother or wife find her own unique scent with the CLEAN Rollerball Collection which includes 5 scents; each can be worn alone or layered for a new experience.
PRICING: $18.00 / 5 x .17 Fl. Oz.
Availability: CleanPerfume.com
For a mother or wife who loves to fill the room with candles and clean smells, gift CLEAN WARM COTTON Home Collection, a pure, fresh and comforting scent that captures the feeling of a fluffy warm towel just taken out of the dryer.  (CLEAN Home Fragrances scents include; Warm Cotton, Rain, Skin and Fresh Laundry)
PRICING:
Home Candle: $40.00 / 7.5 Oz.
Home Reed Diffuser: $42.00 / 5.0 Fl. Oz.
Home Linen & Room Spray: $34.00 / 5.75 Fl. Oz.
AVAILABILITY: CleanPerfume.com 
---
FABY Italian Nail Lacquer
How about something for mom's fingernails? FABY offers over 175 gorgeous colors to choose from, so you're sure to find something for mom. Whether you are looking to vamp it up with the darkest of dark shades or glam it up with some glitterati, you will find something that works with their whim.
Each lacquer is chip resistant and free of formaldehyde, formaldehyde resin, dibutyl phthalate, toluene, camphor and other harsh, unnecessary additives. Their products are also cruelty free and never tested on animals.
---
Choco2
A rich, intensive and indulgent treatment, Choco2 boosts moisture and evens skin tone, while pampering the senses with the luxurious scent of Swiss chocolate. The combined power of 2% active oxygen and Swiss chocolate provides vital energy to skin while flushing out debris and toxins. Perfect for problem skin, Choco2 deeply penetrates to combat bacteria below the surface of the skin. Price: $70
Chocolate!
Formulated with premium Swiss chocolate, avocado and wheat germ, Chocolate! is an intensive, vitamin-rich facial moisturizer. This nighttime nourishing treatment soothes skin and restores suppleness.  Additional ingredients such as vitamin A help revive and renew dull complexions, while vitamin E soothes irritation and the rich chocolate creates a truly comforting experience. Price: $55
Finest Chocolate Cleansing
Remove all traces of cosmetics and impurities with this professional grade, dual action cleanser and makeup remover. Formulated with pure essential oils, the Finest Chocolate Cleansing helps to unclog pores, dissolve impurities and remove waterproof makeup, while conditioning the skin. The cleanser contains luxurious Swiss chocolate for a sweet scent and extra hydration, leaving the complexion supple, soft and radiant. Price: $55
---
Bath & Body Works
Bath & Body Works offers several affordable gift ideas for pampering mom, such as the Beautiful Day Full Size Trio Set which includes the Fine Fragrance Mist, Shower Gel and Body Lotion ($25). There are also Mini Trio Gift Sets ($15 and under), such as the Georgia Peach & Sweet Tea gift.
If mom is more of a floral person, try Japanese Cherry Blossom perfume—America's #1 fragrance collection ($34.50)!
---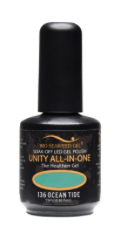 Bio Seaweed Gel
Don't waste summer sitting in a salon! With Bio Seaweed Gel's All-in-One UNITY Polish you get stunning and long lasting gel nails quickly and easily without the need for prep coats, finishing coats or even a UV dryer as it can "cure" (a.k.a. dry) in the sun.
Bio Seaweed Gel is no stranger to setting new standards in nail care. Every bottle of their health-conscious, beauty-boosting polish provides discerning, fashion-conscious women with a healthier gel alternative that won't leave nails brittle or stripped and fits stunning chic nails into their on-the-go lives seamlessly.
---
Jane Iredale
jane iredale is launching two new gorgeous shades of LipDrink Lip Balm for summer 2015! Perfect to carry around in your beach bag or small, summer clutch, LipDrink is a moisturizing lip balm that quenches lips with hydration and sun protection. 
Recommended by the Skin Cancer Foundation as an effective broad spectrum sunscreen, LipDrink provides SPF 15 and powerful blend of antioxidants, green tea extracts and Vitamins C and E, to help protect against future damage. LipDrink is lemon scented and available in three shades including: Crush a new tinted sheer berry, Buff a new sheer nude, and Sheer, the original translucent shade.
---
HairMax's Hair Fibers
Want to pump up the volume, but thinning hair preventing you from achieving the perfect 'do? Increase volume and density, while hiding bald spots with HairMax's Hair Fibers. These natural keratin protein hair building fibers blend and statically cling to existing hair to hide any receding areas and provide dramatic density, volume and natural looking coverage, instantly.  Perfect for pulling hair back into a sleek pony or bun to cover up any thinning areas or spots. 
Virtually undetectable and secure enough to withstand the most extreme conditions, the Hair Fibers wash out with just one shampoo.
Available in eight shades to blend with any hair color, HairMax's Hair Fibers retail for $35 and are available at www.hairmax.com.
---
Essenza Luxury Hand Soaps
Formulated with pure essential oils, shea butter, aloe and mild moisturizing cleansers, Essenza hand soap refreshes your skin in fragrant luxury. The Essenza line is available nationwide at Target, select Bed Bath & Beyonds, Walgreens and DrugStore.com. ($3.99 for a 12 oz bottle and $4.99 for a 16.9 oz. bottle)
---
PedEgg POWER
The creators of the blockbuster at-home foot care callus remover, PedEgg, just introduced  the new and improved PedEgg POWER. PedEgg Power's battery operated automatic pumice spins, removing dry cracked skin, to reveal flawless feet and even hands. Unlike traditional pumices that require women to scrape back and forth, PedEgg Power is easy and fun! Each PEP comes with a second complimentary pumice head.
---
Amarte Overnight Express® Therapy
Amarte Overnight Express® Therapy is a new multifunctional sleeping mask that gives a lift One Step Beyond® routine skin care. Propolis, nano-encapsulated retinol and bioactive peptides synergize within a silk fibroin nanomatrix, harmoniously boosting brightness, tightness, and clarity so you wake up to renewed, supple skin with benefits you can see and feel.
Formulated at the Bio-RIC Innovation Center in Seoul, Korea, Overnight Express® Therapy uses only A-grade botanical ingredients and is tested and recommended by Dr. Craig Kraffert, board certified dermatologist and President of Amarte.
---
Amarte Aqua Mist® Toner ($67, AmarteSkinCare.com): An instant complexion boost, this hydrating spray features a brightening formula that uses botanical ActivExtracts® including arbutin to clarify and soften, all while toning and hydrating even the most sensitive skin. To use, spray on after cleansing and anytime throughout the day to refresh. 
Amarte Aqua Veil® Pure Hydration Serum ($57, AmarteSkinCare.com): Rich in natural herbs and intensive moisturizing ingredients, this deeply hydrating formula optimizes skin's ability to absorb and retain moisture. A visible magic-water veil is formed immediately upon application with resultant coolness and softness. To use, gently massage into skin twice daily.
Amarte Aqua Lotion® ($75, AmarteSkinCare.com):  Rich in antioxidants and natural arbutin, this ultra light, water-based facial lotion smoothes and brightens dehydrated skin. Its silky formula enhances skin's clarity and transparency, improving tone and texture while adding softness.
Aqua Cream® ($93, AmarteSkinCare.com): This brightening antioxidant facial moisturizer is rich in arbutin and 1% retinol that ramps up smoothness and softness while delivering a bright glow. To use, gently massage into skin twice daily. 
---
Amopé Pedi Perfect
Amopé Pedi Perfect is an electronic foot file that is new to the US. Using a specially designed Micralumina™ roller head, the file exfoliates with a gentle and safe rotating action. It's the perfect gift for Mom to pamper herself and create smooth, luxurious feet in the comfort of her own home.
We also have a limited pink edition of the product coming out this May—just in time for Mother's Day! The Pedi Perfect extends pedicure treatments, so I thought it would be a fun idea to either recommend this as a gift on its own or have it paired with a mom-daughter mani-pedi.
---
Iris Extract Activating Treatment Essence

Just in time for Mother's Day, this May Kiehl's introduces a must-have for healthy, glowing skin: Iris Extract Activating Treatment Essence.
Featuring nourishing Iris Florentina Root Extract, this advanced liquid concentrate quickly and deeply penetrates the skin to boost radiance, reduce fine lines, and improve dullness.  This innovative product is designed to activate cell turnover, integrity of skin's function, and cohesion of skin layers – all while imparting essential nutrients. 
In just 1 week, 94% of women saw smoother skin, and in as little as 2 weeks, 90% saw a reduction in dullness.
Iris Extract Activating Treatment Essence ($48) will be available in May at Kiehl's stores and at Kiehl's website.  
---
Altchek MD
With warmer weather upon us, there is no better time to spring clean your beauty routine and what better Mother's Day present for your mom than helping her to feel even more confident and beautiful in her own skin. Altchek MD, a new line of preventive and corrective skincare products, helps to target everyday women and moms and help them feel radiant and confident in their own skin at an affordable price! Altchek MD, which is formulated by Dr. Douglas Altchek, an acclaimed New York City dermatologist, is available exclusively at ULTA Beauty and online at www.altchekmd.com.
Dr. Altchek developed a distinctive, easy-to-reference skin care routine for his patients, aimed at revitalizing and improving skin's luminosity, which he has dubbed SPRING, which stands for:
S – SMOOTH and exfoliate — with Daily Exfoliating Cleanser
P – POLISH and protect  — with Glycolic Renewal Pads
R – REPAIR delicate eye area from winter dryness — with Eye Repair Cream
I –  INCREASE sun protection —  with Broad Spectrum Sunscreen SPF 30
N – NOURISH while you sleep—with Night Treatment
G – GLOW is the goal!
Some of the products available include:
Glycolic Renewal Pads (36 Pads) – SRP $20.00
Glycolic Renewal Pads micro-exfoliate and smooth fine lines while improving skin tone and radiance.
Glycolic, Lactic and Salicylic Acids clarify and smooth skin texture

Helps diminish fine lines and clarifies pores

Refines and brightens uneven skin tone, texture and radiance
Eye Repair Cream ( 0.5 oz) – SRP $25.00
Eye Repair Cream keeps your eyes from telling your age with superb hydration, skin strengthening ceramides and antioxidant protection.
Combats puffiness and under-eye dark circles

Intense hydration provides lasting moisturization

Smoothes the appearance of fine lines and wrinkles
Broad Spectrum Sunscreen SPF 30 (1.7 oz) – SRP $30.00
Daily Moisturizer Broad Spectrum Sunscreen SPF 30 effectively improves the texture, moisture and luminosity of your skin.
Sunscreen helps protect against the damaging effects of UVA/UVB rays




Vitamin C Ester helps restore smoothness, brightness and luminosity




Panthenol locks in moisture and prolongs hydration



Night Treatment (1.0 oz) – SRP $30.00
Night Treatment leaves a velvety feel on your face as it helps restore and replenish moisture- while you sleep.
Delivers hydration and promotes overnight renewal

Hydrators plump skin and help smooth fine lines
Antioxidants boost protection against environmental stressors
---
NeriumAD Mother's Day Gift Set
Mom works hard 24/7 to take care of her family, which means she often doesn't have time to take care of herself. For Mother's Day, give the woman in your life the gift of a complete, easy-to-commit to skincare routine that she ACTUALLY has time for with a NeriumAD Mother's Day Gift Set. Each product contains a signature formula with skin brightening and moisturizing ingredients like aloe, Vitamin E and NAE-8, a next-generation antioxidant. Instead of a one-time only spa experience, now you can pamper Mom every day with a luxurious beauty treatment that takes seconds to complete.
NeriumAD 24- Hour Skincare Gift Set ($165)
Featuring the Age-Defying Day Cream and Age-Defying Night Cream, this gift set allows for a full facial treatment. Mom will start her morning by applying the moisturizing day cream for a youthful, radiant glow all day long. After a long day, instead of applying multiple products, she'll cleanse her face and apply the mask-like night cream, which will work its magic over night before she has to prepare for another busy day.
Set Includes:
Age-Defying Day Cream, NeriumAD Formula
Age-Defying Night Cream, NeriumAD Formula
NeriumAD Total Package Gift Set ($275)
For a complete, head-to-toe body treatment, give Mom the gift that does it all. This gift set includes the day and night creams, plus the Firming Body Contour Cream, which will help her sculpt, slim and quickly tighten the body while taming those "trouble spots," such as cellulite and love handles, just in time for summer.
Set Includes:
Age-Defying Day Cream, NeriumAD Formula
Age-Defying Night Cream, NeriumAD Formula
Firming Body Contour Cream, NeriumAD Formula
The Mother's Day gift sets are available for purchase on MyNerium.com.
---
NeriumFirm Body Contouring Cream
NeriumFirm is a cutting-edge body cream that helps sculpt, slim, contour, and shrink love handles– making it beach body confidence in a bottle.  Cellulite can resist even the toughest workout regimen. That's why NeriumFirm is a warm weather essential: In just 30 days, you'll see visible improvement in skin tone, sagging, and cellulite.
Kirsch uses it on his own abs- and regularly shares it with his celeb clients- and the reason lies in Nerium's exclusive ingredients including the patented NAE-8 Extract, a next-generation antioxidant that fights sagging, discoloration and other skin woes. The NAE-8 is then blended with ingredients that have been proven to combat cellulite, shrink fat cells, and ignite cell turnover  for tighter, brighter skin including: Peptide Matrix, Caffeine, White Willow Bark Extract, Green Tea Extract, and Forskohlin Extract.  
In a clinical study, 92% of participants saw dramatic improvements in cellulite, loose skin, tone and tightness.
---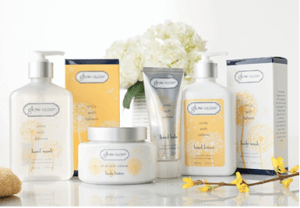 Glow-ology
Made with organic and natural ingredients and 100 percent biodegradable,Glow-ology luxury bath and body products provide the perfect gift to pamper those we love in an environmentally friendly, socially responsible way for Mother's Day. Formulated for sensitive skin, Glow-ology features luxurious body lotions, refreshing body washes and gentle hand creams that feature skin-nurturing formulas with uplifting scents and elegant recyclable gift packaging with inspiring sentiments and quotes by beloved authors and poets. 
 The debut Glow-ology collection includes hand balm (3 oz./$12 SRP), hand lotion (11.8 oz./$18 SRP), hand wash (11.8 oz./$16 SRP), body butter (8 oz./$22 SRP), body lotion (8.4 oz./$18 SRP) and body wash (8.4 oz./$16 SRP). All formulas are available in four exclusive, uplifting scents and sentiments including:
Smile. Wish. Believe.: A fresh blend of juniper and pineapple. Perfect for moms and grads. (pictured on the right)

Renew. Thrive. Flourish.: Ocean breeze and fresh airy energy. Refreshing, versatile for anyone.
Heart. Soul. Mind.: Sweet cherry blossom and leafy greens. With packaging featuring inspiring quotes about love, it's ideal for brides and bridesmaids.
The Glow-ology collection is available at www.GlowologySkincare.com and in more than 1,300 gift shops across the country, including New York, Los Angeles, Chicago, Boston, Philadelphia, Dallas, Austin and other cities. 
---
Frownies, trilipiderm and masque BAR

With the weather getting warmer and more sunlight seeing our skin, it's time for Mom to bump up the antioxidants and SPF into her daily skincare regimen. Frownies, the anti-aging skincare authority, trilipiderm, holistic skincare innovator, and masque BAR, affordable spa-quality facial masks, have her flawless day to night routine covered this season and beyond.
A clear complexion is important no matter what her age. Start the day on a clean slate with Frownies' pH Balancing Complexion Wash ($13.95) to protect the skin's natural sun protective layer and help prevent break outs, followed by Rose Water Hydrating Spray ($5 – $12.95) for an extra botanical boost. She can drop it in her purse to use throughout the day for a wonderfully refreshing pick me up.
Next, it's time to lather on the SPF, and not just on the face. trilipiderm's Broad Spectrum SPF 30 with Vitamin D ($17.99 – $37.99) is an all-body, head to toe moisturizer that she'll actually want to apply. No funky sunscreen smell or questionable ingredients here. It's pharmacist recommended and features all-natural ingredients like meadowfoam, olive, chamomile, calendula and jojoba, all while providing SPF and vitamin D required for healthy skin.
Whether it's decompressing after a long day or refreshing for a night out with her hunny, masque BAR's sheet masks are a skin and time saver. The Wrinkle Reducing Sheet Mask ($10.79) is a green tea, vitamin E and collagen-infused facial sheet that perfectly fits the face to help reduce wrinkles and hydrate skin, leaving it feeling soft and looking refreshed in just 20 minutes.  
Finally, she'll sleep her way to better skin with Frownies' famous overnight Anti-Aging Facial Patches ($19.95). She'll eliminate the appearance of deep lines and wrinkles naturally and effortlessly, night by night.
---
Red Carpet Manicure Starter Kit ($75) & Spring 2015 Gel Polishes ($12.99)
Treat mom to her very own at-home gel manicure system. Each coat cures in just 2 minutes! The Starter Kit includes a prep coat, base coat, top coat and a classic red polish. It also includes a gel polish remover, so she doesn't have to pay a visit to the salon just to remove the polish! If you're looking for more, Red Carpet Manicure's Spring 2015 Collection includes a range of trendy nail colors from pastel hues to bright neons – perfect for moms of any age!
---
L'Dara Advanced Anti-Aging Serum ($120)
A luxurious gift for a woman who deserves some Mother's day pampering. The first product to utilize LBP-5 Complex, L'Dara's exclusive, age-defying compound derived from the goji berry. L'dara Serum gives skin a more youthful and radiant appearance, with clinically proven improvements in tone, texture and moisturization in just 28 days! This serum can be used daily as a primer for sunscreen during the upcoming sunny months and under makeup!
---
HASK Argan Oil Deep Conditioner & Shine Hair Oil ($2.49 each)
Give mom a staycation with these new (affordable) products. Derived from the nourishing "miracle oil," a timeless beauty secret of its native Morocco. After shampooing and conditioning, apply the Repairing Deep Conditioner, packed with silk amino acids, keratin and hydrolyzed collagen to nourish and soften hair. Finish off your hair routine with Repairing Shine Oil containing grape seed, orange oil and  Vitamin E for lustrous shine and healthy locks! Mom will be grateful every time she washes her hair – oh, and the scent is comparable to a tropical island.
---
Silhouette by Karin Herzog
Bikini season is rapidly approaching, resulting in women everywhere scrambling to get their body in tiptop shape. With summer just around the corner and bathing suits creeping slowly out of our wardrobes, we're all looking for the next best thing to get our bodies beach ready. Look no further: Silhouette by Karin Herzog is a caffeine-free body emulsion that targets cellulite and localized fatty deposits. 
When applied to targeted areas including the hips, thighs, buttocks or stomach, the energy resulting from the high level of active oxygen (4%), helps to break down fatty deposits while stimulating the lymphatic system to efficiently remove them. Features and benefits include:
Helps detoxify and renew by forcing oxygen deep into the skin to disperse toxins and fatty deposits

Increases circulation and improves the skin's natural repair and regenerating functions
Increased blood flow allows for more efficient nutrient absorption, promoting healthy vibrant skin while increasing hydration levels
A light emulsion provides intense, long lasting hydration
Increases cellular metabolism to firm and tone the skin, creating a smoother and more even surface
$55 via www.KarinHerzog.com
---
glō therapeutics
glō therapeutics, an innovative leader in the professional and at-home skincare industry, continues to grow their impressive skincare category with the addition of the Sensitive Skincare collection including; Gentle Cream Cleanser, Calming Flower Mist, Corrective Soothing Serum, Balancing Moisture Remedy, and Cucumber Recovery Mask.  If your skin reacts poorly to most products, is easily irritated or prone to dermatitis, eczema or rosacea, chances are you have a hard time finding skin treatments that your finicky skin will tolerate.  Now, sensitive skin sufferers can feel calm. The sensitive skincare collection of products are designed to gently hydrate and condition, help calm redness and irritation while reinforcing and protecting the skin's natural barrier.
Gentle Cream Cleanser ($37): This light cream cleanser utilizes a unique blend of active ingredients including; Desert Date Fruit Extract, Sea Buckthorn Fruit Extract, Shikakai Extract, Pomegranate Seed Extract, and Oat Beta Glucan which combine to create a highly effective yet gentle botanical cocktail which thoroughly removes makeup, excess oil and debris while respecting the natural moisture balance of even the most sensitive skin. Apply to dampened face and massage gently for 60 seconds. Rinse with warm water. 
Calming Flower Mist ($28): Provides instant cooling relief to sensitive, irritated skin with Rose Flower Water, Gotu Kola Extract, Bisabolol, Neroli Flower Oil, and Black Willow Bark Extract. This unique blend of soothing essential oils and anti-inflammatories act to calm and hydrate the skin. After cleansing, lightly mist face as needed throughout the day.
Corrective Soothing Serum ($40): Revitalize skin with this elegant, nutrient rich formula created with Sea Fennel, Olive Fruit Oil, Rose Flower Oil, Foraha Oil, and Oat Beta Glucan. Designed to help restore the skin's natural barrier function to calm irritation, increase strength and enhance radiance. Apply to skin after cleansing and toning once or twice daily.
Balancing Moisture Remedy ($44): Safeguard skin and restore an even, balanced complexion with this ultra-soothing moisturizer. Formulated with Peony and Goldenrod Extracts, Sunflower Seed Oil, Bisabolol, and Aloe Vera to help eliminate redness, diminish hyperpigmentation and shield against future oxidative damage. Apply to skin after cleansing and toning.
Cucumber Recovery Mask ($35): Reduces inflammation in sensitive and post procedure skin. Active ingredients of Cucumber, Indian Senna Polypeptide, Gotu Kola Extract, and Copper PCA soothe, hydrate and tone while Moringa Seed Extract and Grape Seed Oil relieve puffiness and reduce the appearance of fine lines and wrinkles. Apply a smooth, even layer after cleansing and toning. Leave on for 10 minutes then remove with a soft damp cloth.
All products in the sensitive skincare collection are free of dyes, fragrance, parabens, gluten, nuts and soy. The Gentle Cream Cleanser, Calming Flower Mist, Corrective Soothing Serum, Balancing Moisture Remedy, and Cucumber Recovery Mask are available March 2015 and can be purchased at salons and spas nationwide, and at gloprofessional.com