Belli Fresh Start Pre-Treatment Scrub 
Belli Fresh Start Pre-Treatment Scrub exfoliates to help prepare skin for the application of other skin care products.  This invigorating scrub for face and body sweeps away old skin cells to reveal soft, smooth healthy skin for better absorption and the optimal efficacy of any products applied afterwards. It features green tea extract and ginseng, both are rich in antioxidants and includes the refreshing aromatherapy of peppermint oil. They recommend using 2-3 times a week.  SRP $24 for a 6.5 oz tube
---
Jojoba Bead & Bamboo Facial Exfoliant from The Jojoba Company Australia
Designed to deep cleanse, hydrate and polish, this special treatment harnesses nature's finest exfoliants to deliver a radiant, revitalized look.  Gently removes surface debris and reveals the smooth, fresh skin beneath, without the use of plastic microbeads that are not only abrasive, but also pollute the oceans and contaminate marine life.
---
Intense Overnight Renewal Cream from The Jojoba Company Australia (www.thejojobacompanyaustralia.com) 
A restorative, luxurious cream with concentrated powerful natural active ingredients and jojoba to encourage skin renewal.  Antioxidants including vitamin E, CoQ10, argan oil and green tea protect skin from the drying effects of the environment, while marine collagen, hyaluronic acid and vitamin A nourish, hydrate and plump skin, reducing the appearance of wrinkles.  
---
100% Natural Ultimate Jojoba Youth Potion from The Jojoba Company Australia – Ideal to use on the face and combines 100% natural Australian jojoba with antioxidants, vitamins, and essential fatty acid to help reduce the appearance of wrinkles, helps even skin tone and boosts the skin's radiance.
---
Gilchrist & Soames
Love is in the air, Cupid is ready to take flight and it's time for you to pick out something romantic for that special someone. Instead of getting the one you love chocolates and flowers like you do every year, try something more luxurious with items from Gilchrist & Soames, a prestigious bath and body brand whose products offer the perfect way to say "I love you" this Valentine's Day.
Below are a few collections from G&S that are sure to make anyone feel loved.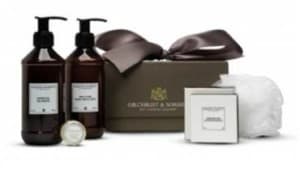 Essentiel Elements Collection Box Set
The Essentiel Elements Collection offers therapeutic-grade formulations infused with essential oils with no synthetic fragrances, mineral oils or artificial colors to create a pure and coveted product. Pamper yourself with this unique rosemary and mint aromatherapy experience that stimulates and refreshes body, mind and spirit. $39
8oz. Wake Up Rosemary Body Lotion 8oz.

Wake Up Rosemary Bath Gel Two 1.5oz.

Aloe Soaps (carton) .2oz.

Lip Balm

White Mesh Bath Puff

Gilchrist & Soames Gift Box with Satin Ribbon
London Organza Gift Set
The sophisticated and stylish London Collection comes packaged in an elegant organza box set perfect for gift-giving. Antioxidant-rich botanicals of red tea, soy, ginkgo biloba, grape seed and milk thistle, renowned for their beneficial attributes, combine in a dynamic blend to restore and revive. $35
8oz Shower Gel

8oz Body Lotion

1.5oz Bath Salts

2.5oz Exfoliating Vitamin E Bath Bar(2 bars)

London Facial Spray, 11ml
Spa Therapy Collection Box Set
Capturing the life of the sea, marine extracts such as sea kelp, sea fennel, sea lettuce, and sea salts provide moisturizing and emollient properties for the skin and hair. These nourishing formulations are infused with the distinctive fragrance of Japanese sea kelp, allowing you to immerse yourself completely in the purities of the sea. Packaged with simple, elegant gift-giving in mind. $32
8oz. Sea Fennel Body Lotion 8oz.
Sea Wrack Body Wash 1.5oz.
Aloe Soap (carton) .15oz.
Moisturizing Lip Balm
White Mesh Bath Puff
Gilchrist & Soames Gift Box with Satin Ribbon
---
Sebamed
Soothe Sensitive Skin: "Traditional soap can raise skin's pH from its ideal 5.5 up to 9 or 10, creating that dry, tight feeling.  I recommend swapping out your traditional soap bar for a soap-free cleansing bar or milky cleanser like Sebamed Liquid Face & Body Wash is the best way to condition and cleanse while alleviating irritation. This multi-tasking, soap-free milky cleanser is designed to deeply cleanse pores while naturally conditioning the skin." ($12.95, CVS, RiteAid and Walmart stores nationwide)
Make Your Spring Mani Last Longer: "Sebamed Hand & Nail Balm is great way to hydrate hands while keeping hangnails, cuticles and breakage in check, allowing for less frequent manicures. It's mild, deep-moisturizing formula relieves dry, chapped hands and naturally maintains the strength of nails against breakage. It's non-greasy and rapidly absorbed, it is enriched with keratin to promote natural firmness and elasticity." ($12.99, SebamedUSA.com)
Hydrate Skin with Lightweight Formulas: "It's important to soothe skin after a shower with weightless hydration that also lets skin breathe. Sebamed Moisturizing Body Lotion and Face Cream glycerin component makes it ideal for those with sensitive skin, and will prevent skin dryness and evaporation. Its ultra-light formula absorbs quickly and completely for a fresh finish, so you won't feel sticky or weighed down." ($12.95 each at Target.com)
Treat All-Over Trouble Spots: "The face, chest and back are all vulnerable to breakouts during warm-weather activities like tennis, swimming and running. Sebamed Clear Face Care Gel is a great all-in-one, travel-friendly care gel can be applied anywhere, anytime. A daily swipe over trouble spots relieve irritation on contact, and the oil-free formula let's skin breathe. Lastly, never pick acne lesions as you can cause further inflammation under the skin that will lead to new breakouts." ($19.99, SebamedUSA.com)
---
CITY Lips Collagen Lip Plumping Treatment
CITY Lips Collagen Lip Plumping Treatment is a non-surgical, painless, collagen building lip treatment that smoothes on like lip gloss to give women fuller lips with lasting results.  Using no irritants like menthol, cayenne or peppermint to create temporary swelling, CITY Lips has a proprietary collagen peptide formula (using Celadrol™ and Oligopeptide Technology*) that causes cells in the lips to produce more collagen, physically increasing the size of the lips.  The treatment's Hyaluronic Acid Plumping Spheres™ provide intense moisture, softening and hydrating the lip tissue to allow the lips to swell dramatically for long-term plumping effects.
The plumper also reduces lip wrinkles and fine lines and comes in a variety of colors.
Apply it once a day like lip gloss, and you'll see a slight plump instantly, with far plumper lips after 30 days.  In addition to the classic Clear Advanced Collagen Lip Treatment, CITY Lips is available has three new colors:  Sangria (warm, glittering wine), Orchid (vibrant lavender) and Holly (rich ruby red).  Also: Los AngeLIPS (soft iridescent pink), TINSEL Town (sheer pink sparkle), NUDE York (soft nude shine), and SUN Diego (warm pink with golden shimmer).  A bottle lasts 8-12 weeks and is available at CITYlips.com.

---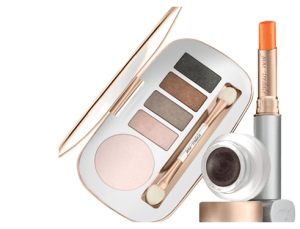 jane iredale Country Weekend Collection
Limited Edition Getaway Eye Shadow Kit ($58): A sleek rose gold palette containing five different shades of mineral-based eye shadow: The base shade, Fresh Air (a shimmery pearl), comes in a larger pan than the accent colors, so you'll never run out of your base shade prematurely. The accent shades are Silence, a shimmery golden peach, Footprints, a matte green grey, Tea on the Porch, a shimmery copper gold and Starry Night, a shimmery black.
Just Kissed Lip and Cheek Stain in Forever Peach ($25): A multipurpose lip and cheek stain in a universal, alluring peach shade that adjusts to every individual's own unique skin tone upon application. Olive butter, avocado butter and wild rose wax soothe and soften lips, while rose flower wax and beeswax nourish and moisturize – It's long-lasting, non-drying and all natural.
Jelly Jar Gel Eyeliner in Espresso ($28): A shimmery brown-grey that creates the look of kohl without chemicals and irritants, giving the water-resistant formula an inky, saturated feel that can be used to create a defined or smudged line.
---
Amarte
Amarte Aqua Veil® Pure Hydration Serum ($57, Soft Surroundings or AmarteSkinCare.com): Rich in natural herbs and intensive moisturizing ingredients, this deeply hydrating yet ultra-light whipped serum optimizes skin's ability to absorb and retain moisture. A visible magic-water veil is formed immediately upon application with resultant coolness and softness.
Amarte Aqua Lotion® ($75, Soft Surroundings or AmarteSkinCare.com):  This water-based facial lotion smoothes and brightens dehydrated skin and infuses antioxidants and natural arbutin deep into the derma. Its silky formula enhances skin's clarity and transparency, improving tone and texture while adding immediate softness.
Aqua Cream® ($93, Soft Surroundings or AmarteSkinCare.com): This brightening antioxidant-rich rejuvenating moisturizer with 1% retinol uses the botanical ActivExtract® arbutin to enhance clarity through melanin reduction. Functional organic ingredients control skin's oil-moisture balance and increase smoothness and softness while delivering a bright glow.
Amarte Aqua Mist® Toner ($67, Soft Surroundings or AmarteSkinCare.com): An instant complexion boost, this hydrating spray features a brightening formula that uses botanical ActivExtracts® including arbutin to clarify and soften, all while toning and hydrating even the most sensitive skin. To use, spray on after cleansing and anytime throughout the day to refresh. 
---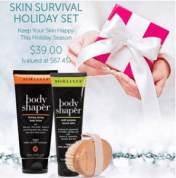 BioElixia Skin Survival Holiday Set ($39.00) 
BioElixia BodyShaper Multi-Purpose Rescue Balm – Formulated with natural ingredients beneficial to the skin such as Vitamin E, Rice Powder and a soothing blend of Chamomile, Lavender and Rose floral waters, to soothe and calm the appearance of skin irritation, this balm is great for use on elbows, knees, heels or all over – after sun, after waxing or shaving, to treat diaper rash and the drying effects of the sun and wind, and much more!
BioElixia® Pure Cactus Bristle Dry Body Brush – Helps minimize the appearance of cellulite for a visibly smoother, more radiant appearance. Dry body brushing each morning prior to showering has many benefits including the feeling of improved muscle tone and circulation to the skin. The BioElixia® Pure Cactus Bristle Dry Body Brush exfoliates dead skin cells and dry skin as well as prevents ingrown hairs plus invigorates overall circulation and helps natural detoxification.
BioElixia BodyShaper Firming Toning Body Lotion – This lotion is designed for daily use and supports all-over skin firmness and tightness while assisting skin radiance, texture and vitality. The secret behind BioElixia BodyShaper Firming Toning Body Lotion is a combination of key ingredients and their patented TPM® Dermal Delivery Technology. This groundbreaking delivery system is proven to increase the absorption of key ingredients, including Caffeine, Salicylic Acid, Ginseng Extract and Vitamin E by up to 5 times.
---
Merle Norman
Merle Norman Pro Glitter Eye Palette ($38)
This multi-shade, limited edition palette features an innovative formula that provides the benefits of a featherweight sparkling loose shadow with the greater ease of application of a pressed eye shadow. Normally, very glittery loose powders are extremely messy and don't lay down a lot of color. Ours allows for more control over the sparkle for greater adhesion while also depositing striking 3D color. The slurry is poured and pressed into pans and then vacuumed dry. The result is a beautifully glimmering pressed eye shadow with an incredibly smooth, almost creamy texture.
Merle Norman Brush Basics Set ($40.00) – Proof that basic is anything but boring, this chic black case can lay flat or stand up as a holder for easy access of brushes. This set includes Powder/Cheek Brush, Eye Shadow Brush, Blending Brush and an Angled Liner Brush. Sized to hold more than just the brushes included, this is going to be a must-have on everyone's list.
---
OROGOLD
OROGOLD 24K Daily Essentials Kit ($338.00)
24K Deep Day Moisturizer Cream – This delicate moisturizer formulated with 24 Karat Gold and Vitamin E is designed to help reduce the appearance of expression lines, relax wrinkles, restore softness, and radiance. This unique moisturizer melts on skin contact and helps make tiny dry areas disappear without making your skin feel oily, giving it a rested and youthful look.
24K Deep Peeling – This peel is designed to provide a powerful facial cleanse by removing a thin layer of dry cells to reveal ultra-smooth and youthful skin. It is specially formulated to gently polish, renew and revitalize the skin without stripping away vital oils or irritating the skin. 24K Deep Peeling is formulated with 24 Karat Gold as well as ingredients such as Ascorbic Acid (Vitamin C), Tocopheryl Acetate (Vitamin E) and Green Tea.
24K Cell Renewal Night Cream – Providing deep moisture and rejuvenating your skin, our rich, non-greasy formula absorbs easily into your skin and is designed to work through the night to recover your skin so you will wake up to silkier and more youthful skin. Formulated with 24 Karat Gold and Vitamin E
OROGOLD 24K CryogeniC Diamond Mask ($1,000.00) – The Exclusive OROGOLD 24K CryogeniC Diamond Mask revitalizes and exposes new fresher looking skin. Infused with a magnificent blend of 24 Karat Gold, Vitamins and Diamond Dust this non-abrasive mask will add shine and gently moisturize while reducing the appearance of wrinkles. Relax under the pleasant cooling sensation while the ingredients seep into the skin.
OROGOLD 24K Deep Tissue Rejuvenation Mask ($998.00) – OROGOLD'S 24K Deep Tissue Rejuvenation Mask & Collagen Eye Renewal Mask are made with a magnificent blend of Gold with Lavender and Collagen. Formulated to nourish the deep tissues of your skin and repair the signs of aging by rejuvenating it. This mask will replenish, relax and give your skin a boost of vitamins, minerals and long lost vital ingredients to help you look and feel radiant.
OROGOLD 24K Men's Set ($502.00)
Men's Deep Pore Cleanser – Light-lathering, deep pore skin cleanser lathers away daily residue and oil leaving skin soft and supple. It helps leave complexion clean, clear, and refreshed. This powerful blend moisturizes as is cleanses.
Men's Pre-Shave Facial Serum – This lightweight pre-shave serum is rich in emollients, softens the beard while providing exceptional cushion for a close, accurate shave. Helps heal, soothe, and softens beard. Helps reduce fine lines and small wrinkles while improving moisture capacity of skin.
Men's Aftershave Balm – This is an aftershave balm and moisturizer in one. Lightweight, hydrating after shave balm softens and calms skin leaving it feeling nourished and hydrated. Quickly absorbent which helps calm razor burn and helps provide the skin with balanced moisture. For use of after shave, use before bed, or under a moisturizer for maximum benefits.
Men's Hydrating Moisturizer – A Lightweight, hydrating moisturizer, prevents dryness of skin due to harsh effects such as wind, sun and daily routines like shaving. This moisturizer is absorbed into the skin without leaving your skin feeling greasy or heavy.
OROGOLD 24K Intensive Eye Formula Cream ($198) – This 24K Intensive Eye Formula Cream brings out your inner youth by deflating puffiness and reducing the appearance of dark circles around the eyes, giving your eyes a more rested look. 24K Intensive Eye Formula Cream is formulated with 4 main ingredients: 24K Gold, Caffeine, Vitamin A and Green Tea. Use daily on the sensitive area under the eyes as part of your skin improvement routine. Once you have started seeing improvements continue using this product once daily to keep your eyes looking refreshed and young. Use in conjunction with 24K Anti-Aging Eye Serum for ultimate results.
OROGOLD 24K Anti-Aging Eye Serum ($198) – This breakthrough 24K Gold Anti-Aging Eye Serum helps firm the delicate skin and reduces the appearance of crow's feet at the corner of the eyes. The 24K Anti-Aging Eye Serum is specially formulated with 3 main ingredients; 24K Gold, Palmitoyl Oligopeptide, and Ascorbic Acid (Vitamin C). Use nightly on deep lines around your eyes area as part of your skin improvement routine.
---
Nerium
Afraid your friends and family might not get you that anti-aging or body firming cream you've been eyeing, just so they don't offend you? This holiday season, it's time to finally splurge on yourself! This year, Nerium International is offering several options for holiday gift sets, featuring their popular NeriumAD night cream and day cream, along with the newest addition to the Nerium line: the NeriumFirm body contouring cream.
Nerium is a one-of-a-kind, science-based line of skincare products that produce real results.  The secret in all three products is the exclusive, patented NAE-8 extract – a combination of antioxidants that have anti-aging properties and aloe, which hydrates, firms and soothes skin tissue. NeriumAD's night and day creams address multiple skincare concerns at once, including the appearance of fine lines, wrinkles, discoloration, enlarged pores and uneven skin texture. NeriumFirm, on the other hand, is formulated to help improve the appearance of cellulite and dimpling on common problem-areas, such as love handles, thighs, waist, upper arms and more.
These holiday gift sets will be available for purchase for the holiday season on MyNerium.com.
---
GlamGlow BrightMud Eye Treatment ($53.50, at FragranceNet.com) – Non-Dry Tapwipe™ Bioactive Mud consists of powerful actives that help minimize puffiness, dark circles, and fine lines while brightening and hydrating the eyes. Natural high bioactivity materials and bentonites absorb toxins delivering high nutrients and minerals essential for ultrabright, amazing eyes. Simply tap-on to deliver the range of advanced active ingredients into the skin then wipe-off, leaving a micro layer of actives for extended results.
---
Amarte Eyeconic Eye Cream ($55, at AmarteSkinCare.com) – Perhaps the most impressive example of retinol nano-technology in the Amarte line of products is the Amarte Eyeconic Eye Cream, which packs in an astounding 3.8% retinol and is so gentle and nourishing, Dr. Kraffert recommends it even for sensitive upper eyelids. (To compare, leading offerings on the market today offer just 2% active retinol). This anti-wrinkle rejuvenator delivers the highest levels of enhanced-stability pure retinol, ActivExtracts, and ActivElements possible to give vitality and resiliency to the eye area. Deeply hydrating, it nourishes skin and promotes elasticity without irritation.
---
philosophy the common man extra-comfort shaving cream
An extra-comfort shaving cream that is a long-time philosophy cult favorite. Highly recommended for anyone with sensitive and/or problem skin. The common man provides a slight numbing sensation to make the common shave very pleasant and meaningful. Approximately $12.00
---