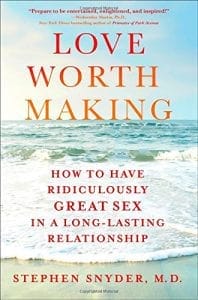 Love Worth Making: How to Have Ridiculously Great Sex in a Long-Lasting Relationship
For couples in long-term, committed relationships, a satisfying love life can be elusive. Advice is plentiful, but it overwhelmingly focuses on techniques to spice up the bedroom and make things "new" and "exciting." What if, however, this advice fundamentally misunderstands the needs of men and women in committed relationships?
In Love Worth Making: How to Have Ridiculously Great Sex in a Long-Lasting Relationship (St. Martin's Press; February 13, 2018) by Dr. Stephen Snyder, a couples therapist and psychiatrist, explains how a great love life is possible when we connect deeply with our feelings. A therapist with 25 years of experience, Dr. Snyder offers a game-changing approach in this lively and informative book.
Love Worth Making uses stories from Dr. Snyder's practice to illustrate how to make significant and lasting changes to your love life. He also integrates the latest research on human sexuality in easily understandable terms. Dr. Snyder's guidance will allow couples to understand and embrace their feelings in order to have the best sex of their lives.
Like Mating in Captivity, Love Worth Making is destined to become a defining book for couples of all ages and backgrounds.
---
Happy Accidents
Success is no accident – in fact, it's an attitude.  And no one knows that better than one of the country's most enduring and successful improv comedy troupes, Four Day Weekend. For 20 years, Four Day Weekend has been delighting audiences with their uproarious improvised performances from their Ft. Worth theatre, and have magnified their success through producing commercials, products, and live events, and are now bringing the secret of their success to publication.
Happy Accidents: The Transformative Power of "Yes, And" at Work and in Life, published by Wiley in September 2017, teaches each reader how to facilitate a positive attitude and make the most of every opportunity by bringing the most valuable and productive skills from improvisation into your daily work and home life.  "It's a semi-autobiographical account of our journey over the last 20 years," explains co-founder and co-author David Wilk. As their show's success in the early days continued, the group quickly realized "We were running a business," says Four Day Weekend's Frank Ford.  "We are not business people, and in those days, we were eighty percent show, twenty percent business.  Now, we're 80% business and 20% show."
That shift required adopting a way of thinking that is the key to the secrets revealed in Happy Accidents.  "The philosophy of 'yes, and,' worked so well for us on stage," Ford continues.  "We asked, well, what if that was our business model as well?  It not only opened up our ability to communicate within the group, but opened us up to so many different business opportunities."
One story in the book – about how the group parlayed an under-funded offer from a major company into a positive magazine article that eventually lead to delivering a major keynote presentation to members of the US Congress and meeting the President and performing for the troops – exemplifies how "we use the 'yes, and' philosophy to find solutions," says Wilk.  It's worked for the group – in spades.  A weekly comedy show and the 'yes, and' perspective have elevated the group to the point where they are now "Entrepreneur In Residence" at the business school at Texas Christian University.
"Business books rarely use the word 'empathy,'" admits group member and co-author David Ahearn.  "But the 'yes, and' philosophy helps you as a person.  You look at life differently – you don't see mistakes, you don't see obstacles – you see workarounds, choices.  You learn about active listening, how to be a better communicator.
---
The Code Red Revolution
Over 65% of American adults are reported being overweight or obese—but with a several billion dollar weight-loss industry, why are people still overweight? Most weight-loss books and plans teach you one magical way to lose weight, but they don't take into account just how wonderfully individual we all are!
Cristy "Code Red" Nickel—celebrity trainer and nutritionist—author of the recently published title, The Code Red Revolution has found a solution that offers strong mental toughness and 7 simple steps that keep the weight-loss rules in the kitchen, NOT in the gym! Cristy discusses these topics in his book:
Losing weight is hard, so is being overweight—5 tips for mental toughness to be successful

How to navigate real life—including birthdays, vacations, holidays, travel, and stressful work situations—and still lose weight every week.

Insight into the false information our society has told us for the past forty years about weight loss and healthy living.

The simple, life-changing program suitable for anyone who has given up – emotionally and physically – on their body and their health.

Inspiring stories of people who have taken their life back – even people in their fifties, sixties, and seventies!
---
Journey From Invisibility to Visibility
In Journey From Invisibility to Visibility authors Gail Harris, Marilyn Lesser and Cynthia Soloway bring together a chorus of women who have, without any connection to one another, shared stories about their dreams and disappointments as they've aged over the years. The authors themselves found that once they reached 60 they'd almost become invisible to society, including in some cases friends and loved ones. It was as if they were fading away instead of facing a new life of presence and joy. Realizing others must feel similarly they commissioned women from all over the country to share their experiences and their achievements in reclaiming their lives and entering the 60+ years with pride and visibility.
But the book is not merely a collection of stories; it is also a guide with information and strategies on how to incorporate the past into the picture of our present lives once we cross the retirement age mark and beyond.Journey From Invisibility to Visibility will be the guide that helps women everywhere reverse the fade to invisibility as the re-emerge as visible as ever, their best selves yet.
---
The Yoga of Leadership
When we think about the qualities of an ideal leader, words like "decisive," "charismatic," "visionary", and "resilient" may come to mind.
Yet we don't always consider how to maintain qualities like these. And by focusing on words and labels alone, the deeper responsibility of being a leader—in fact the very essence of the word 'leader' itself— becomes distorted, argues yoga teacher and financial services professional Tarra Mitchell in her new book, The Yoga of Leadership: A Practical Guide to Health, Happiness, and Inspiring Total Team Engagement (December 12, 2017). Often, the word 'leadership' is correlated simply with holding a position of power.
To help leaders achieve and maintain qualities essential to leadership success while fostering team engagement, Mitchell has designed a novel approach to leadership growth and development. Leveraging time-honored techniques from the traditional practice of yoga, The Yoga of Leadership explains how, by taking care of their holistic well-being, leaders are better able to:
control emotions and manage stress,
focus and concentrate,
strengthen relationships, connection, and engagement,
think more clearly and decisively, and
make life-enhancing choices that improve overall well-being.
The book offers practical tools for connecting with each of the five interlocking dimensions, or layers, of holistic well-being according to yoga philosophy: physical, energy, mind, knowledge, and bliss.
---
Designed for One! 120 Diabetes-Friendly Dishes Just for You
120 Having great-tasting, healthful meals doesn't require cooking an entire feast. Culinary expert and best-selling author Nancy S. Hughes has spent 25 years developing recipes and teaching people how to cook for plenty…and how to cook for just one. Her latest book is entirely focused on the needs of cooking for one and serving yourself a great tasting meal every day of the week.
DESIGNED FOR ONE! 120 Diabetes-Friendly Dishes Just for You contains 120 budget-friendly recipes for dinner, including salads, sides (starchy and nonstarchy), and even desserts! Nancy guides readers through the process of shopping, storing, measuring, and preparing ingredients — including advice on how to pick out fresh ingredients such as asparagus, tomatoes, pork loin, avocados, and loose herbs without letting anything go to waste.
---
The Rogue Revolutionist
Charley Black unlocks the secret to programming the human mind. He writes about his findings, but goes mostly unnoticed throughout his work and publishing. That is, until the government stumbles upon his website and decides he knows too much.
In "The Rogue Revolutionist," by Robert L. Blackburn, Black is suddenly fighting for his life after quietly trying to change the world on his own, for years. Like Black, Blackburn has also made it his mission to create awareness about the computer model of the human mind and how it can bring sanity to a world headed for self-destruction.
"The computer model of the human mind shows us how the mind operates to seek its own survival," Blackburn said, "and how humans trick the human survival program into seeking the survival of all sorts of things unrelated to a long, pleasurable and pain-free continuance."
Blackburn, who served in the U.S. Army Intelligence and authored several other pieces of literature based on the human mind and its abilities, claims, like his character, that the computer model of the human mind can extract humans from the situation in which they find themselves.
"Using this computer model of the mind to show humans what they are doing to themselves with their belief systems, they will finally have the opportunity to stop doing it. People will have a legitimate choice between the tyranny of beliefs or pure reason."
Available at the iUniverse and Amazon
---
Digitize or Die
Did you know if Blockbuster played their cards right, they could have been the next Netflix?
Instead, they fell victim to the digital revolution that has taken over global business in the last decade. This type of mindset is the heart of Nicolas Windpassinger's new book, Digitize or Die.
The digital transformation has been building up for decades, yet some businesses are slow to embrace change. Many leaders may not see the threat of this paradigm shift because they still see profit, but they need to look to technology as a catalyst in future plans. This technological era is so critical, demanding and fast-moving that if these leaders fail to understand how they can leverage IoT for their company's benefit, they are in danger of becoming the next Kodak or Nokia.
In Digitize or Die, Nicolas Windpassinger dissects the digitization phenomenon from technologies to business models, from digital savvy organizations to strategies. The book will review the potential and promise of the IoT, and how to successfully prepare for it all. In so doing, Digitize or Die opens a world of possibilities and enables you to dominate your marketplace.
The rules of business, which have applied for decades and established the current enterprise landscape, are changing. Digitize or Die explains the new rules of the game and gives simple and pragmatic steps to not only survive but succeed with digital transformation. If you are an entrepreneur or have a business, the window of opportunity to take advantage of IoT is rapidly closing. Digitize or Die teaches businesses how to protect themselves against becoming the next Blockbuster, Kodak, or Nokia. If you are asking yourself how to leverage Blockchain technologies, Internet of Things, Artificial Intelligence and Cybersecurity to beat your competitors, then this book is for you or your readers. 
100% of the book sale proceeds goes to the Alzheimer's Association which provides care and support for all those affected by Alzheimer's and other dementias.
---
Dolph Lundgren: Train Like an Action Hero Be Fit Forever
Are you ready to take your exercise and fitness routine to the next level? Then take a lesson from internationally renowned action hero Dolph Lundgren, as he shares the personal fitness secrets gained from a lifetime of hard-fought experiences on-camera and off.
Dolph has created a personal philosophy of fitness based on martial arts, yoga, strength training, biochemical research, professional sports, and more than forty starring roles in classic action films. It's a logical, fun, and surprisingly easy path to total fitness—whether you're at the office, with friends, playing sports, or in class. This is the ultimate lifestyle to improve your health and build your physique!
Dolph Lundgren: Train Like an Action Hero—his autobiographical training guide—features weekly training programs, daily menu planners, guides to equipment and gear, fantastic photos from behind the scenes of Hollywood action movies, and more. With detailed exercise plans and more than one hundred step-by-step photos, Dolph Lundgren: Train Like an Action Hero is the kick-ass guide to building a body that will look great and make you feel even better—forever.
---
The Business Owner's Definitive Guide to Captive Insurance Companies
What if you could insure the risks of your business, reduce your out-of-pocket expenses, and create another source of revenue? Sounds too good to be true, right? With The Business Owner's Definitive Guide to Captive Insurance Companies, Peter J. Strauss shows that, by utilizing a captive insurance company, this is not only possible but also a lot easier than you'd imagine. As one of America's top corporate, tax, and risk management attorneys, Strauss provides readers with true insight on the key sophisticated planning techniques used by small business owners who implement captive insurance companies. Readers will learn the fundamentals and history of captive insurance and how this technique can provide numerous benefits to your business.
This book will provide insight on how to:
reduce out-of-pocket expenses;
increase cash flow;
insure more of the risks of your business;
protect personal and business assets from lawsuits; and
select the appropriate manager for your captive insurance company.
---
The 30-Minute Runner
The 30-Minute Runner takes a simplified approach to training, which is to break down everything into one thirty-minute session per day—a manageable segment for first-time runners and those who may be in decent shape but lead incredibly busy lives.
Everything in the book—including training schedules, techniques, and tips—is put forth purely in terms of minutes spent running, without any goal paces to worry about, mileage to keep track of, or anything to measure other than time spent out on the roads and trails. The book focuses on how to maximize those thirty critical minutes in order to achieve two primary goals: shedding extra pounds and completing a 5K race.
---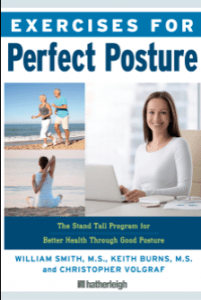 Exercises for Perfect Posture
Exercises for Perfect Posture is the complete guide to achieving healthy posture, providing everything from fitness programs and exercises designed to realign the spine and strengthen shoulders, neck and back as well as guidance on how to redesign one's work space to be more ergonomic.
Good posture is foundational to good health. Poor posture can lead to shoulder discomfort, neck pain, and even chronic conditions such as carpel tunnel syndrome if left uncorrected. Yet the modern lifestyle and the modern workplace together make it very difficult to maintain healthy, natural posture throughout the day. Humans were not meant to spend all their time sitting down, and the "disease of inactivity" has reached near-epidemic proportions.
Exercises for Perfect Posture corrects deficiencies in posture through resistance exercises, flexibility, and cardiovascular activities that will fit any schedule.
Featuring expert-approved fitness techniques, with options ranging from resistance training to mobility movements, Exercises for Perfect Posture is the all-in-one resource for anyone looking to stand up straight and face life head-on.
Exercises for Perfect Posture provides the physical and preventative education necessary to improve posture and health through a comprehensive fitness program for all ages.
---
500 Ketogenic Recipes and Keto Slow Cooker & One-Pot Meals
If 2017 health trends taught us one thing, it is that the keto diet is here to stay. It was the #6 Google search term for diets and gained celebrity followers like Halle Berry, Vanessa Hudgens and Bella Hadid. New research studies show that a ketogenic diet can lower blood sugar and cholesterol and can improve memory and brain function, in addition to significant weight loss.
Though trendy, the keto diet should be done with purpose and care and under the guidance of a doctor. And delicious and easy recipes make it easy to keep a dieter on track.
For your keto diet content for 2018, consider the following cookbooks – 500 KETOGENIC RECIPES from Dana Carpender and KETO SLOW COOKER & ONE-POT MEALS from Martina Slajerova. Both use science-backed recipe development to create low carb meals that will keep dieters motivated all winter long.
---
Grief Works: Stories of Life, Death, and Surviving 
Grief Works: Stories of Life, Death, and Surviving (Scribner; January 16, 2018; https://griefworks.co.uk) is a warm, compassionate guide to grief and grieving by prominent UK bereavement expert Julia Samuel.
Samuel – close friend to the late Princess Diana and godmother to Prince George – has spent 25 years working with the bereaved as a grief counselor.  Grief Works is the expression of what she has learned from working with hundreds of patients and aims to inform, support, inspire, and campaign for those who are grieving as well as those around them.
Death is a taboo in our society, and grief is still profoundly misunderstood. So many of us feel awkward and uncertain around death and shy away from talking honestly with family and friends. Yet the bereaved are desperate to understand what is happening to them and to know what will help them.
Grief Works provides the support, guidance, insight, and tools we need to navigate through the difficult and healing process of grief. Samuel addresses deaths both expected and sudden, the loss of parents, siblings, partners, and children, and includes chapters on suicide and terminal illness. Here, she masterfully delivers a warm, plain-talking, helpful guide for anyone who is grieving the death of someone they care about and for those around them.
Already an instant bestseller in the UK, Grief Works is a definitive book on grief and grieving and joins the ranks of such classics as Elisabeth Kübler-Ross' On Death and Dying.
---
The Top 100 Classic Radio Shows
Revisit radio's golden age with this classic compilation! The Top 100 Classic Radio Shows is a compendium of the top radio shows from the golden age of Hollywood. This book is chock-full of fascinating facts and behind-the-scenes information about the best shows from every era, including the 1930s, '40s, and '50s. You'll learn tantalizing tidbits about the shows and performers who made them famous. Includes comedies, Westerns, dramas, variety shows, mysteries and suspense, sci-fi  and superheroes. Settle into your easy chair and get ready to revisit the golden oldies, including The Roy Rogers Show, The War of the Worlds, The Bob Hope Show, The Shadow, and much more. Each shows has its own dedicated spread. Three audio CDs stored in a permanent enclosure in the back of the book features 6 radio shows, one from each genre, and additional shows are available for free download!
---
The Wellness Center Solution
How Physicians Can Transform Their Practices, Their Income, and Their Lives
Private practices in America are disappearing, and you, a private practice business owner, struggle to stay afloat. Insurance reimbursements are decreasing every year and so is your revenue. Sell, retire, or drastically cut payroll and overhead. These are your choices right now as a physician-owned private practice, but it doesn't have to be your future. What practice owners need is a new, profitable, business model. The Wellness Center Solution shows practice owners, and would-be practice owners, not only how to open a wellness center, but also why they should. Stop accepting less pay for more work. The Soul Focus model is for building not just the practice of the future, but the wellness center of tomorrow, so you can take back control of your practice, your income, and your life.
---
Living an Examined Life: Wisdom for the Second Half of the Journey
Drawing from over 40 years of teaching, lecturing, and treating patients, bestselling author and Jungian analyst James Hollis distills key instructions for finding meaning in the second half of life, addressing topics, like:
Recover Personal Authority
Seek to Make Amends
What is the Bigger Picture for You?
What Gift Have You Been Withholding from the World?
Choose Meaning Over Happiness
Bestow Love on the Unlovable Parts of You
Living an Examined Life is thought-provoking and wise, inviting us to reexamine our path and embrace the second part of our journey with wholehearted truth and authenticity.
---
My Faith Journey: 52 Week Guided Devotional with Scripture
Fox Chapel Publishing is kicking off 2018 with Quiet Fox, a new imprint that will feature beautiful journals and other giftable items such as wrapping paper books and much more. 
My Faith Journey: 52 Week Guided Devotional with Scripture is Quiet Fox's debut title and the perfect journal to begin a new year on a faith-driven path. Filled with spiritual activities, ready-to-color drawings, uplifting messages, and insightful prompts, this journal is designed to help you grow on your spiritual journey week by week.
---
Everything Grows With Love
Valentine's Day has become so much more than a day to celebrate your romantic relationship—now it's a holiday to honor love of all kinds—affection for your best friend, love between parents and children, even platonic feelings for a pet. With that in mind, we're pleased to share a present perfect for moms, dads, and bffs:  Everything Grows With Love (Workman Publishing; February 13, 2018; $9.95) by the founders of the bestselling international mindfulness magazine FLOW. Filled with 393 pages of quotes that will inspire contemplative moments, illustrations that will catch the eye and imagination of every reader, and creative papercrafts that are uniquely Flow, Everything Grows With Love is a perfect gift for your best friend, mother, or anyone seeking a reflective and optimistic outlook on everyday life.
---
Love Your Age: The Small Step Solution to a Better, Longer, Happier Life
National Geographic and AARP have teamed up with powerhouse author and former TODAY show expert, Barbara Hannah Grufferman, to publish Love Your Age: The Small Step Solution to a Better, Longer, Happier Life (February, 2018).
This is a book about aging gracefully – but it is more than a how-to guide. Grufferman began running marathons after the age of 50 — and her unique combination of science and a passion for wellness will translate to audiences of any age.
Positive living expert Barbara Hannah Grufferman is a regular on the national media circuit, she has appeared on the Today Show, CBS This Morning, Good Morning America, The Doctors, The Talk, Dr. Phil, NPR, The Dr. Oz Show on Sirius Radio and OWN.
---
Love Uncensored: 50 Postcards for Your Partner, One-Night Stand, Booty Call, and That Sexy Barista Who Always Remembers Your Name
Love Uncensored: 50 Postcards for Your Partner, One-Night Stand, Booty Call, and That Sexy Barista Who Always Remembers Your Name features a collection of 50 full-color, tear-out postcards that celebrate the many forms of contemporary romance through retro art, pairing nostalgic pop art images with thoroughly modern sentiments about love and romance—from booty calls to marriage and everything in between.
---
Become the Architect of your Mind, Body and Soul
Lara Alexiou fully understands that life always brings adversity. When she was in her mid-twenties, she was diagnosed with Multiple Sclerosis. The symptoms left her drained physically, emotionally and spiritually, and she thought life as she knew it was over. However, she decided she wasn't going to give up without a fight. Alexiou knew she needed to do something, so she tried yoga. At her first class, she could barely touch her toes, but it sparked something within her. She began attending regularly, and not only was she getting more flexible and strong, but her MS symptoms were fading.
"I began to visualize the life that I wanted, working towards it and living it every day as best I could," says Alexiou, who now runs the popular studio Steamtown Yoga in Scranton, PA. "It was working – I started to feel better, and eventually was able to go off my medicine under my doctor's supervision, and have been asymptomatic now for thirteen years. These are things I was told were, for me, impossible."
While Alexiou's battle was with MS, the same principles she used to restore her body and soul can be applied to anyone facing a challenge in life. That is what she is sharing in her new book, Become the Architect of your Mind, Body and Soul. The book guides readers into how to start creating the life you want, instead of just reacting to what comes their way.
---
From Boardroom to Baby: A Roadmap for Career Women Transitioning to Stay-at-Home Mom
Going from a high pace career to life on the homefront can feel awkward. It's like running full speed on a treadmill for years and then suddenly you are standing still, in complete silence. It's time to take your eyes off the rearview mirror and move forward towards your new life!
Trading in power suits for yoga pants, author Kristin Helms began her new job as a stay-at-home mom, vowing to find the magic woven in with the chaos of raising children.
In her new book From Boardroom to Baby: A Roadmap for Career Women Transitioning to Stay-at-Home Mom offers emotional encouragement and practical guidance that shatters the stereotypes associated with "staying home" and empowers new moms to blaze their own unique paths through motherhood and beyond.
---
Thrive By Design
What if your team looked forward to Mondays instead of Fridays? With Thrive By Design, CEO of E3 Solutions Don Rheem offers managers and senior leaders deep insights into what drives employee performance from a brain-based perspective. With so many different personalities and work styles clashing, it's no surprise that conflicts arise and productivity suffers. But by understanding and analyzing the science of human behavior, you can release the full potential of your employees.
This book is for leaders who are tired of fighting against a disengaged culture; for HR professionals who spend more time reacting to workplace drama than fulfilling their mission and purpose in the organization; and for employees who have been crippled by toxic leaders and want to know there's a better way.
What The Book Is About
Why some employees are so disengaged and what you can do to decrease poor performance.
How to use validation, recognition, and feedback to unlock the untapped capacity of employees.
What employees need to perform at their best, feel fulfilled, and look forward to coming to work.
How to apply tools and science-based strategies to improve individual, team, and organizational performance.
Thrive By Design contains 11 chapters. This book is for leaders who are tired of fighting against a disengaged culture; for HR professionals who spend more time reacting to workplace drama than fulfilling their mission and purpose in the organization; and for employees who have been crippled by toxic leaders and uninspired cultures and want to know there's a better way.
---
Cyber Mercenaries: The State, Hackers, and Power by Tim Maurer of the Carnegie Endowment for International Peace.
Cyber Mercenaries is a very timely book focusing on cyber proxies – subjects often hidden behind the wall of government secrecy while playing an increasingly important and visible in cyber operations. States have a long history of using conventional proxies, cyber proxies are 'the newest kids on the block'.
Based on academic research and case studies, Tim Maurer addresses the capabilities of cyber proxies, the different types of cyber proxies and their relationships with states in the manner that is both very insightful and catching for policy makers, practitioners of international relations, academia, experts and citizens alike.' Marina Kaljurand, Chair of the Global Commission on the Stability of Cyberspace and served as the Foreign Minister of Estonia from 2015–2016.
---
Toxic Home/Conscious Home
In Toxic Home/Conscious Home, Rob Brown, MD, examines the health dangers lurking in the modern home and offers simple, straight forward solutions as to what you can do about them.
This book will help you understand how you interact with your environment chemically, electrically and spiritually. He answers questions such as:
How can you uncover urgent and insidious sources of home toxicity?
What changes can you make to improve the health and well-being of your household?
Why are so many harmful products in the marketplace?
What effects can toxins and other dangerous products have on your health?
Whether it's boycotting personal care products with aluminum components, avoiding the shopping aisle with aerosol room deodorizers, or keeping a cell phone out of your front pocket, he offers a simple, practical framework that will allow you and your loved ones to live longer, healthier lives.
---
THE GIG IS UP: Thrive in the Gig Economy, Where Old Jobs are Obsolete and
Freelancing is the Future
While many books on the gig economy focus on letting people live out their dreams, THE GIG IS UP instead looks at the realities of what it truly takes to win in a world of increasing choice, how to compete and how to put the best version of themselves up front and center. The goal in competing today is to not only be chosen, but to move toward becoming the only choice, over and over again. Author Olga Mizrahi outlines:
Becoming the freelance elite: how to showcase you at your best.
The 7 things you're not going to think about, but need to.
How to always be attracting new clients.
Independent Freelancer vs. Freelance Business Owner.
Redeeming yourself after a slump.
Ethics remind you that you're not a desperate drone!
The Robopocalypse is NOT happening.
Olga Mizrahi has recently been featured in Forbes, Fast Company and Inc. She is a local Southern California business owner, a blogger for entrepreneurs and freelancers at ChunkofChange.com, and a small business columnist for The Long Beach Post. Mizrahi's first book is Sell Local, Think Global (Career Press, 2014).
THE GIG IS UP: Thrive in the Gig Economy, Where Old Jobs are Obsolete and
Freelancing is the Future
Olga Mizrahi
Greenleaf Book Group Press
February 27, 2018
Paperback, $16.95, 978-1626344938
---
The Complete Plate
Lauren Klukas who has overcome the challenge of dealing with arrhythmogenic right ventricular cardiomyopathy (ARVC) which in turn has essentially inspired her Complete Plate philosophy and new cookbook which shows that weight maintenance, and weight loss, can be achieved through a balanced diet of ingredients that come together to meet both nutritional and caloric demands.
Lauren Klukas was once one of the fastest swimmers in Canada but when doctors found a tumour wrapped around her spinal cord she had to pull back on her fitness routine. Surgery to remove the tumour was successful and she returned to the pool but was not able to maintain the same level as before so she eventually transitioned into coaching and learned how to cook healthy meals which are showcased in this book which features meal plans for diets of 1,500, 2,000, and 2,500 calories. It is a collection of 30 meal plans with each day perfectly balanced to provide 100% of your daily macro and micro nutrient needs (based on current daily recommended intake (DRI) values).