Since Father's Day and Graduations are just around the corner, to help prepare you to find the perfect gift for Dad and the grads in your life, we've assembled our annual Dads & Grads Day Gift Guide. A special thank you to those of who sent in your gift ideas and suggestions for this occasion.
If you're looking for a gift idea, our annual gift guide features a wide variety of ideas.
---
For the Home and Dorm
Lasko Fans
Lasko Fans — electric fans that can be used in the home while dad's watching television, outdoors while he's working out, or in his office while he's finishing up assignments.
The fans also come in various shapes and sizes, making them a stylish addition to any dorm room or apartment for the new graduate! In addition to these perks, using a fan can save dad or the graduate 10% in home energy use.
Here are several Lasko fans for the dad and grad in your life:
2524 16" Oscillating Stand Fan
Add 90-degree oscillation to any room to create a refreshing breeze while relaxing or entertaining with the 16" Oscillating Stand Fan. A wide arc of air is created thanks to an adjustable height and tilting fan head that allows users to direct air where they need it, when they need it. With tool-free assembly required, it's easy for users to get cool quickly and keep cooling costs down.
Product size: 18"L x 17"W x 47"H
MSRP: $24.99
Retailer: Home Depot
A20301 20" Wind Machine®
It's easy to stay cool and save money on energy bills with the Wind Machine 20" Power Fan. Three high-performance speeds and a pivoting head for directional air power, put users in control of their comfort and wallet, making it easier to stay on a budget by creating wind chill for less than 3 cents per hour. A thoughtful, lightweight design makes it easy-to-move, giving users the freedom to go room-to-room and there's no need to worry about rust, its plastic material makes it perfect for hot and humid locales.
Product size: 25.4"L x 7.2"W x 23.4"H
MSRP: $29.99
Retailer: Walmart
4000 Air Stik
A must have on everyone's college checklist, the Air Stik® Ultra Slim Oscillating Fan's Aerotech ultra slim design is perfect to use on desks or nightstands. With two quiet speeds, it provides the comfort a student needs to stay cool and refreshed. Its slim and sleek design fits any dorm room décor and its oscillating features keep air moving.
Product size: 4"L x 3.25"W x 14.125"H
MSRP: $29.99
Retailer: Amazon
From the best-selling Hurricane Spin Mop family, Hurricane Spin Broom uses innovative cyclonic action to whirl anything in its path into its built-in dustbin.  With its three spinning brush heads and swivel steering, Hurricane Spin Broom effortlessly grabs anything from pet hair to cereal in open floors or under cabinets and along baseboards. $19.99
The new Hurricane Spin Scrubber helps clean quicker and easier with less pressure.  From the best-selling Hurricane Spin Mop family, The Hurricane Spin Scrubber is a high-powered electric scrubber, designed to blast away dirt, grime, and buildup.  Cordless and rechargeable, a single charge powers the Hurricane Spin Scrubber for up to 60 minutes. $39.99
The Pocket Hose Top Brass Bullet, part of the "Hose That Grows" family, offers gardeners and homeowners a lightweight, yet super-strong hose that expands under water pressure and retracts for ultracompact storage.  Pocket Hose's rugged bullet-shell outer casing resists kinking and tangling and has no seams to tear or burst; its tight sealed top brass connectors offer leak-free operation. $29.99
Reliefband
From natural remedies to drugs, those with chronic motion sickness are willing to try anything to ease their nausea. Some people's motion sickness is so bad it may even hold them back from certain activities like going on a cruise, boat, or traveling on a road trip. Some people turn to a natural remedy like ginger to soothe their stomachs, others turn to drugs like Bonine and Dramamine. Now, there is an effective, drug-free alternative, called Reliefband.
The Reliefband is the first of a new generation of wearables that can treat and alleviate conditions rather than just monitor symptoms, vitals and activity. It is a drug-free treatment of nausea, retching and vomiting associated with morning and motion sickness like sea sickness, car sickness and airsickness.
Dramamine and Bonine can have side effects including drowsiness, dizziness, nervousness, dry mouth, decreased appetite blurred vision and an increased heartbeat.
Avoid the drugs, and wear a Reliefband! Simply apply a small amount of conductivity gel and slip the device onto your wrist, adjust the intensity to suit individual needs and within minutes you will be feeling yourself again.
So don't hold back on your next adventure, life your life to fullest with Reliefband. Available for $114.99 on

 

Reliefband.com.
---
For the Dad or Grad Who Loves to Cook
New Red Copper Square Dance Pan makes cooking and clean-up quick, easy, and hassle-free.  From the best-selling Red Copper family, The Red Copper Square Dance Pan, uses a combination of strong copper and ceramic coupled with the newest technology in nonstick cookware to ensure no food sticks.  Without using butter, oil or grease, food easily slides from the pan.  Red Copper Square Dance Pan is resilient, and won't scratch, chip, or peel into food.  For added bonus, the pan is oven-safe up to 500 degrees, and is PFOA & PTFE free. $19.99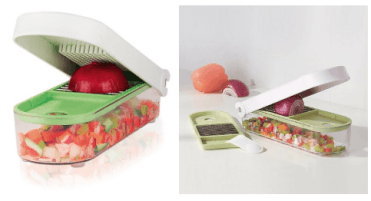 Vidalia Chop Wizard
Now that Cinco de Mayo is upon us, it's time to break out the tequila, sombreros, maracas and most importantly: nachos. What's not to love about nachos? The crunchy chips, savory meat, fresh salsa and guacamole, and of course, smothering it with a thick layer of melted cheese. This Cinco de Mayo essential is shareable, easily customizable to your personal tastes and just too difficult to turn down.
To make the perfect nachos, check out this innovative gadget that will help cut your prep time in half: the Vidalia Chop Wizard. The Chop Wizard will take care of all your Cinco de Mayo entertaining needs, creating your salsa, guacamole, sangria and more within a matter of minutes! Complete with two blade attachments, a medium size for apples, onions, tomatoes, etc. and a small size for mushrooms, strawberries, eggs and kiwi. Here is a short video to see it in action.
---
For the Dad Who Likes to Entertain
LIGHTIFY GardenSpot Mini
Looking to accentuate your backyard landscape for that upcoming graduation party or family gathering? SYLVANIA LIGHTIFY GardenSpot Mini from LEDVANCE lets you do just that. It's the perfect addition to any backyard or garden setting, letting you illuminate your walkway or light up your garden with the simple use of your smart phone or tablet. In addition to their flexible structure, these LED lights feature a variety of vibrant colors, catering to whichever type of gathering or party you might be hosting! 
---
For the Trend Setter Dad
SYLVANIA UTRA LED Vintage Lamps
Ever walked into a bar or restaurant, and instantly noticed the glass bulb chandeliers that hung from the ceiling, illuminating the room with flickers of amber and gold? You might not have been in a place of luxury, but it gave you the feeling that you were. SYLVANIA ULTRA LED Vintage Lamps give you that same experience in the comfort of your own home. Imagine being able to entertain guests at a party, host a private dinner, or just enjoy a glass of wine surrounded by a warm, ambient glow.
---
For the Stylish Dad
Ahhsoles
Slip into Ahhsoles and experience incredible comfort and joy with every step – without sacrificing style.
Ditch that boring, everyday footwear and throw on a pair of Ahhsoles flip flops!
Uniquely named for that "Ahhh!" feeling you experience when taking your shoes off after a long day on your feet, this innovative brand designs an irresistible selection of wild foot bed textures that are "Offensively comfortable."
Gold Toe Socks
Gold Toe Socks 
(just named best 
men's dress sock
 by 
GQ,
and featured in 
Esquire
) makes a great
Father
's 
Day or Graduation gift
. Gold Toe also currently has a 40% off sale for Father's Day, valid 6/4/17-6/18/17. Here are a few ideas to consider:
Bring Fun to Dad's Feet: Add a touch of festivity with the Men's Fashion Singles featuring styles highlighting everything from parrots to lobsters, and funky stripes to bold colors, Gold Toe knows the perfect way to blend contemporary styling with superb quality.
Great Performance Starts Feet First: Each pair of PowerSox contain features such as AquaFX moisture management, arch support, strike zone cushioning and breathable vents deliver constant support to your feet, allowing for consistent performance in the gym, yard or company softball game.
Hit the Links With Gold Toe Golf: For the golfing dad, the Gold Toe Golf collection provides comfort and breathability whether they are walking 18 holes or just caddying with the boys. The Fairway collection performance socks are 

golf

 inspired and offer many features to keep your 

feet

 cool, dry, and comfortable. With cooling mesh, Aquafx® moisture control, reinforced heel and 

toe

 and arch support, the FAIRWAY line is the winning choice for any player on or off the greens. For the 19th hole, the Clubhouse dress sock pairs impeccable style with performance for a golf-inspired look after a day on the greens.
---
Cremo
Cremo's line of beard care and shaving products for consideration for any Father's Day gift guides you might be planning.
If most women are like me, they have NO idea what to get dads for Father's Day. Whether it's a full beard, whiskers, side burns, moustache, goatee or chin curtains – facial hair for men can be everything from a phase to a permanent part of their appearance and caring for it is just as much part of their grooming routine as applying deodorant. Following are details about the Cremo product line.
Tenzing
This Father's Day, take the burn out of Dad's daily shaving routine with products that will actually pamper his skin.TENZING, a new men's skincare brand, uses aloe based products that combine some of the healthiest and most natural ingredients known to man. Treat your dad to something a little more luxe this year.
TENZING's Adventure Pack (available in Sage Mint and Sandalwood), retailing at $55.00 offers:
The Pre-Shave Oil
A combination of rich oils (acai, olive oil and grape seed oils) blended together to create pre-shave perfection.
The Premium Shave Cream
Organically formulated with an aloe base, the shave cream strengthens and hydrates skin while supplying a smooth and comfortable shave.
The Face Moisturizer
Organically crafted moisturizer fights early signs of aging, tones skin and leaves you feeling ready with aloe and grape seed oil.
---
For the Stylish Grad
Murad
Murad has a great new product that would be perfect for new graduates.
NEW Rapid Relief Acne Spot Treatment 
($22 from Murad.com)
A fast-acting, invisible gel that reduces blemish size and redness in just four hours, Rapid Relief Acne Spot Treatment features maximum strength Salicylic Acid to clear pores, smooth skin and treat acne at the source by killing bacteria.
Rapid Relief Acne Spot Treatment is formulated with a patented complex that features thyme and pine extracts to fight irritants while preserving skin's natural balance.
Horse chestnut and oat extracts help to reduce redness and soothe the skin, for an even and clearer complexion. ($22 from Murad.com)
Fragrance.com
Bvlgari Mon Jasmin Noir ($42.99, Fragrance.com) A luminous and addictive floral fragrance, cut like a gem with dazzling clarity, offering an undeniably modern and sensual femininity. It has notes of lily of the valley, sambac jasmine, musky nougatine and vibrant wood perfect to add to your fall fragrance arsenal.
Giorgio Armani Si ($75.99, Fragrance.com) Sì Eau de Parfum is a tribute to modern femininity, an irresistible combination of grace, strength, and independent spirit. A modern chypre reinvented, Sì opens with deep blackcurrant nectar that softly recedes to airy florals. A base of musky blond wood adds lightness while grounding the fragrance for a lingering, distinctive trail.
My Burberry Black ($61.99, Fragrance.com) My Burberry Black fuses the scent of sun-drenched jasmine flower and peach nectar with a sensual touch of rose. The iconic rose note at the heart of My Burberry gives a sweet and inviting candied twist, while rich amber patchouli rounds out the scent for a deep and captivating finish.
Reveal by Calvin Klein ($34.99, Fragrance.com) A second-skin scent characterized by unexpected raw salt, luminous flowers, and warm woods, the fragrance hints at a play between relaxed sensuality and an undercurrent of addictive allure. This scent's versatility is perfect whether you're heading out on an adventure to apple pick with your loved one, or choose to stay cozy on the couch for the evening.
jane iredale
With summer around the corner, jane iredale's newest launches and classic sun staples land the season's biggest trend: healthy glowing skin with a subtle pink pout. Get the best of both beauty worlds – knockout features by way of nourishing, natural ingredients that hydrate and protect. It's no coincidence that jane iredale is the #1 makeup choice of skincare professionals, as all products are fully tested and recommended by the Skin Cancer Foundation.
1—NEW Pink Lady PureGloss Lip Gloss – coming May 2017 ($26, janeiredale.com)
Drench lips in this cocktail of hydrating moringa butter, avocado oil, lemon and pomegranate extracts for long-lasting creamy color. Plus, it's completely vegan-friendly!
2—NEW Martini PureGloss Lip Gloss – coming May 2017 ($26, janeiredale.com)
The perfect "your lips but better" light pink nude with an extra burst of hydration!
3—Tantasia Self Tanner & Bronzer ($36, janeiredale.com)
This double duty summer must-have is especially unique because it does not contain DHA or FD&C dyes, the culprit of unnatural orange tones found in most self-tanners. Instead, Tantasia uses caramel color, mica and iron oxides (clean earth minerals) for a natural, sun kissed glow. 
4—Glow Time Full Coverage Mineral BB Cream ($48, janeiredale.com)
This fan-favorite BB cream has been reformulated to include coconut alkanes for an even smoother, luxurious feel. The full coverage yet lightweight formula is coupled with a diverse shade range that is inclusive of all skin tones. Shades BB1-BB8 contain SPF 25 and deeper shades BB9-BB12 contain SPF 17 (reduced level of titanium dioxide) to achieve the best possible color pay-off.
5—Powder-Me SPF 30 Dry Sunscreen ($47, janeiredale.com)
Powder-Me SPF is a nourishing, easy to use skin protectant that contains titanium dioxide and natural clay to shield against redness and provide light coverage (so you can skip foundation). Added bonus – it's water resistant up to 40 minutes!
---
For the Dad and Grad Who Loves to Read
The Graduate's Survival Guide would be a great addition to your "dad and grads" gift guide. In the book and accompanying video lesson, youth and money expert Anthony ONeal helps new high school graduates:
Learn how to make smart financial decisions during college.
Put into practice healthy money habits to keep them out of debt.
Take responsibility for saving money and spending with a plan.
Discover how to avoid student loans and pay cash for college.
Feel free to check it out here.
---
The Stuff of Family Life
In The Stuff of Family Life (May 15, 2017; ISBN: 978-1-4422-5479-4; Hardcover $34.00; 224 pages; Rowman & Littlefield), Sociology Professor Michelle Janning offers a timely look at how modern society and technology shapes our relationships and our lives. Like an archaeologist studying ancient civilizations through the things they left behind, Janning excavates contemporary life through our houses and possessions, from childhood stuffed animals and security blankets to retirement homes and senior living centers.
What does where you store old love letters say about their significance? Why do adults feel out of place in their childhood bedrooms? Janning takes readers through the stages of life – from dating and marriage to parenting and aging – that are usually kept behind closed doors. From online valentines to the growing popularity of "man caves," The Stuff of Family Life looks not only at what large demographic studies say about family dynamics but also what our lives—and the stuff in them—say about how we relate to each other.
Disneyland Encyclopedia 
Since its humble beginnings in the mid-1950s, Disneyland has captured the imagination of millions of visitors. Author Chris Strodder launches his new, completely updated and expanded third edition of The Disneyland Encyclopedia (Santa Monica Press/April 2017) with over 50 new entries and 300 new photos. This new edition of The Disneyland Encyclopedia spans the entire history of the park, from its founding more than 60 years ago to the present day.
This fascinating book features detailed explorations of 600 Disneyland topics, including lands, attractions, restaurants, stores, events, and significant people. Each of the main encyclopedia entries illuminates the history of a Disneyland landmark, revealing the initial planning strategies for the park's iconic attractions and detailing how they evolved over the decades.
Overflowing with meticulously researched details and written in a spirited, accessible style, the third edition of The Disneyland Encyclopedia is a comprehensive and entertaining exploration of the most-influential, most-renovated, and most-loved theme park in the world!
Dynamic Aging: Simple Exercises for Whole-Body Mobility 
What if everything we thought about aging was wrong? What if it's not age making us stiffer and weaker but how we've been moving, and not moving, our bodies as we get older? Biomechanist and best-selling author Katy Bowman asserts we can change how we feel by changing how we move. With Dynamic Aging: Simple Exercises for Whole-Body Mobility, Bowman tailors her Nutritious Movement™ method of restoring pain-free, confident movement to older readers, along with the incredibly inspiring and practical stories of four 'goldeners' (each over 76) whose lives have changed because of it.
Co-authors Joan Virginia Allen, Shelah M. Wilgus, Lora Woods and Joyce Faber share how they've been able to avoid surgeries, eliminate pain, and regain the freedom of movement that they had assumed was lost to normal aging, all through their movement work with Katy over the last decade. These septuagenarians are backpacking through mountains, climbing ladders (and even trees!) with ease, and walking miles in their daily lives. They are living proof that you aren't just what you eat; you are how you move. Dynamic Aging is available in trade paperback and e-book, from Propriometrics Press on Amazon for $16.95 (ISBN: 978-1-943370-11-5).  It will be distributed to booksellers by Cardinal Publishers Group. Printed on recycled paper, the book will also be printed with 14-pt type for ease of use.
---
For the Tech-Savvy Dads & Grads
A convenient memory butler for people on the go. TrackR bravo is a coin-sized Bluetooth device that men can attach to all their important belongings — from work bags to car keys to even pets — to make sure they never get lost. Once they pair the device with the free iPhone/Android app, they can use their phone to locate any misplaced item. $29.99. In conjunction with Cross Pens, TrackR also offers the world's first trackable pen, the Cross Peerless TrackR (SRP $250), and Cross Pouch (SRP $30).
Aquatune
The Aquatune 5712 is the perfect summer companion, no matter where the summer takes you. This weatherproof bluetooth speaker pumps out 12 hours of crisp dynamic sound and can be submerged in water for up to 30 minutes. The durable clip makes it easy to bring the compact yet powerful speaker along to the pool, beach, hiking, bike riding, traveling, or any other adventure this summer. Retail: $34.99 To check out the entire line of Yatra's all-terrain Aquatune speakers, visit: www.shopyatra.com.
SnapPower
The SnapPower Charger (starting at $20) allows you to easily convert your outlet coverplate into an attractive USB charger. It requires no wires or batteries and leaves all outlets free for use. Busy moms can easily charge their phones while multi-tasking (working from home, curling her hair, or cooking).
The SnapPower SwitchLight (starting at $17) allows you to easily convert your light switch into a convenient night light. They automatically turn on and off by a sensor and are equipped with energy-efficient LED lighting for perfect nighttime illumination. No more stubbing your toes while helping kids in the middle of the night!
JBL Flip 4
Looking for a speaker that can travel with you through all of your summertime adventures? Look no further than the newest addition to the JBL Flip Series, the JBL Flip 4. This new rugged speaker packs a punch, upgrading your audio experience to the next level. With wireless Bluetooth streaming capabilities, 12 hours of continued playtime and a new waterproof design, this speaker is perfect for any environment. Available in 6 vibrant colors.