The Drifter
Dads love their kids, and love spending time with them. Taking them places, buying them things, spending time together. But not every dad loves the idea of toting around a diaper bag, for some guys, it feels too much like a purse. Since fanny packs are out of the question, STM has a solution for those dads who want a little more than a diaper bag.
The Drifter is a spacious backpack with 18L of storage for the necessities, a 3D foam-mesh back for comfort, and even floating pockets to protect a laptop and a tablet. Dads can now carry around anything they might need to keep kids occupied and supplied if they don't like the idea of a traditional diaper bag.
---
Rickshaw Bagworks
Rickshaw Bagworks' freshly launched the Commuter 3.0 Laptop Bag – the ultimate computer bag to hold your whole life (and then some) while conveniently traveling on foot, bike or scooter. Made from 100% scratch in San Francisco with an array of premium fabrics, this highly functional bag can be customized to become personalized and unique to anyone. 
Details: 
Stand-up design

Holds up to 15" laptop in included removable sleeve

Completely customizable inside and out

Front & rear pocket for pens, wallet, phone and journal

Exclusive quick-adjust shoulder strap, and strap pad

Dimensions: 15.75″W x 12″H x 4.75″ D
---
Personalized Bottle Opener by Personal Creations
Great for parties or backyard barbecues, this convenient credit card-sized bottle opener goes where you go! Crafted of durable stainless steel, it slides easily into a pocket or wallet credit card slot. They personalize any name, up to 10 characters.
---
Novica
All of these items are coming from the fair-trade and e-commerce site, NOVICA (associated with National Geographic). Each of these items are handcrafted from artisans in developing countries like Bali, India, Brazil, and Peru.
NOVICA started in 1999, has given back $60 million to artisans around the world and has impacted over 75,000 lives by helping artisans get real-world pricing for their work while preserving traditional cultures.
For the traveling dad or graduate:
These are a few pieces that make the journey as important as the destination.
1 – The Hang Ten Travel Hammocks insure that those who travel light – sleep well. These parachute fabric hammocks fold into an integrated pouch.  $39.99 (single)
2 – A soft brown leather Travel Bag for all that lies ahead $249.99
3 – Even if you're heading to the tropics the average cabin temperature is below normal for any time of year. This Mens Scarf will keep you cabin comfortable from departure to landing $29.99
4 – Savor the envy-filled moment the TSA agent spies this hand crafted leather Passport Holder $79.99
5 – If leather's not your thing, a hand woven Passport Holder will have the same effect $54.99
6 – They're back again – the last generation's Waist Bag offers a hands-free solution $122.99
7 – An aged leather multi-pocket Passport Holder will keep Visas and travel documents stylishly safe $73.99
8 – A tan leather Tablet Case with a removable strap $131.99
9 – A Leather Backpack is a great carry-on or weekend bag $214.99
10 – A generous Weekend Bag lined leather, adjustable strap $269.99
​11 – HAPPY sums-up the chance to travel…this wrist-bound message from our Mens Bracelets Collection might even make a Gate Agent smile…
---
Leather Watch Box by Personal Creations
Sophisticated case protects and showcases up to 10 watches. Beautifully crafted of manmade leather, it has a hinged glass lid, soft faux suede lining and a secure key lock closure.
Made of manmade leather and faux suede.
Glass lid.
Key lock closure.
Holds up to 10 watches.
Measures 10″L x 8″W x 3″H.
Available in brown or black.
Laser engraved with any 3 initials.
---
Soft Brown Leather Travel Bag Lined with Internal Pocket
For your dad or graduate in your life, NOVICA, associated with National Geographic, has a beautiful versatile travel bag from the Becerra Collection crafted in strong but supple leather. There's a zipper pocket in the brown lined interior of the compact yet roomy bag that closes with a zipper. Twin handles can be complemented with a comfortable adjustable shoulder strap that snaps on and off.
---
The Northwest
The Northwest, maker of the best blankets and throws in the game, offers a variety of branded sports swag for dad. Whether it's a Pittsburgh Steelers Car Seat Cover or an MLB Pirates Micro Raschel Throw, The Northwest has dad covered.
---
ZOINX Sunglasses
ZOINX Sunglasses are the perfect sunglasses for the adventurous. No longer will you have to worry about losing your shades while having some fun in the sun. This company has developed the ideal pair of sunglasses that feature a patented clip, which allows you to keep better track of your shades.
The product was designed to be more than just the shades you'll never lose, they were specifically created with the active adventurer in mind. Not only can you clip them to your bag or belt, but each pair of sunglasses also comes with a sport strap, zipper pouch, flotation insert, and waterproof emergency info card.
---
What Watch
What Watch is a breakout line of Swiss timepieces launching in New York this summer. What Watch offers an artistic approach to tracking time, allowing users to timestamp moments with an innovative hybrid design that combines the best of traditional analog, stylish design, and smart watch functioning.
By pressing the red button on the side of watch, the user can "timestamp" a moment – the button creates a unique e-Ink mark on the watch face that represents the captured memory. Within a month, the wearer is allowed five unique moments, capturing up to sixty moments in a year. Perfect for the father who would like to stop time, or the graduate who would like to remember all the important moments to come – first day at the new job or first apartment.
---
ONA
ONA, a New York City-based purveyor of fine bags and accessories, is launching a brand new collection of premium briefcases, tomorrow June 11th.
The collection is designed for stylish everyday carry, to accommodate everything from your reading, cell phone, and pens, to a laptop up to 15" in size, all in a slim silhouette.
The Kingston briefcases are handcrafted from premium materials, including full-grain Italian leather, waxed canvas sourced from a storied American manufacturer, as well as solid brass hardware. The Kingston in leather will retail for $309, and the waxed canvas colorways will retail for $239. 
---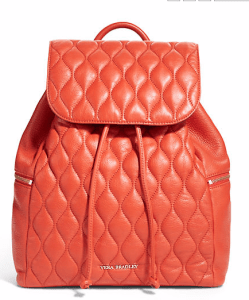 Vera Bradley
Quilted Amy Backpack ($258)
This stylish backpack is updated with a drawstring closure concealed by a flap. Two exterior side zip-close pockets keep phone and keys accessible. Inside, one main compartment is accented with one zip and one slip pocket. Gold-toned hardware completes the look.
Details
Leather

30 1/2″ adjustable straps
Two side zip pockets, back slip pocket
Interior has one zip and one slip pocket
Drawstring closure with snap-close flap
Dimensions: 

11″ W x 12

¾

" H x 5″ D with 30

½

" adjustable straps, 3

½

" handle drop

Care Tips: Clean gently with a soft, damp, white cloth
Laser Cut Tote ($98)
Very chic, this extra-large tote was crafted in supple faux leather. Inside, one multifunctional hanging slip pocket keeps smaller items organized. Thin faux-leather shoulder straps complete the look.
Details
Extra-large tote

Faux leather with laser-cut design
Slim and study faux-leather shoulder straps
One hanging zip pocket inside
Magnetic-snap closure
Dimensions: 

13″ W x 13

¼

" H x 4

½

" D with 12″ strap drop
---
Tutilo
Whether the days are filled with beach trips or backyard BBQs, moms always have fun activities lined up during the summer, and this year, you can give your mom the perfect bag for all occasions! Tutilo's summer collection offers a versatile selection of stylish, utilitarian tote bags that are designed for the everyday woman. Made from nylon and other fashionable, yet durable materials, the totes and satchels are available in a range of styles and colors.
With the spontaneity of summer, Tutilo's signature compartmentalized bags are perfect for a mom on-the-go. Forget the days of lugging around multiple bags to fit all of your children's necessary items because Tutilo's summer collection is full of bags designed to "carry your entire day!"
---
With You
With You is a collection of beautifully designed modern vintage lockets ranging from necklaces, bracelets, pins to rings.  The company is the only locket brand that allows you to upload or send them a photo which they will print and place inside your locket. The stress of finding, resizing, printing and cutting a photo for
your locket is gone, and what a meaningful and personal gift this will be.  Below are some styles to help moms keep their loved ones extra close.

The Mimi Necklace, in rose or yellow gold vermeil, is a detailed slide locket with a center diamond for a luxe finishing touch. Available at WithYouLockets.com for $229.
The Beatrice Necklace features intricate curves of sterling silver and diamond pave which gives admirers a peek of the photo inside. Available at WithYouLockets.com for $299.
The Georgie Ring is stunning for every occasion. This locket ring's diamond pave filigree finishes your look with a delicate touch. Elegant and refined, you will find it difficult to take your eyes off of it. Available at WithYouLockets.com for $329.
---
Passiana
Passiana  is about sexy, sophisticated statement jewelry for women who know who they are. These jewels are handcrafted with the finest materials, recycled when possible and eco-friendly when possible. Always well-designed and emotionally available, but slightly challenging (prices between $100 – $200)
---
SuperJeweler
Since 1999 SuperJeweler has been offering amazing jewelry at the absolute lowest prices. They scour the globe looking for the best deals on diamonds, gemstones and fashion jewelry. All of their diamonds come from ethical, conflict-free suppliers. In addition, they buy direct from the source and pass the savings on to customers.  (prices between $140 -$300)
---
Stauer
Stauer offers a wide variety of men's and women's watches Including manual winds, automatics, and quartz. (prices between $180 and $800)