Hyleys Tea Gift Box Sets
The Nature's Harmony, Exquisite English and Gold collections of luxuriously packaged tea sets include their own variety of teas with an exquisite taste and a delicate sweet aroma. An excellent gift idea to please any recipient, from Mom and Dad to co-workers, teachers, Secret Santa's, that special someone, friends and more.
Hyleys Tea Gift Box Sets: www.HyleysTeaOnline.com
Gold collection ($17.99):
• Contains 120 tea envelopes wrapped in gold foil
• Features an elite variety of six all-natural tea flavors including English Aristocratic Tea, English Special Blend, English Green Tea, Passion Fruit, Earl Grey and English Green Tea with Jasmine
Nature's Harmony Tea Collection ($69.99):
• Packed in Sri Lanka to guarantee the genuine freshness and aroma until it is opened.
• Teas are carefully selected from the best plantations of Ceylon and China and complemented by tasty and health promoting gifts of nature.
• Packaged in an attractive wooden gift box, this collection includes 80 tea bags in individual foil envelopes.
• Flavors include: Green tea & Lemon, Green tea & Mint, Green tea & Chamomile, Black tea with Melissa & Mint, Black tea with Rosehip and Hibiscus, Black tea & Lemon, Black tea & Linden Blossom, Green Tea and Black Tea.
Collection of Exquisite English Tea ($69.99):
• Features an elite variety of all-natural exquisite English tea.
• Packaged in a fine wooden gift box, containing 80 tea bags in individual foil envelopes.
---
DAVID's TEA Winter & Holiday Collection
The DAVID's TEA Winter & Holiday Collection is inspired by a ski holiday in the French Alps and has gifts that are sure to please everyone on your list. Sample gifts include: 
Warm & Cozy Teas ($25) – Whether you're hitting the slopes or warming up by the fire, these five limited edition teas are the perfect way to make your winter extra cozy. Includes: Coffee Cake, Chocolate Covered Almond, Nutty and Spice, Sweet Almond Green and Apple Cider.
12 Days of Christmas ($32) – What could possibly make our teas more amazingly festive? How about this super-cute tea packed tree-shaped box? 
Collectible tins ($18 each) –  Turn our limited edition teas into a timeless keepsake with these gold-printed tea tins
12 Teas of Garland ($35) – This cute little garland of 12 tea-filled mittens is the perfect holiday DIY project. Just put one tin of each tea in every mitten and use the wooden pegs to attach the mittens to the cord.
---
Specialty Soda Arrangement from Rocket Fizz
With dozens of soda flavors to choose from, it's impossible to settle on just one at Rocket Fizz. From Shirley Temple and root beer float to buffalo wing and marshmallow, Rocket Fizz offers an eclectic lineup of flavors. The specialty arrangement, available at the shop's location in The Waterfront Shopping Center, allows patrons to sample a select portion of the offerings right from Rocket Fizz's fridge.
---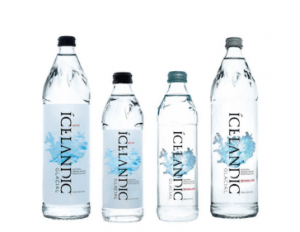 Icelandic Glacial
The last thing you'd want on a perfectly set holiday dinner table is a plastic water bottle detracting from your decor. Keep your guests hydrated with Icelandic Glacial, available in beautifully designed 750ML glass bottles – perfect for serving.
Exceptionally pure, Icelandic Glacial is bottled at its source, Iceland's Olfus Spring, and is known for having a naturally low mineral content. This premium spring water is also naturally alkaline with a pH of 8.4.