CVS Products
CVS' exclusive line of Caliber school supplies has everything young adults need to be a success in the classroom from notebooks and pens to colorful index cards and binders.
The Total Home line of homecare essentials includes a number of great supplies that are perfect for dorm rooms, ranging from laundry detergent and fabric softeners to kitchen and bathroom cleaning products to room spray and extension cords.   
Every college student needs an arsenal of great snacks. CVS/pharmacy has a healthier, better-for-you, line called Gold Emblem Abound, which offers a range of snacking options, including items that are gluten-free, organic or high in fiber and protein. The line features a number of snack bars, trail mixes, freeze-dried fruit, popcorn, rice crisps and more – perfect for snacking on-the-go.
---
Duck Brand
Duck brand is perhaps best known for its Duck Tape®, a hugely popular fashion and crafting medium available in more than 250 colors, designs and licenses – including the logos of many college and university teams. With a suggested retail price of just $4-$6 per roll, Duck Tape provides an easy, inexpensive way for college students to personalize school supplies, from decorating notebooks and binders to  creating unique backpacks and tablet covers. Given that most college students are often short on cash, being able to decorate their gear without breaking the bank is key.
Duck brand also has introduced several crafting tapes that provide the ideal embellishment to Duck Tape projects. New this year are Duck Dry Erase Tape and Duck Chalkboard Tape, useful for creating one-of-a-kind calendars, message boards or labels.

Duck Washi crafting tape is easy-to-tear, repositionable and surface writable, making it great for decorating and labeling – even adding some color to keyboards. Removable products are especially important in dorm rooms, where you can't damage walls or school-provided furniture and décor.
---
D-Link's Wi-Fi Water Sensor
The Wi-Fi Water Sensor is a compact device that plugs into an open power outlet and alerts users with a loud siren whenever it comes in contact with water. With the high cost of potential home water damage, D-Link's Wi-Fi Water Sensor will give customers peace of mind and could save them thousands of dollars in costly water damage repairs.
In addition to the audible siren with six different tones, customers can receive push notifications on their mobile devices with the free mydlink Home app to ensure they're aware of a water leak no matter where they are. 
D-Link also announced the launch of a companion product, the Wi-Fi Siren (DCH-S220). The siren can be paired to work with the Wi-Fi Water Sensor, or other D-Link compatible devices, to generate an additional audio alarm from another room or even another location.
---
TerraCycle
Made entirely from Capri Sun juice pouches that have been stitched together, TerraCycle's Capri Sun pencil cases are unique. Any eco-conscious student can enjoy these products. TerraCycle has two notebooks made from completely recycled materials – perfect for writing homework in. Dimensions are approximately 5″W x 7″T

TerraCycle also offers a colorful and functional messenger bag made from pre-consumer waste from the Frito Lay Classic packaging material. The messenger bag comes with an adjustable strap. The messenger bag will send students into school with unique style and make everyone think they're walking in the snack aisle of the supermarket!
---
Pilot Pen
Unlike the old-school, erasable pens of the past that broke your paper and left eraser shavings, FriXion Clicker is the pen of the future (available now). Some highlights: 
Completely new kind of erasable pen to help students conquer college.

Writes smooth and erases clean. 

Pens available in 8 vibrant colors help college students stay organized.

FriXion Lite highlighters available in 5 colors, the perfect tool for highlighting important information. The best part? You can erase it all and get more money back when you sell your "clean" highlighter-free books.   

Unique thermo-sensitive ink, developed by ink scientists in Japan uses heat cause by friction to lift ink.

Available at major retailers including Walmart & Target.
Click on this link to check out a video highlighting FriXion's features. 
---
Simple Sheets
Every high school graduate heading to college for the first time this fall needs a set of Twin XL sheets to fit their new dorm-sized bed, but did you know college students only change their sheets 3x per year.  In a dorm room, the bed's height and position along a wall make changing the fitted sheet virtually impossible.  Rather than enduring a strenuous balancing act to change them, students choose to sleep on sheets that are both gross and unhygienic — dirty sheets are incubators for dust mites, bed bugs, and a host of allergy inducing particles.
Meet Simple Sheets, a new set of sheets specifically designed to make it easier than ever for college students to change their bedding – giving parents piece of mind!
How it Works – Unlike typical sheets, Simple Sheets breaks the fitted sheet down into TWO pieces: a base fitted sheet and a quick-change Strip Sheet™.  These layers are connected with Velcro and when it's time to wash the sheets, the Strip Sheet "strips" off for washing, while the fitted sheet stays on.  No more wrestling with the mattress!
Where to Buy – The Basic Set retails for $55.99 and includes:
– 1 Base Fitted Sheet
– 1 Strip Sheet™
– 1 Flat Sheet
– 1 Pillow Case, and 1 Storage Pocket (very convenient for those on the top bunk to store a cell phone, glasses or remote!)
– Available at Simple-Sheets.com, Walmart.com and Amazon.com
---
OxiClean Extreme Power Crystals Dish Detergent
It's that time of year again, the time of countless school supply checklists and to-do lists. However, amidst preparing early-morning breakfasts and packed lunches, your life just got a little easier, at least in the kitchen, with OxiClean Extreme Power Crystals Dish Detergent. OxiClean's dish detergent oxygen cleaning formula, that tackles even the toughest of messes, will earn itself the No. 1 position on you and your kid's back-to-school list.
The unique crystal form with concentrated oxygen cleaning formula makes OxiClean the No. 1 versatile stain-fighter for unmatched stain removal, performance and value. The extreme power crystals formula makes it easy for after-school dishes to be rid of tough stains and cloudy film and spots.
Not to mention, the detergent is available in two formulas, the Extreme Power Crystals and Extreme Power Crystals Paks. The formulas provide convenience and quick results, which we all need during the busy school week. 
According to our survey, "Modern Family Cleanup Study," 91 percent of people agree the idea of a one-step clean is appealing. Luckily, the OxiClean Paks only requires one pak in the dish cup for maximum cleaning power.
The back-to-school season can be tiring, on you and the kids, so make your school-year dish routine a little easier with the supercharged power and strength of OxiClean dish detergent.
---
Lysol Power & Free Multi-Purpose Wipes
You always stock your kids up with the proper tools they need for the school year such as pencils, folders and notebooks. But are they armed with the proper equipment to fight the germs and bacteria that can be found around the classroom? If not, you might want to check out Lysol Power & Free Multi-Purpose Wipes.
This product kills 99.9% of viruses & bacteria including Influenza A Virus (H1N1), Staphylococcus aureus and Rhinovirus Type 37, without the harshness of bleach. In addition, the advanced hydrogen peroxide formula releases micro bubbles that penetrate to dissolve grease and tough messes on hard surfaces around the school like desks, doorknobs and cafeteria tables.
---
Travel Fogless Shower Mirror

ToiletTree Products, a leading designer and manufacturer of innovative bath products, recently introduced its Travel Fogless Shower Mirror. This travel version that is great for college students and anyone that is always on the run. Other "fogless mirrors" use a chemical coating that gradually wears away and inevitably allows fog to return to the mirror. However, it is *scientifically* *impossible* for ToiletTree Products' shower mirrors to fog, thanks to a simple, patented design.
A hot water chamber behind each mirror prevents condensation and fog. Priced at $14.95, the Fogless Mirrors make a man's daily shaving routine quicker, easier and more effective. The warm water and steam from the shower open pores and make hair softer, allowing a razor to trim hairs without irritating skin. Shaving over a dry face irritates skin and can lead to ingrown hairs and razor burn. Every ToiletTree Product comes with the peace of mind of a lifetime warranty!
Purchase at Amazon.com, as well as Bed Bath & Beyond, Brookstone, The Sharper Image and Frontgate Catalog.
___________________________________________________________________________________________________________________________________________________
Blackwing Pencil  
When it comes back to school and back to exams time, nothing beats the cider smell of a newly sharpened pencil, or the crispness of a new notebook. The re-launched of the iconic Blackwing pencil from Palomino and the thoughtfully crafted high quality journals from LEUCHTTURM1917 make for a great return to the grind for more grown up students.
Writing with a quality utensil that has been the lucky charm of Hollywood for over 85 years will bring you back to your roots while also providing you with an unidentifiable sense of confidence. Praised by many as the best writing utensil in the world, the Blackwing 602 has evolved over the years keeping the quality graphite, distinct shape and replaceable eraser that make it a favorite among legendary songwriters, journalists and artists. Many masterpieces have been created with the Blackwing 602 by the likes of John Steinbeck, Stephen Sondheim, Leonard Bernstein and Chuck Jones, who proudly used Blackwings to create Bugs Bunny and countless other Looney Tunes characters.
LEUCHTTURM1917 Notebooks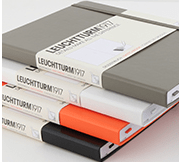 A bright colorful or even techy journal is just the thing to serve as your lifeline as well as help give you that extra oomph to make it through the year. LEUCHTTURM1917 notebooks come in a rainbow of colors and include thoughtful details that others do not such as numbered pages and a table of content. Additionally they have a new line of journals out that allow you to digitize your notes with the use of Whitelines Link technology and an app on your phone which is perfect for today's tech savvy youth.
___________________________________________________________________________________________________________________________________________________
BLACK+DECKER 20V & 16V Lithium Flex Vacs
One of the best options for back to school are the BLACK+DECKER 20V & 16V Lithium Flex Vacs. Each vac is actually a combined hand and stick vac via a detachable floor head. The 20V version comes with a pet brush which sucks hair right up – a great addition for dog and cat owners. At $100-$130, it's an affordable and compact option for the student.
___________________________________________________________________________________________________________________________________________________
Savino
With everyone bringing wine as a hostess gift, for you next dinner party why not bring something spirit related that the hostess can enjoy time after time. Introducing Savino, a revolutionary glassware product that keeps your wine fresh for up to a week. Savino started with a simple premise – great products begin with a great experience.  When you use Savino you enjoy a product that is effective, elegant and easy-to-use.
Ideal for gift giving, the Savino Connoisseur is an extremely easy to use wine preservation system that allows you to confidently open any bottle of wine wherever the night may lead, and will still be able to enjoy the fresh flavor all week long. For additional information on Savino, please visit www.savinowine.com. 
___________________________________________________________________________________________________________________________________________________
FRESHeTECH
As students prepare for a new school year, it's easy to get caught up in boring school supply essentials. With Splash Shower Tunes<http://www.freshetech.com/products/splash-showertunes-bluetooth-waterproof-shower-speaker>, a Bluetooth enabled shower radio by FRESHeTECH, showers are more fun and efficient. For college students, the built-in microphone and ability to answer calls leaves no excuse to ignore a call from mom. For grade school, less persuading will be necessary when making little ones take a shower, meaning more time for homework.