Jessica Simpson Signature Fragrance
Inspired by the journey every woman takes through her lifetime, Jessica Simpson provides a mood-changing scent elevated by a sophisticated femininity exuding confidence and passion.  The heart of the fragrance is a romantic floral bouquet of frangipani, night blooming jasmine, orange flower and tiger lily. Warm, satisfying dry notes of white chocolate vanilla bean accord, sandalwood, tonka bean and drift wood round out the natural beauty of this harmonious signature scent. 
*Available at Macy's for SRP $65.00 (3.4oz)
---
Bella Vince Camuto
Bella Vince Camuto possesses sweet top notes of Italian Bergamor, succulent Peach Nectar, Pear and cooling Lemon Ice combined with vibrant mid notes of Strawberry Flower, Nectarine Blossoms, and Jasmine Water and is rounded out by a woody base palette of Solar Musk, White Amber, Sandalwood, Blonde Woods and Caramelized Woods.
*Available at Macy's for SRP $78.00 (3.4oz) 
---
Tommy Bahama Island Life for Her
Tommy Bahama Island Life for Her possesses luscious notes of Juicy Pear and sparkling Mandarin, blended playfully with the warmth of Star Anise on top of a fresh bouquet of White Rose, Peony and Peach Blossom blooms, while the scent is rounded out by Vanilla Bean, Sandalwood and Musk.
*Available at Macy's for SRP $78.00 (3.4oz)
---
Nothing sets the mood for love like an alluring fragrance (or roses, a bottle of Merlot and John Mayer on repeat). What's more is that some fragrance notes are natural aphrodisiacs that evoke love, lust and attraction so why not heed Cupid's call to action this Valentine's Day with a special for-his-nose-only fragrance? Since sexy doesn't smell exactly alike to everyone, below is a range of sensual and romantic picks for every personality.
LOVE POTION – It's long been believed that the scent of vanilla is a natural aphrodisiac, especially for men. Studies have also shown that men associate the scents of cinnamon and vanilla with love. Spritz on these sensual vanilla and cinnamon blends to dramatically increase intimacy and attraction.
Shalimar by Guerlain ($79.19 at FragranceNet.com) – Perfectly combines a feminine, stylish character with exotic florals and vanilla for a romantic, complex fragrance.
Hypnotic Poison Eau Secrete by Christian Dior ($94.19 at FragranceNet.com) – Traces of Arabian jasmine offer a sense of energy, while notes of vanilla lend a calming influence, providing a yin-and-yang effect that embraces your many moods. Citrus notes of Sicilian mandarin orange, Calabrian bergamot and Tunisian neroli bring a vibrant texture.
Dolce Vita by Christian Dior ($107.19 at FragranceNet.com) – The warm tones of magnolia and rose blend perfectly with the sweet aromas of cinnamon, peach, and apricot. Bottom notes of vanilla and sandalwood complete the mix.
A DOZEN ROSES – This Valentine's Day treat yourself to some roses of a different sort with these romantic, rose-infused scents you'll fall in love with.
Rose The One by Dolce & Gabbana ($64.19 at FragranceNet.com) – Rose The One is a breath-taking realization of a contemporary feminine floral and a deftly sensual paean to the eternal romance of the rose. An intriguing combination of pink grapefruit, sandalwood, musk, vanilla, rose and mandarin, as well as several other notes, blend to create this elegant floral fragrance.
Very Irresistible by Givenchy ($ at FragranceNet.com) – Unites the elegant tradition of French style with the energy and pop-culture pizzazz of American film. Bursting with roses and infused with star anise, and verbena leaf, Very Irrésistible Givenchy is a fresh departure from the traditional floral fragrance.
Rose by Paul Smith ($41.19 at FragranceNet.com) – Opens with notes of violet, rose and green tea. The heart is composed of Turkish Rose and magnolia, while the base brings cedar and musk accords.
VAMP IT UP – If you're looking to seduce try one of these bewitching fragrances that will captivate your senses with intoxicating notes, such as deep musk, spicy woods and sensual ambers.
Versace Crystal Noir ($54.19 at FragranceNet.com) – A magical floral-oriental perfume, that is sheer and sensual at the same time. Features a seductive blend of gardenia, amber, plum and cedar.
Black Orchid by Tom Ford ($155.19 at FragranceNet.com) – A luxurious and sensual fragrance with rich dark accords and an alluring potion of black orchids and spice.
Pour Femme Intense by Dolce & Gabbana ($65.19 at FragranceNet.com) – Intense is a harmony of olfactive contrasts that are refined yet powerfully addictive. The heightened potency of this oriental floral ignites the senses, as unashamedly provocative notes of vaporous white flowers evoke long-forgotten memories and incite deep passion.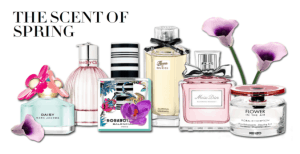 ---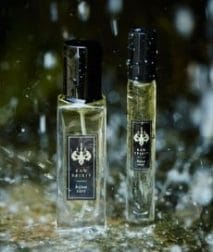 Nomad-Two Worlds
How about a luxury product at a reasonable price point?  Russell James  (the iconic fashion photographer who recently released the book Angels) has launched a line of fragrances available at Barney's and online.  The fragrances started with an Aboriginal artist  in Russell's native Australia who asked him to help create a perfume out of a local tree (called a Fire Tree).  What sprung from the collaboration is a collection of fragrances that highlights the unique ingredients and spirit if some of the world's most threatened cultures and communities. A portion of each sale goes directly to support projects in their partner communities. 
The fragrances were created with world renowned perfumer, Harry Fremont (Firminech).   The packaging is elegant and reflective of each fragrance's essence.  The 5 varieties are: Wild Fire – featuring Australian Sandalwood (harvested by aboriginal farmers), Desert Blush – featuring Australian Sandalwood (harvested by aboriginal farmers) and Australian Boronia Flower, Citadelle – featuring Haitian Vetiver, Bijou Vert –featuring Haitian Vetiver, Winter Oak –  featuring Native American Oak wood.
---
Perfume Travel Atomizer
This lightweight, portable perfume sprayer makes it convenient to have your favorite scent with you anytime, anywhere. At just 3 inches long and holding .136 oz this sleek design is great for men or women on the go.  Simply remove the nozzle from your big fragrance bottle, pump the atomizer up and down on the tube, and you can be ready to go in just a few seconds! Just $8.99 at FragranceNet.com.