Becoming a widow soon after she was married at a young age was emotionally devastating for Joan Koonce of Athens, Georgia.
"I really enjoyed being married and loved my husband dearly," says Koonce,  an Associate Professor and Financial Planning Specialist for the University of Georgia. "He was the first person that I truly loved. I was happy and excited about our new life together."
Koonce got married the first time on November 28, 1992 at age 36. However, about six weeks later (during the first week of January 1993), her husband was diagnosed with leukemia.
"The day the doctor told us that he had leukemia; he initially told me that he did not want to go through treatment," she recalls. "Without treatment, the doctor indicated that he would only live about another month.  I was devastated with the thought of losing my husband so soon, but then he decided to undergo treatment."
Her husband went through weeks of chemotherapy treatment and then a bone marrow transplant.  After all of the treatment, Koonce thought they would have a long life together.  However, over the next two years, he had one complication after the other because of his weak immune system.  In May 1995, he got an infection that would not respond to antibiotics, and he died on May 26th when she was 38 years old.
"Even though he had been sick, I did not think that he would die, and emotionally, I did not want to deal with the loss of my husband," she says. "Because he had been sick the entire marriage, I believe his illness made us closer than we would have been if he had not been sick.  We cherished every moment that we had together and created a fun opportunity out of everything."
For example, Koonce had to take him to the Outpatient Clinic at Emory University Hospital in Atlanta, Georgia three times a week after he was released from the hospital.  Because of the drive and the wait time at the clinic, it was an almost all day affair.  After leaving the clinic, they would always find a nice restaurant to eat or some other place to go as a treat.
"We took mini weekend vacations to the mountains and beach frequently, and when I traveled for work, he traveled with me, so we could spend time together," she says. "He cooked for me frequently, and on weekends, he oftentimes brought me breakfast in bed."
After he died, she felt as if half of her had died as well.
"I felt like I was not a whole person," she says. "Initially, I wondered how I would ever live as a half person.  With the emotional support of family members, colleagues, church members, and some of my students, I began to slowly feel better and enjoy life again."
During this time, having people who love her reach out to Koonce in so many different ways was priceless.  Also, she has always believed that, no matter how difficult life gets, there is always something that makes life worth living.
"I knew that others, primarily my son, needed me, and this gave me the desire to wake up every morning and push myself until life felt normal again," she says.
Koonce remarried on November 28, 1998 at age 42, but she admits that she married for the wrong reason.  At this time, she was going through a difficult time with her son being arrested for a serious crime.  The person she married had been a friend for the past 1 ½ years, but  she was not in love with him.
"I was vulnerable and felt I needed someone, so I married him," she says. "It did not work out, so I divorced him 11 months later in October 1999.  Because I was not in love with him, I did not feel a deep loss. He was my friend, and when I was going through a difficult time, he was there for me.  The hardest part about the divorce was the fact that I never wanted to be a divorced person."
Koonce later remarried again, on October 25, 2002 at age 46 to someone she met at church.  Again, she thought she loved him, but later realized that she loved the person she thought he was.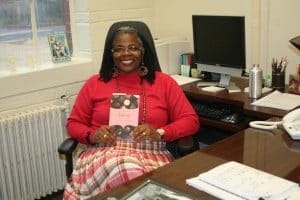 "The person I thought he was did not exist," she says. "He had deceived me in so many ways that I really did not know who he was.  He was living two separate lives, and who he was in his other life was not the person I married.  Before the divorce was finalized, I had so much anger towards him.  Not only had he lied and deceived me, he did not want a divorce and tried to make it difficult for me to get it."
After the divorce, it was hard for Koonce to let go of the anger, but she knew she had to let go of it and forgive him in order to move on with her life.  One Sunday after church, she came home and wrote down all the reasons she was angry with him on separate pieces of paper.  Afterwards, she tore up each piece separately as she asked God to help me forgive him.
"I began to realize that he had problems, and I was able to let go of the anger," she says. "My anger was not hurting him; it was only hurting me.  Letting go of the anger lifted a big weight off my shoulders."
Koonce's past has certainly influenced the person she has become today and helped her cope with these painful experiences.
"I had a difficult and painful childhood," she says.  "I grew up in poverty, and my father was an alcoholic.  I was sexually molested when I was a child, but I never told my parents.  I was victim of racial discrimination.  I made poor decisions and ended up in emotionally and physically abusive relationships.
Going through these and other situations have made me a stronger, wiser and more resilient person and helped me to deal with the death of my first husband and my two divorces."
There are primarily two things that drive her today: being a positive role model for her son and others she come in contact with and using her life experiences, skills and abilities to benefit others.
"I am in a profession that allows me to help others, and I get a certain degree of joy from doing so, and that joy is what continues to drive me," she says.
For many people who are widowed, divorced, and separated today, Koonce believes that lack of adequate financial resources and fear of being able to manage alone are major issues.
"For those who have been married for long periods of time, just the fear of being by themselves can be devastating," she says. "For those who are divorced and separated, I believe that dealing with feelings of anger, rejection, and sometimes betrayal is a major issue.  If these feelings are not dealt with, it prevents them from moving on with their lives."
Her advice for those who are widowed, is to try to focus on the good memories they have with their spouse.
"It is also a good idea to change your routine and spend time with family and friends," says Koonce.  "Even though they may not feel like doing things again, it is a good idea to at least try.  For those who are divorced and separated, I think they have to find a way to forgive their spouse, so they can eventually let go of the negative feelings.  It may be necessary for some widowed, divorced, and separated individuals to get counseling.  Counseling was very beneficial for me."
You can learn more about Koonce at www.joankoonce.org; Meet the Prof website at www.meettheprof.com/joankoonce or on Facebook at www.facebook.com/joan.koonce. She has also written a personal memoir titled Integrity in a Box of Chocolates:  Consuming Life's Hardships One Bite at a Time that was published by Tate Publishing & Enterprises and released nationwide in December 2009..