Rowenta Beauty Tools
What do Christina Milian, Sarah Jessica Parker, Gwyneth Paltrow and Melissa Joan Hart all have in common? Between juggling new TV shows, shoe lines, and filming for the big screen, all these leading ladies are moms- as if their schedules weren't packed enough. They also all depend on Rowenta Beauty tools, a line of professional, salon-quality hair tools with exclusive and dual-action technologies, to help save them precious time each morning when trying to get their family dressed, ready and out the door!
From a blow dryer with a built-in ionic generator providing 35% faster airflow for 20% quicker drying time, to a straightener with 16 built-in integrated teeth that pre-stretch and comb the hair for smooth strands in just one pass, to a 5-in-1 master tool providing five different looks with one tool, Rowenta Beauty helps make primping for busy moms easier and quicker without sacrificing flawless and gorgeous hair.
The Rowenta Inspiration Pro Dryer is a technologically advanced, salon-quality hair dryer, featuring the exclusive AutoSensor™ technology that automatically turns the  dryer off when it's set down, to save energy and provide extra styling convenience.  With two speeds, three heat settings and a built in ionic generator that emits pure negative ions, hair is dried fast and easily styled to reveal unmatched smooth, shiny, frizz-free results.  Compared to leading brands, the Inspiration Pro Dryer offers 35% more airflow and 20% faster drying time. ($159, Ulta and Ulta.com)
The Rowenta Straight Express Iron is a salon-quality straightening tool, with exclusive 3D-Straight™ technology which perfectly straightens hair in just one pass.  Ready to use in less than 30 seconds, the iron features 16 integrated teeth that comb, stretch and pre-straighten hair, saving time and protecting hair from styling damage.  The built-in ionic generator emits pure negative ions for smooth, shiny, frizz-free results and the hard anodized nano-titanium and tourmaline-boosted ceramic plates deliver even heat distribution and non-damaging infrared ionic heat.  ($179, Ulta and Ulta.com)
The Rowenta Versa Style Iron is a salon-quality master tool that does the work of five salon tools – a flat iron, roller set, and three curling irons.  Ready to use in less than 30 seconds, the iron not only straightens but uses exclusive ProCurling™ technology with lateral edges and surrounding silicone rubbers to curl, wave or create incredible root lift in one easy step.  Featuring hard anodized nano-titanium plates and tourmaline-boosted ceramic coating, the Versa Style Iron produces non-damaging infrared ionic heat with even heat distribution and high resistance to scratching for smoother, shinier, frizz-free results.  ($159, Ulta and Ulta.com) 
---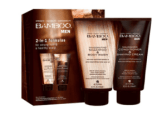 Alterna Two-piece Bamboo Men's Hair Essentials
These popular 2-in-1 formulas from Alterna provide head-to-toe cleansing and moisture for the hair and body. And the conditioner doubles as a shaving cream to set up a clean, close shave. Perfect for all hair types. This formula contains bamboo extract, hemp seed oil, and other ingredients that infuse hair with weightless moisture and nutrients for healthy-looking volume. Approximately $44.00
---
WEN by Chaz Dean Men's Head to Toe Cleansing Conditioner
WEN MEN Hair & Body Cleansing Conditioner is a new, universal formula infused with amber, bamboo, cardamom, and ginger root extracts that's designed to cleanse from head to toe. Designed for all hair and skin types, this Cleansing Conditioner is perfect for any man looking to simplify his routine. This one product replaces shampoo, conditioner, deep conditioner, leave-in, and body wash.
Chaz designed this Cleansing Conditioner from the ground up. It cleanses gently and is formulated with antioxidants, amino acids, and peptides. Approximately $58.00.
---
iGrow
iGrow is a hair growth system that can help you grow thicker, fuller, and healthier hair. The device uses a combination of low-level red laser and LED light to stimulate the hair follicle and is completely hands free – it even includes headphones so users can plug in their iPhones or MP3s and listen to music while wearing.
The iGrow is recommended to be used 20-25 minutes a day, every other day, for 4-6 months to achieve fuller, healthier hair. You don't have to be balding to use it – even if you just want thicker or more luminous hair, this gadget will help.
---
AVIVA
Aviva Advanced Hair Nutrition is a twice daily all-natural supplement that stimulates your own natural hair growth cycle, enriching the follicle and allowing it to produce stronger, healthier hair. This premier product is created at a professional-grade level and is intended for everyday use. Key differentiators about this product:
Provides your hair with 18 essential nutrients it needs

Contains more than double the amount of Biotin per capsule compared to other brands

100% drug free, fish free and gluten free

Made in an FDA-certified facility

GMO free
With fall and winter around the corner, Aviva Advanced Hair Nutrition can be a staple in your beauty routine to prevent dull, dry, and lifeless hair.
Aviva Hair Care System: Designed to build strength, improve texture, increase shine and control frizz.  Infused with nourishing botanical extracts, strengthening amino acids and restoring aloe leaf juice, the Aviva Hair Care system is ideal for anybody looking to transform the hair you have into the hair you want.  The nourishing and revitalizing line consists of a sulfate-free Hydracreme Shampoo to restore strength and boost shine, a Hydracreme Conditioner to hydrate thirsty locks, the Keratin Renewal Anti Frizz Serum to seal in frizz-prone cuticles and a weekly Hair Rescue Keratin Renewal Masque to repair hair damage and promote elasticity. The entire Hair Care System is free of sulfate, parabens, and sodium chloride.  ($14.99 -19.95 at AvivaHair.com) 
Other great AVIVA products include:
AVIVA Hydracreme Shampoo ($14.95, AvivaHair.com) is a gentle cleanser that boosts strength and restores shine.  Free of parabens, sulfates and sodium chloride, the shampoo is suitable for all hair types and safe for both colored and chemically treated hair. The formula packs 11 botanical extracts to eliminate buildup without stripping your hair of the moisture it needs, leaving your locks nourished and your scalp soothed.
AVIVA Hydracreme Conditioner ($15.95, AvivaHair.com) is loaded with botanical extracts to detangle while maintaining moisture, softness and shine. The formula is safe for all hair types and free of parabens, sulfates or sodium chloride.
AVIVA Keratin Renewal Anti Frizz Serum ($24.95, AvivaHair.com) is a keratin-infused leave-in serum that provides UV protection and seals the cuticle to tame any hairstyle.  Aviva keeps your strands frizz free so you can rest easy and shine.  Free of parabens, alcohol or sodium chloride, Aviva keeps your strands frizz free so you can rest easy and shine
AVIVA Hair Rescue Keratin Renewal Masque ($29.95, AvivaHair.com) is infused with keratin and essential nutrients to repair damage and restore elasticity, while protecting from the drying effects of UV rays. Free of parabens, alcohol and sodium chloride, Aviva's lightweight formula will leave hair noticeably more hydrated and healthy looking with a smooth and shiny finish.
---
Joico
With packaging designed by famed artist Bella Pilar, the holiday hair care kit from Joico contains a few of their staple products:
K-PAK® Shampoo ($14.99 SRP; 10.1 oz.) A gentle, rich cleansing shampoo that restores weak and depleted hair to its optimal strength and condition. Replenishes amino acids and fills in damaged areas of the cuticle while hydrating and protecting with aloe and antioxidant Vitamin E.
K-PAK® Conditioner ($16.99 SRP; 10.1 oz.) This daily conditioner delivers the precise amount of daily conditioning that damaged, chemically treated hair needs. Reconstructs and smoothes hair with K-PAK's Bio-Advanced Peptide and Keratin Silicone complexes.
Gold Dust Shimmer Finishing Spray — This new shimmer spray adds brilliant shine and luminous shimmer to hair with an ultra-light hold. Light reflecting particles add a beautiful glow to any style, and the luscious fruit blended scent makes hair smell fresh and beautiful.