Earth's Enrichments
When it comes to the perfect gift for the special someone in your life, bath and skincare rates pretty high on the list. Let's face it, these products are so popular because they are pampering, nourishing, smell great and are well loved by people of any age. Earth's Enrichments provides luxury skincare at it's finest. Made from only the best all natural and organic ingredients, these products are sure to be a hit with anyone on your shopping list.
The USDA Organic Body Balm is the perfect way to say "I Love You" in a gift! Featuring luxurious shea butter and 6 other essential oils as well as yummy scents like Lemongrass, Lavender and Seaweed, this is the only BodyBalm anyone will need! No greasiness or stickiness, USDA Organic Body Balm is just amazing hydration that penetrates deeply into skin. You can even wash your hands 2 or 3 times without having to reapply! Combat winter dryness with a balm that leaves skin smooth and hydrated while smelling divine!
The USDA Sugar Scrubs are a sweet treat for anyone! Earth's Enrichments' Sugar Scrubs are like nothing you have ever used before. Instead ofdrying skin like most sugar scrubs, these contain healthy oils like olive and coconut so you are replenishing moisture while exfoliating! No need to sacrifice healthy skin to exfoliate! Available in 3 refreshing scents, these USDA Sugar Scrubs are the perfect gift when you want to get something unique and lush!
When you are looking for a bar soap that won't dry out your skin, but instead will leave it feeling great, check out the USDA Bar Soap and you won't be disappointed. Since this bar soap is not made with water it won't dry out skin like other bar soaps on the market. Instead, it is enriched with coconut oil and aloe vera: two ingredients known for moisturizing and replenishing skin. Why not get your loved one a bar or two in absolutely luscious scents like Lemon Fresh Shea, Calming Spa Seaweed, Chai La Tea just to name a few!
---
The most common new years resolution for most Americans is the hope of dropping that holiday weight and fitting into those jeans from 5 years back. 
This year, why not go back to the basics when dieting and cut out those wasted calories consumed through sodas, juices and beer? Zing Anything, an infusion water bottle, allows dieters to mix and match their favorite fruits and spices to create flavorful water without the artificial sugar allowing people to shed the extra pounds easily.
---

Skinny Boost
Want to lose weight this holiday season? Check out Skinny Boost Herb Pack from Pacific Herbs, the 100% natural weight loss solution. This revolutionary brand that provides healthy, drug-free supplements, help the natural healing basis for an assortment of symptoms as well as your overall health and vitality.
Skinny Boost is best for those who are overweight, have slight elevated blood pressure and a tendency towards constipation. Because the formula has 15 medicinal herbs it may seem haphazardly written. On the contrary, the underlying ideas of this formula closely adhere to the written classics in Traditional Chinese Medicine and is used for a broad range of disorders. The supplementing herbs in the formula help protect the stomach and nourishes blood so that damage to qi and blood is minimized. It is overall a beautiful blend of herbs which help clear the intestines without damage, nourish the stomach qi, and clears heat from the entire body. 
---
The Supersmile Holiday Gift Set ($159): The Supersmile Holiday Gift Set isn't your average at-home whitening system and is sure to be a crowd pleaser. Combining Supersmile's best-selling Professional Whitening System with the Advanced Sonic Pulse Toothbrush, this system whitens teeth several shades while simultaneously strengthening teeth and killing germs that cause bad breath. All products are formulated without harsh abrasives and are sensitive enough for delicate teeth.
Supersmile Icy Mint Quikee ($18) Stay kissable and picture-ready all night long at holiday parties. Supersmile's Icy Mint Quickie is an instant whitener and breath freshener on your teeth – It will even remove red wine stains left behind! The quick dissolve formula means there is no need to rinse.
Supersmile Crystal Collection Toothbrushes ($15) The NEW Crystal Collection Toothbrush makes a great stocking stuffer for your little one as it features a slim, lengthened Lucite handle, ergonomically shaped with a series of indentations to guide hand-positioning to the ADA-recommended 45˚ brushing angle, as well as 5 tufted rows of soft, rounded nylon bristles.  These elements of unique and improved design yield the softest, most thorough brushing experience yet.  Gently massaging the gums and cleaning teeth, the Collection reaches delicately beneath the gum-line where plaque accumulates and causes decay. A flat bottom also enables each brush to stand upright for hygienic drying.  Available in five colors: Orange Sunstone, White Coral, Pink Diamond, Green Peridot, and Blue Lapis.
Supersmile On-The-Go Professional Whitening Gum ($5) The perfect holiday party clutch essential as it's an all-natural, sugar-free way to freshen breath and whiten on the go. This gum is sweetened with Xylitol, a natural sugar substitute with proven cavity-fighting properties and also features CALPROX®, Supersmile's proprietary form of calcium peroxide, which attacks plaque and stains – without harsh abrasives or causing sensitivity.
---
CloSYS Oral Care System
The CloSYS Oral Care System is a breath spray every holiday party purse must have! Plus, CloSYS offers a travel-size kit that is a must-have for healthy travel. It includes a variety of high-quality products such as toothpaste, mouthwash and breath spray.  All of the products are alcohol-free, sulfate-free and are pH balanced which helps protect mouths from being too acidic.
---
Soak up some Sun with some Vitamin D!
The connection between mood disorders and vitamin D deficiency is well-established. A study at the University of Newcastle in Australia tested the effects of supplemental vitamin D intake versus a placebo in a group of healthy subjects in late winter. The subjects receiving vitamin D had a dramatic improvement in mood scores versus the placebo group. "The two best ways to get the vitamin D you need are to get adequate sun exposure (15-30 min per day) or to take a good vitamin D supplement," says Dr. John Cuomo.
One to try: Rainbow Light's Berry D-Licious™ 2,500 IU Vitamin D3 Gummies; www.rainbowlight.com
Take Zinc to Nix the Sniffles!
According to a study published in the American Society for Microbiology , zinc gluconate lozenges were tested in a double-blind, placebo-controlled, clinical trial as a possible treatment for common colds. Zinc lozenges were found to shorten the average duration of common colds by about 7 days and up energy levels significantly.
One to try: Cold-EEZE® Cold Remedy Plus Natural Multi-Symptom Relief Cold & Flu QuickMelts. Newest formula is made up of elderberry, boneset, peppermint, myrrah and licorice to relieve cold and flu symptoms including cough, chest congestion and sore throat:  http://www.coldeeze.com/.
Caffeine and Water Fix
We've heard it over and over: Drink lots of fluids to stay healthy! Why not drink something crisp and caffeinated while burning a few extra calories?
One to Try: Medifast Essential 1 Calorie Burn: Available in Strawberry lemonade, Green Tea Lemon and Berry, these packets have no sugar, no fat, no sodium and only 5 calories! Each serving gives you 100 mg of caffeine and 90 mg of EGCG to enhance fat burning.
30 Minutes of Cardio a day, Keeps your Sleepiness at Bay!
According to Certified Personal Trainer and Wellness Expert John Rowley, doing a minimum of 30 minutes of exercise 3 times a week is vital for your energy levels. Cardio exercise increases the heart rate and increases the amount of oxygen in the body and oxygen is the largest source of energy for your body.
One to Try: Celsuis: A delicious, negative calorie beverage, Celsius combines vitamins, great flavors and metabolic-boosting properties and is quickly becoming the drink of choice to keep the beach body in shape without adding those extra calories.
---
SkiA Sweetspot Trainer
The SkiA Sweetspot Trainer is a portable balance trainer that can be used all year, at home or on the road to help you maintain and improve your balance, with graduated levels of difficulty to continue your training. The perfect summer exercise.
---
Softsoap®
Softsoap® brand  Alpine Mint Frost: Lose yourself in the beauty of winter with Softsoap® brand limited edition Alpine Mint Frost body wash. Its revitalizing scent of Cool Winter Mint will leave your skin feeling soft and smooth all winter long.
Softsoap® brand Parisian Berry Bliss: Celebrate the spirit of the season with Softsoap® brand limited edition Parisian Berry Bliss body wash. This moisturizing formula leaves skin feeling soft and smooth, while the festive scent of red winter berries leaves you ready to enjoy winter.
Softsoap® brand Venetian Vanilla Spice: Embrace the magic of the winter season with Softsoap® brand limited edition Venetian Vanilla Spice body wash. Let the invigorating scent of Sweet Vanilla & Spices infuse your shower to leave you with soft and smoother skin all winter long.
---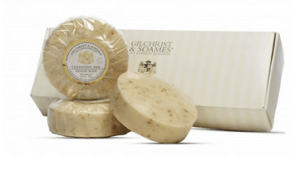 Gilchrist & Soames
Gilchrist & Soames is one of the most renowned and respected spa, bath and body brands in the world and has been for more than 30 years. Their fine products have been found in the most prestigious & luxurious hotels, spas and resorts throughout the world. This holiday season, G&S has perfect, affordable gifts for anyone on your list. With that being said, I'd love to send a few products along for consideration:
Spa Therapy Water: The spa therapy products immerse you in the essence of life and purities that are infused with marine extracts of Japanese sea kelp, sea fennel, sea lettuce, sea salts and aloe vera.
English Spa: The collection of products let you indulge in simply luxury encapsulating a London heritage of refinement and purity with the use of English botanicals such as natural oatmeal, aloe, lemongrass and sea kelp.
Essentiel Elements Spa: This spa treatment collection features mallow extract, Vitamin E, coconut oil, shea butter and a hint of rosemary to refresh and stimulate the body, mind and spirit.
---
Amope Pedi Perfect Electronic Foot File
Want a solution for softer, smoother skin? Check out the Amope Pedi Perfect Electronic Foot File.
The revolutionary new electronic file helps to remove rough, hard skin by gently exfoliating and buffing feet, revealing luxuriously smooth results after just one use.  Featuring a micralumina roller head with microabrasive particles and an ergonomically-designed shape, the Amope Pedi Perfect makes an at-home pedicure easier and faster than ever!
The Amope Pedi Perfect Electronic Foot File will be available at drugstores nationwide, including Walmart, Target, CVS, Walgreens, Rite Aid, Amazon and Drugstore.com.  Each starter kit includes Pedi Perfect Foot File, roller head and four AA batteries ($39.99 – $49.99).  Roller head refills ($17.99 for set of 2) and Amope Pedi Perfect Daily Foot Cream Moisturizer ($8.99) sold separately.
---
Healthy Eating 
Hectic holiday schedules can make it difficult to make it to the gym, whip up a healthy meal, and find time to relax.  As such, here are some healthy "heat and eat" options that require minimal prep time, are budget friendly, and most importantly, taste delicious.  
BREAKFAST:
Fill up with flax
• Here's a simple breakfast recipe that will have you reaping the health benefits of flax in a matter of minutes.  Simply take ¼ cup Organic Milled Flax Seed, 2/3 cup milk, 1/2 apple (peeled and chopped), dash of cinnamon, and sprinkle your sweetener of choice.  Mix together and microwave for 2 minutes.  Be sure to look for milled flax varieties, like the one from Carrington Farms.  These seeds are sliced, not crushed, to maintain essential oils and nutrients and are rich in heart-healthy omega 3 fatty acids.
LUNCH:
Healthify your burger in 6 minutes
• This new spin on Cluck 'n Moo's original half-chicken, half-beef burger incorporates America's favorite superfood!  That's right, Cluck 'n Moo has infused kale into the already healthier burger alternative. The new Cluck 'n Moo Burger with Kale retains the flavor and juiciness of the original Cluck 'n Moo burger while incorporating the nutritional benefits of kale, providing consumers a healthy and satisfying alternative to a typical calorie-filled beef burger.  Preheat grill and cook for 3 minutes per side and voila – a healthy burger!
DINNER:
Leave the cooking to bistroMD
• Created by leading weight loss specialist, Dr. Caroline Cederquist, bistroMD provides fresh, delicious, and nutritious meals directly to your door. The program was built on the premise that food is medicine, and offers a variety of meal delivery programs targeting specific health needs.  By doing the cooking for you, bistroMD makes it possible to go to the gym when you would be cooking.  Full week program and work week programs are available.
SNACK:
Enjoy a healthy seasonal sweet treat
• When molasses and ginger get together, magic happens. Taste a little bit of autumn any time with the new Medifast Gingerbread Soft Bake. This delicious treat is only 110 calories and I caffeine Free, Certified Gluten Free and Kosher Dairy. Just add water, microwave and enjoy!