Keurig K55 Brewer
The convenient and quality K55 Brewer in Rhubarb or Green Mountain Coffee Cinnamon Sugar Cookie K-Cup Pods make a great gift for any loved one.  A tried and true classic, the K55 brewer comes in festive Rhubarb and traditional Black and is able to brew three different cup sizes of your favorite beverages, all in under one minute. 
With the choice of three cup sizes, the K55 offers a removable drip tray to accommodate travel mugs. Includes a bonus 4-count K-Cup® Pod variety pack, one water filter handle, and two filters.
Key Features:
Brews coffee, tea, hot cocoa, specialty, and iced beverages
Brews 6 oz., 8 oz., and 10 oz. sizes
Always ready and brews in under a minute
Removable 48 oz. Water Reservoir
Programmable Auto Off feature
Indicator lights
Removable Drip Tray
Compatible with My K-Cup® Reusable Coffee Filter
---
Verismo System® by Starbucks®
Starbucks lovers rejoice this holiday season with the brewed coffee and espresso beverages you love brought right to your kitchen with the launch of a new generation of the Verismo® System by Starbucks®. With a sleek design, small footprint and modern features, this premium at-home brewing system allows you to craft Starbucks brewed coffee, espresso, and lattes consistently and conveniently, one cup at a time.
The Verismo® Milk Frother is the perfect complement to the Verismo V® Brewer. Customers can now choose their favorite milk to perfectly froth, cold or hot, from the comfort of their home. The frother is designed to fit compactly onto kitchen counters, quietly froth any type of milk and make cleaning easy with its non-stick coating and dishwasher-safe parts.
Every Day Bundle retails for $179.99 and includes a Verismo V® Brewer, Verismo® Milk Frother and a free box of Verismo® pods.
---
GelPro
GelPro Decorator Collection luxury comfort mat – a must-have for anyone who spends a lot of time cooking and entertaining.
There are hundreds of colors and patterns to fit any décor, and we just launched a new longer and wider mat (9-foot long!) for today's big, entertaining kitchens. GelPro is a great fit for "Made in America" and "must have kitchen tools" stories, too.  Comfort never looked so good!
Just a note to our readers—GelPro is offering its biggest discount ever over the Black Friday-Cyber Monday weekend.  For that weekend only, GelPro offers 30% off plus free shipping on all residential mats. (This excludes commercial mats, and free shipping excludes Canada, Hawaii and Puerto Rico). The BFCM code is "cyber16."
---
Krups
With the temperature continuing to drop, nothing can warm you up and relax you quite like a cup of hot tea. Whether you opp for a soothing chamomile or energizing green tea, the below kettles from KRUPS will allow you to stay warm the whole month of January. 
• The KRUPS Control Line Electric Kettle is great for preparing tea and hot chocolate or for heating water for soup. It can boil up to 1.7 Qt. of water even more quickly than a microwave. The KRUPS water kettle is also cordless, so pouring is easy and safe. This useful water kettle has an automatic shut off function when water is boiling or when the kettle becomes empty. Available at LordandTaylor.com for $59.99.
• KRUPS Electronic Tea Maker FL700 offers a 2-in-1 tea maker and traditional kettle for hot tea & iced tea. Made using a glass jar and stainless steel body, bottom and base. Available at JCPenney.com for $99.99.
• Traditional loose-tea brewing takes a contemporary turn with the KRUPS FL702 Personal Tea Kettle. The electric kettle lets you brew up to a liter at a time, with water circulating through a tube to the tea chamber for optimal infusion and flavor. Available at Macy's for $49.99.
KRUPS F203 Spice and Coffee Grinder
Brew the freshest possible coffee (or grind nuts and spices) with the KRUPS F203 Spice and Coffee Grinder. It features a powerful pulse-action motor that grinds beans from coarse to fine in seconds. Its sleek design has a 3-ounce capacity that yields up to 15 cups of coffee at a time. Available at Macy's for $24.99. 
---
ECOS Earth Friendly Products
Does the smell of Winterpine remind you of walking through the woods with your family to find the perfect holiday tree?
Earth Friendly Products love everything about the holiday season: the sounds of the season, the food and festivities, and most of all, making memories with family.
To welcome in the happiest time of year, the company recently launched a new seasonal ECOS™ Dishmate™ dish soap scent, Winterpine, to capture the smell of your fondest holiday memory. 
---
AnySharp Metal Pro Sharpener
Functional kitchen tool searches can seem endless. Consumers are looking for reliable, long lasting options every day. With the AnySharp Metal Pro Sharpener, the search for the world's top-rated knife sharpener, is over. For home and professional cooks everywhere, AnySharp Pro turns a dull knife, even one with a serrated edge, into a razor-sharp cutting instrument in mere seconds with just a few light strokes. 
Less-than-sharp blades are major contributors to cuts during meal preparation, AnySharp Pro eliminates that danger by getting the sharpest results by securely attaching to a smooth surface or worktop with a PowerGrip suction base. Knives can be sharpened hands free. 
The AnySharp Metal Pro Sharpener offers:
• 8 beautiful colors: Pink Cream, Pistachio, Almond Cream, Royal Red, British Racing Green, Royal Blue, Orange Zest, Citrus Lime
• Space-saving for even the tiniest of kitchens
• Immediate results with only minimal pressure needed
• Small, lightweight construction
• Storage in drawers, cupboards, cabinets or toolboxes
• Available for purchase at Amazon USA
---
IMUSA Red Fondue Set
This vibrant IMUSA Red Fondue Set is the perfect centerpiece for entertaining guests and creating an intimate and interactive dining experience for everyone at the table.
Users can get creative with the set, melting anything from cheese for dipping pieces of bread or vegetables, to melted chocolate for dipping fruits, pretzels, marshmallows, and more!  Available at Target.com for $24.99.
---
NEW T-fal Compact Deep Fryer
This user-friendly, at-home deep frying system features adjustable temperature settings and holds up to 1.2 Liters of oil/0.66 lbs of food in a compact design for easy storage.
With a viewing window and temperature indicator light that lets you know when the oil reaches the correct frying temperature, the Compact Deep Fryer enables all of your cooking needs. Available for $29.99.
---
IMUSA Dim Sum Steamer Set
The IMUSA Dim Sum Steamer Set allows for a healthy and fun way to cook while retaining flavor, vitamins and nutrients. The weaved bottom allows steam to pass through, while multiple layers allow you to separate and cook a variety of foods at the same time.  For an extra- flavorful dish, add some herbs to the steaming water! Available at Target.com for $29.99.
---
T-fal AirBake
Want to whip up a batch of perfectly made cookies for your new spouse? The T-fal AirBake allows users to create perfectly baked cookies 15% faster.
AirBake uses a clever double-layer technology to provide an overall enhanced baking performance … meaning better browning, no burning, and decreased bake times! Available for $12.99.
---
Secur Products SP-1000
In the fall everyone loves to have BBQ's and bonfires in their backyard or at camp site. Instead of hauling around lighter fluid or making sure you even have lighter fluid.
Why not have a gadget that is a multi-use tool that can light a fire without fluid, emergency whistle, compass, flashlight and a cell phone charger. Best part, this gadget doesn't need batteries or fuel and is waterproof!
Secure Products SP-1000 is an all in one product to use for numerous different occasions and adventures!
---
Switchmate
As we age, life can get more challenging in a lot of ways. Smart home lighting can improve the quality of life for seniors by automating lighting controls and by putting them at their fingertips. This is especially important for people with mobility issues or declining eyesight.
With Switchmate, seniors get the security and convenience of smart home lighting without the hassle of complicated and sometimes rewiring and installation. That's why we've been having such huge success selling Switchmate to people 50 and up.
Switchmate can be used on any standard light switch. Please consider these highlights:
–Lighting controls are now at your fingers via your smartphone (iOS and Android), making it convenient for those people with mobility issues. You don't have to get up from the sofa or bed to turn lights on or off.
–If declining eyesight is a challenge, seniors can turn their lights on and off via timers or set the light to turn on via the "welcome home" feature (which senses the sync'd phone via Bluetooth and turns on the lights so they come on when you enter the home.)
–Switchmate magnetically attaches to any standard light switch (rocker or toggle) immediately and syncs with the Switchmate companion app. 
–Switchmate requires no configuration — it just attaches to the metal screws that are already there! So consumers can avoid the dreaded configuration, installation, etc. This means even renters in apartments and condos can use it since it doesn't change the residence or have to be permanently installed.
–It doesn't require WiFi, now smart lighting is opened up to a much wider group of consumers who don't have WiFi in their residence.
–Unlike most smart lighting products, Switchmate still allows customers to use their switch their light on and off manually when that's more convenient. 
–It's super-affordable at only $39.99.
Switchmate is selling at many national retailers including Amazon.com, Bed Bath & Beyond, HSN, Fry's Electronics and Target. By late October, Switchmate will be available in over 10,000 retail store fronts in the U.S. and Canada.
---

Stadler Form
For any "Spring Cleaning" or "Spring Allergy" features that might be in the works, please consider the Oskar Little and Anton humidifiers from Stadler Form. Spring is the perfect time to declutter and freshen-up your home. A great way to replace that dry winter air in your home is to use a humidifier from Stadler Form. Allergies always get worse in the Spring time when the trees and flowers are blooming again. A humidifier can decrease the free-floating allergens in the air. Allergies can cause dry eyes, irritated nasal passages, and an increased risk of sinus infections and moist air produced by humidifiers can relieve these symptoms.
Oskar Little
• Humidifies spaces up to 250 square ft.
• Environmentally friendly- consumes low amounts of    Energy
• Fragrance dispenser for your favorite pure
• Easy-to-read LED light indicators
• Sleek, modern design
• MSRP: $129.99
• Available at www.stadlerformusa.com
Anton
• Humidifies spaces up to 350 square ft.
• Environmentally friendly- consumes low amounts of energy
• Fragrance dispenser for your favorite pure
• Easy-to-read LED light indicators
• Sleek, modern design
• MSRP: $139.99
• Available at www.stadlerformusa.com
he MIA and JULIA aroma diffusers from Stadler Form. These two aroma diffusers use ultrasonic technology to blend water and pure essential oil to emit users' favorite fragrance. Research has found that essential oils can benefit health in numerous ways, including improvement in sleep. Aromatherapy with lavender essential oil, specifically, improves the quality of sleep by increasing time spent in REM sleep cycles. This causes users to feel more rested and alert when they awaken.
MIA Aroma Diffuser
• Uses ultrasonic technology to emit your favorite fragrance
• Operates continuously for 10 hours between fillings
• Choose from 4 vibrant colors
• MSRP: $39.99
• Available at www.stadlerformusa.com
JULIA Aroma Diffuser
• Uses ultrasonic technology to emit your favorite   fragrance
• Operates in continuous mode, 18 hrs on low and 12 hrs on high, or on interval mode for 53 hrs on low and 36 hrs on high
• Choose from 4 vibrant colors
• MSRP: $79.99
• Available at www.stadlerformusa.com
---
Rowenta Intense Pure Air – $299 (Bedroom); $399 (XL Room): Available at select Bed Bath & Beyond, Bloomingdale's, Kohl's and Best Buy stores nationwide
As the first and only air purifier to capture and permanently destroy formaldehyde and filter 99.97% of pollutants, the Rowenta Intense Pure Air will better safeguard any home by combating numerous household toxins and allergens including VOCs, mold spores, dust mites, pollen, animal hair and domestic formaldehyde. This air purifier offers four levels of filtration:
1 Pre Filter to filter dust, hair, animal hair;
2 Active Carbon Filter to filter odors, smokes and VOC;
3 True HEPA Filter to filter fine dust (PM 2.5), like pollen, dust mites, animal allergens, viruses, bacterium, etc.;
4 Patented Nano Capture Filter to trap and permanently destroy formaldehyde along with a formaldehyde-detection indicator light
---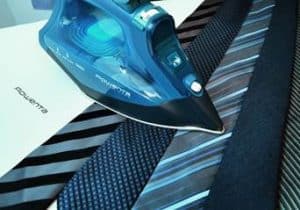 Rowenta Steam Care Iron ($69.99-$99.99)
—One Smart Temperature:  Automatically adjusts the iron's heat settings to remove wrinkles from any fabric, with no manual adjustment necessary.
• Tri-Plate Technology: Ensures 100% safe and efficient ironing on even the most delicate fabrics, such as silk, cashmere, wool, and polyester, without the risk of shine or burn.
—Limescale Removal and Self-Cleaning System: Removes mineral deposits caused by hard water to optimize performance and extend the product's longevity.
—Microsteam350 Soleplate: 350 fully-activated Microsteam holes deliver optimal steam distribution, while a round shape ensures smooth ironing to prevent creasing.
—Multiple Steam Setting Options: 1600 watts of steam power can be channeled through the iron's auto-steam, steam burst, or fine mist spray settings to tackle wrinkles on any fabric.
---
Lagostina Pastaiola ($249.95) – Handcrafted in Italy
Lagostina's professional-quality pastaiola is fitted with a perforated insert with holes sized and spaced to streamline preparation, allowing you to boil and drain the noodles in efficient succession. Or, you can use the stainless-steel pot on its own to simmer pasta sauce. Set includes a 6-qt. pastaiola pot with a perforated stainless-steel insert—plus a wooden spaghetti measure and pasta fork.
—Made of polished 18/10 stainless steel with a nonreactive stainless-steel interior.
—LAGOPLAN® base combines five alternating layers of aluminum and stainless steel for rapid, even heating.
—Ergonomic cast stainless-steel handles provide a steady grip.
—Tight-fitting lid locks in heat and moisture.
—Lid has a convenient double handle that doubles as a spoon rest.
—Ideal for use on any cooktop, including induction.
---
The Bathroom Sink
Some say it's the most wonderful time of the year, but let's be real… it's the most stressful time of the year.
There are holiday parties to get styled for and lots of shopping to do. Not to mention, you have family coming to stay with you for a whole week, which means it's also time to clean the house.
Then you realize you're out of hairspray for the holiday party, you haven't made the slightest dent in your gift list, and there's no shampoo or hand soap in the guest bathroom for your family to use.
It's a good thing that The Bathroom Sink can now come to the rescue this holiday season, because no one wants to spend their free time shopping for things like soap, toothpaste or shampoo.
For a super affordable $3 monthly membership fee (or a $36 annual fee), you can have your own bathroom concierge – a personal bathroom planner that will help to simplify your (or a loved one's) life. The best part? Your toiletries are priced competitively, as there aren't any hidden costs or mark-up fees. Now this seems like a pretty sweet holiday gift idea if you're looking for one!
The idea for The Bathroom Sink was born when CEO Joe Doucett ran out of toothpaste in 2014. This new online service keeps track of your toiletries so you don't have to, and so you'll never run out like Joe did. Its prediction software anticipates when your lotion, toothbrush, soap or dental floss need to be restocked.  
Once the software recognizes that you have about three to five days before an item runs out, you receive an email asking if you're ready to replace your bathroom necessities; you then click the product reminder and are instantly taken to Amazon to checkout. Your Amazon cart will be filled with items directly from The Bathroom Sink, which put you well on your way to being replenished with all your favorite bathroom essentials.
College students, busy families, and Baby Boomers who care for their elderly parents all find this service to be especially convenient, saving them time and money.  
---
Anomia
Anomia is an easy-to-get-started, challenging-to-play card game that can be quite addicting.  Anomia's fast pace will bend your brain and make you laugh. 
Anomia is available at Amazon.com and Target, loved by for all ages 10+ and would make an excellent stocking stuffer or present priced under $30.00. 
---
Fiskars
Famous for the iconic Orange-Handled Scissors and known for its cutting tools and superior performance, Fiskars has an array of items perfect for your holiday gifting needs.
From holiday gift wrapping and crafting essentials, to new garden and outdoor tools for the yard, Fiskars has a product for everyone on your list.
Fiskars Original Orange Handled Scissors:
• Ideal for cutting a wide variety of materials including denim, silk and multiple layers of fabric
• High-grade, precision-ground, stainless-steel blades offer a lasting sharp edge that cuts all the way to the tip
• Ergonomic handle is sculpted to fit your hand, maximizing cutting control and sensitivity
• Bent handle design keeps material flat for mistake-free cutting
• Lifetime warranty
• Price: $16.99
• Where to buy: Fiskars.com
Fiskars Amplify Mixed Media Shears (8″)
Designed to cut thick and heavy mixed media

Amplify technology senses blade separation when cutting thick mixed media materials and forces the blades back together for crisp, clean cuts every time
Premium-grade stainless-steel blades with a precisely honed edge cut cleanly all the way to the tip and stay sharp
Exceptional comfort and control provided by thumb and finger loops with ergonomic sculpting to fit the shape and natural movement of the hand
Protective sheath keeps the blades safe and protected
Lifetime warranty
Price: $29.99
Where to buy:

Fiskars.com
---
Harry & David's 12 Days of Christmas Gift
Make this the best holiday season ever with this exclusively-designed gift filled with delectable treats. A unique twist on a traditional Christmas gift, this whimsical version is crafted of wood, and features a dozen drawers holding gourmet delights. Among the treasures inside are sweet and salty Moose Munch® Gourmet Popcorn, rich chocolate-covered cherries, and delicious peppermint truffles, all made in Harry & David's candy kitchen. The container can be refilled and reused for seasons to come.
Available online for $99.99. 
---
 1-800-FLOWERS.COM's Merry & Bright Bouquet
Deck the Halls this holiday with the brightest holiday wishes and turn up the holiday cheer with a fun new take on traditional designs.
This New Festive Fanfare bouquet is fun, infinitely festive, bright and cheery.
Available online ($74.99 — $94.99)
---
CVS Photo
A recent survey from Harris Poll on behalf of CVS Photo found that when it comes to gifts, 3 in 4 adults (75%) prefer those that are thoughtful, followed by personalized at 52%. Photo gifts are a great way to create a unique, thoughtful and personalized present for anyone on your list! Just customize with your favorite photos and add personalized touches using different templates and graphics.
If you're thinking of giving the gift of jewelry this season, make it extra special by presenting it in a custom photo Keepsake Box. This beautiful oak and mahogany stained box is perfect for small treasures and to showcase your favorite memories right on top. At $29.99, this gift is free ship to store and available in 7-11 business days.
---
Parrot Products
Looking for the best gifts to give (and get) this holiday season? Parrot has quite a few options:
o   For the green thumb or the recipient always on-the-go: Give the gift of a beautiful plant that takes care of itself. The Parrot Pot is a smart pot that takes care of your plants when you're not there. 
o   For the gadget-obsessed: what is better than giving an immersive experience with a full HD video and camera?  One of the many Parrot drones, like the Parrot BEBOP 2 FPV or the Parrot DISCO FPV. 
o   For drone enthusiasts of every age (and skill level): Parrot's newest MiniDrones, Swing and Mambo, are easy – and fun – to fly, and the price is right!
o   For your favorite traveler or music-loving fashionista: Give the memorable "wow" gift- the high-end, fashion forward Parrot Zik 3  wireless noise-cancelling headphones. They are sure to impress.
Other great items from Parrot include:
Jumping Sumo
More than a drone, it's  connected robot. Quick, sturdy and agile, the Jumping Sumo transforms your environment into a giant playground. With it, everything becomes an excuse for stories and adventures. Chases, slaloms, acrobatics, obstacle jumps, photos or videos – you've got plenty of choices! What's more, with its on-board camera, you can follow it as if you were there. Experience the amazing sensations in real time! 
Parrot Airborne Cargo Travis
Your fully customisable quadcopter minidrone! Parrot Airborne Cargo Travis is a robust, impact-resistant minidrone that can be customised in an instant. Enjoy quick flights and unlimited scenarios! With its figurine dressed in black and the appearance of a flying taxi, master the streets and take control of your city.
---
Hungry Fan® Pumpkin Spice Blend
The holiday season brings out the best in cold weather food and drink…Eggnog, hot buttered rum, mulled cider and pumpkin pie, just to name a few.  This year food connoisseur and founder of The Hungry Fan®, Daina Falk, introduces a great new spice blend perfect for the holidays: the Hungry Fan® Pumpkin Spice Blend.
This versatile, organic spice blend can easily spice up any meal during the holidays. Use this organic blend in homemade pumpkin lattes and chai, try adding it to pancake or waffle mix, make pumpkin spice cookies, add to vanilla ice cream or whipped cream, or dissolve into beer to enjoy pumpkin spice beer!  It's uses are endless.
Each package retails for $6.99 and can be found on Amazon.com and her online store, http://shop.hungryfan.com/collections/hungry-fan-products.
The daughter of legendary sports agent David Falk, Daina spent her early years around pro athletes. Today, her love of sports is matched only by her passion for food. As the original Hungry Fan®, Daina celebrates game day cooking at its best, from pulled pork sandwiches at the tailgate to sky-high stadium chili at home.  In addition to her new cookbook, The Hungry Fan's® Cookbook, Daina has developed a line of culinary products as part of her Hungry Fan brand.
---
Kelvin 36
Liven Up Your Home with Kelvin 36
One Device, 36 tools. Transform your space in a flash with the ultimate home decorating tool, the Kelvin 36. Small enough to fit in the palm of your hand, this clever gadget carries an impressive 36 tools allowing you to hammer, screw and measure without ever having to haul out your tool box!
See why the innovative and thoughtfully designed Kelvin 36 is a nifty gadget that everyone needs in their home:
• Convenience: You never know when you're going to need a quick little tweak. Keep it in your glove compartment, kitchen drawer, RV or  office.
• Versatile: Complete hundreds of tasks. Fix toys and chairs, hang up paintings and pictures, and put together shelves and cubbies at a moment's notice.
• 36 tools: Features common everyday household tools such as measuring tape, screwdriver, bottle opener and more.
• Compact: This rugged and stylish multi-tool is small enough to fit in the back of your pocket and is great for when you're on-the-go.
• Quality craftsmanship: Lightweight but super tough, you can run over it with a car!
• Choose your hue: Available in black cyan, magenta, and white.
• Retails for $49.99
*FREE shipping when you order more than one Kelvin Tool.
---
Nutri Ninja Nutri Bowl DUO – Make it a NU Day! With the touch of a button, Nutrient Fusion* transforms diverse, fresh ingredients into flavorful meals, snack and desserts. Nutrient Extraction** creates an array of delicious, nutritious juices and smoothies. Put it to use this holiday season by:
• Creating a 6-course meal, with 1 machine: Classic Pea Soup, Brussels Sprout Salad, Pear Rosemary Flatbread, Salmon Burgers, Cauliflower Rice, and Dark Chocolate Chip Mousse
• Energizing yourself to prep for the holidays! Use the Ninja Power Extraction: Choco Nut Butter Protein Shake or the Ninja Wake-Up Extraction: Rise and Shine
Ninja Coffee Bar System – Get a better than coffee house experience, at home, without pods. This system includes an integrated milk frother and makes 6 brew sizes, 5 brew types – including the Ninja exclusive Café Forte, which amplifies the natural subtle flavors of your favorite coffee.
• Enjoy it this holiday season with these sweet, savory (or even spiked) drink recipes: Coffee Nog, Gingersnap Iced Coffee, Caramel Macchiato Forte, Coffee Old Fashioned, and Pecan Praline Ninjaccino
---
Shark Rocket 
Shark Rocket Complete with DuoClean Technology and Shark Genius Hard Floor Cleaning System – Shark's newest vacuum and steam mop will make it look like you've worked hours on your sparkling home (cleaning floor to ceiling), when it only took a quick pass!
• Shark's cleaning pros offer these cleaning tips to keep your winter wonderland clean and shiny.
---
Colgate Optic White Toothbrush + Whitening Pen
It's true when they say the Holidays are the busiest time of year! From attending parties to family dinners, this time of year allows for little down time.  With barely any time to dedicate to shopping for everyone in your life, it's nice to know of go-to products that make for an easy stocking stuffer without breaking the bank.
The Colgate Optic White Toothbrush + Whitening Pen is a unique and affordable addition to your stocking stuffer gift guides, while providing your readers with a product they can count on. With 5 shades whiter teeth, that starts working in 1 day, this 2-in-1 product will assure that your smile is at its best for those family photos!
The gel in the built-in Optic White® Whitening Pen contains hydrogen peroxide, which provides effective whitening beyond surface stains.
5 shades whiter teeth*, that starts working in 1 day*.

Brush. Whiten. Go. ®
---
Gift Certificates to Paint Monkey: Have a friend who loves to paint? Make them smile with a gift certificate to Paint Monkey at The Waterfront. As an art studio with multiple locations throughout the Pittsburgh region, Paint Monkey offers fun, yet instructive painting sessions for adults in a relaxed atmosphere. Guests are encouraged to bring their own drinks and snacks to their painting sessions, making it the perfect outing for just about anyone on your list!