Chef's Thumb
Whether he's a baller at the barbeque, a klutz in the kitchen, or a stud at the stove, any dad will appreciate this handy cooking tool. Kitchen knife cuts account for over 1 million US emergency room visits every year. Chef's Thumb solves this problem once and for all.
Chef's Thumb is a multi-purpose thumb protector and peeler system that makes food prep safer and easier. It slips right on the thumb to grip and stabilize the cutting surface, ensuring safe and secure cutting, while protecting the thumb from the knife. Not only that, but the Chef's Thumb can also act as a high-efficiency light duty produce peeler by just snapping the optional peeler into place. This high-quality, easy-to-use safety device is made out of stainless steel and high strength polycarbonate, with a triple bonded Titanium T3™ blade that is razor sharp and will never rust.
Check it out here: www.ChefsThumb.com.
---
Gunter Wilhem
Skip the golf clubs and grandpa sweaters this year and make your dad's friends jealous with a new set of kitchen tools. Gunter Wilhelm® cutlery is made from an innovative high carbon steel mixture and features a patented triple-tang handle design. They also feature an extra wide blade with a sharp heel to make cutting meats, herbs and veggies a piece of cake. Used by chefs worldwide and recently named the Official Cutlery of the World Food Championships, Gunter Wilhelm®'s products all come with an unlimited lifetime warranty so Dad can use them wherever, whenever.
---
Mohu
With cable bills on the rise, "cord-cutting" is hot among tech nuts, and techie dads are no exception. Even before a Netflix subscription, the first tool every tech-savvy TV lover turns to is an HDTV antenna such as the Mohu Leaf, which gives them unlimited access to free, over-the-air (OTA) broadcast TV. That means live sports, news, local programming, and your favorite shows in glorious HD – no cable subscription necessary.
There are so many different kinds of dads and grads out there – which HDTV antenna is their style?
Mohu Leaf

($39.99 – $69.99) is a favorite for the no-frills Dad. Its paper-thin, economical design is ideal for beefing up Dad's workshop or garage with free broadcast sports, news and TV shows in HD.

Mohu Curve

 ($49.99 – $79.99) brings sophisticated modern industrial design to HDTV antenna tech, making it an elegant addition to the home theater setup in your grad's new digs! Curve antenna is as powerful as it is beautiful, looking great on any table or bookshelf with the ability to access broadcasts up to 50 miles away.

Mohu Leaf Metro

 ($24.99) is a paper-thin, durable HD antenna that's easy on the wallet for kids looking for a tech savvy gift for Dad! The reversible black and white design can also be painted your favorite color or to match any décor in the house.
---
SodaStream
For the health conscious dad who loves to drink water, or as an awesome grad gift, The SodaStream Play is the perfect gadget.
For those looking to make their water a little more exciting, SodaStream Naturals are the perfect addition to regular sparkling water.
---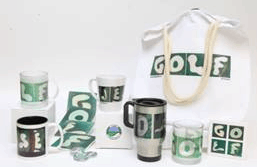 In the Sand Golf
Give your dad a thoughtful gift just for him with customized golf gifts from In the Sand Golf. What do you get a golfer dad that has everything? In the Sand has the answer with tons of creative memorabilia that can be appreciated by all sports fanatics, and especially the golf lovers. 
Founder Mary Whitworth captured the entire alphabet through photos of golf sand traps and used these images to design unique golf mugs, totes, prints, poker chips, coasters, and more! Mary, pulls inspiration from her history of flight and noticing that many golf courses are shaped like alphabet letters.
Offering personalized products as well as unique monogramed gifts for Dad—In the Sand Golf can be yours for an affordable value. Every personality can find the perfect personalized piece!
---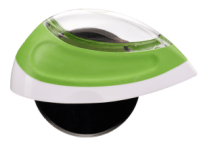 Crisp
Crisp's inventive collection of 26 kitchen tools is available in five colors, each chosen to match real fruits and vegetables. These tools have been uniquely engineered to save time, ensure great results, and provide an enjoyable food prepping experience. Blending a clean aesthetic with superior function, Crisp tools have been refined by a panel of exceptional cooks and tested by culinary experts to ensure a fantastic cooking experience.
Below are additional details on a handful of the new multi-functional Crisp tools:
Herb Mincer – Perfect for quick and uniform mincing with 5 high quality stainless steel blades. Great for adding a flavor boost to salads, marinades and garnishes. ($19.99)
3 Pack Berry Baskets – Durable 1 quart Berry Baskets work as colanders, serving containers and storage for strawberries, raspberries and more. Designed to wash and drain berries without excess water pooling, these baskets come in fun colors refrigerator storage and serving. ($13.99)
4 in 1 Zester – The Crisp Complete Citrus Tool effortlessly performs four different functions, allowing you to add the perfect finishing touch to your recipe or cocktail with lemons, limes, oranges and more using one tool. ($12.99)
---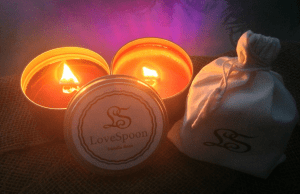 LoveSpoon Candles
LoveSpoon Candles is A High Quality, Handmade Soy Candles Company. Its name was derived from a Welsh LoveSpoon.  In Wales, a LoveSpoon is a wooden spoon decoratively carved that was traditionally presented as the best wedding gift that ultimately symbolized romantic intent. The spoon is normally decorated with symbols of love, and was intended to reflect the skill of the carver. Due to the intricate designs, LoveSpoons are no longer used as functioning spoons and are now decorative craft items that serve as wonderful housewarming gifts, wedding gifts, or gifts for women.
Additionally, Lovespoon Candles are 100% soy and have wood or eco-wicks that are made of cotton. Soy Candles are known to be clean burning without the release of chemicals like traditional paraffin waxes.  At LoveSpoon Candles you can choose from the Cornerstone Collection that encompass their decorative tins with wood wicks that burn with a crackling sound. Or you can select our elegant colored glass jar with a cotton eco-wick from their Monogram Series.  Lovespoon also gives back to others in need and donates a generous amount to a chosen charity at the end of each year.
---

Full Circle Clean Team
There's nothing like making beautiful dust piles – except removing them without leaving that annoying "dirt line."  This brush and dustpan work together to make cleaning easier.  The duspan's rubber lip creates a flat surface for efficient dust removal, and the brush- complete with a scraper for stuck-on messes- can be cleaned with the dustpan's "comb." (www.fullcirclehome.com)
Goodbye Detergent Multi-Purpose Outdoor Scouring Pads
Goodbye Detergent Outdoor Scouring Pads are tough and durable enough to tackle messes on patios, BBQ grills, or garden stones. Made with materials that are gentle on the environment, like walnut shells, magnesia and alumina. Each one dries quickly to avoid smell or mildew buildup and works well without soap. Reduces the need for wasteful detergents and other cleaners. (www.goodbyedetergent.com)
Full Circle Grunge Buster
A little effort goes a long way with this iron-shaped grout brush, designed to make one of the most unpleasant household chores a whole lot easier. The outer softer bristles clean tile, while the tough narrow middle bristles do a killer job on grout. (www.fullcirclehome.com)
Goodbye Detergent Kitchen Cleaning Pad
Polish and remove stains, water spots, fingerprints and grease from stainless steel cookware and appliances with this cleaning pad. (www.goodbyedetergent.com)
Full Circle Come Clean
Harsh chemicals are so yesterday; Make your own natural cleaning solutions with Full Circle's eco-friendly cleaning set equipped with a hassle-free recipe book using ingredients  you can find at the store and stylish spray bottles with built-in lemon juice for fresh scent and disinfecting power (www.fullcirclehome.com)
---
Ergo Chef Locking DUO Tongs
Culinary Rule #1: The utensils you are cooking with are just as important as the food you are preparing.  That's why Ergo Chef is dedicated to engineering the highest quality utensils for chefs of all skill levels. Introducing Ergo Chef Locking DUO Tongs. This simple yet mighty tool is a chef must have. From fancy Easter feasts to outdoor grilling, DUO Tongs are sure to be the hardest working utensil in your arsenal for every Spring and Summer soirée.
 As the name implies, DUO Tongs have a one-of-a-kind dual construction. The BPA-free silicone side is safe for non-stick pans and heat resistant to 500 degrees F. The stainless steel side is great for extra grip and use on aluminum or stainless steel pans or grills. It doesn't stop there. The ergonomic angled head is perfect for picking up delicate foods and the slotted head easily drains liquids for no mess. With a comfort non-slip grip and heavy duty spring for precise control, these are the only tongs you'll need for any and all methods of cooking. And when your job is made easy, you have time for more important things-like spending time with your family and friends. The DUO Tongs are available in three sizes: 9", 12", 15". 
Retail price: $11.99 – $16.99. Available at http://www.ergochef.com/
---
Cool-It Caddy
Cool-It Caddy products keep items that need to stay cool like cosmetics, sunscreen and healthy snacks, away from the summer heat. Cool-It Caddy's product line of compact carryall cases features a built-in coolant system to ensure cosmetics and snacks stay cool on-the-go.
The Contempo and Bella Cool-It Caddies cater to the fashion-conscious crowd while the new Icepops line speaks to kids and kids at heart. The full Cool-It Caddy product line is available for purchase online at www.Cool-ItCaddy.com. MSRP: $19.95-$29.95.
---
WallPops
How about some fun and functional gifts from WallPops, the premier line of peel-and-stick wall art from Brewster Home Fashions? With colorful, easy peel-and-stick wall decals you can give the gift of fun, simple and chic decorating. WallPops makes decorating easy and enjoyable. The best part? You won't break the bank. Everything is affordable, products range from $10 to $50, and are all available online at WallPops.com and at select retailers.
---
Grab Bag
Light-weight, flexible Grab Bag lets shoppers effortlessly stretch and situate its secure grips onto opposite sides of the shopping cart, remaining open as items are placed in. After items are scanned, shoppers may place goods back into Grab Bag and in a single effort, place all merchandise into the trunk.
Grab Bag holds seven times the weight of typical plastic shopping bags, making the transfer of merchandise from cart-to-trunk-to-cupboard doable in less time than ever before. The bag's broad base and securing top flap protects groceries against spilling, denting and sliding in the midst of travel. Grab Bag can be folded flat and stored conveniently in the home or car. It retails for $14.99 and is available at www.GrabBag.com and major retailers nationwide.
---
CoolWraps Gift Bags
CoolWraps Gift Bags is a clever product that offers a unique experience for both the gift receiver and the gift giver. CoolWraps makes gift wrapping much easier and convenient while offering a unique way to wrap presents. The bags sports a proprietary material that allows the user to creatively cover and seal any present, providing a gift wrapping and opening experience like nothing else on the market.
With CoolWraps there is no need for scissors or tape. The product reacts to high temperature from a common hair dryer and wraps to any shape. Simply place the gift in the CoolWraps bag, seal the end and then shrink the bag to size using the heat of any hair dryer. The uniquely designed material will take the shape of the gift in seconds. (Informative videos demonstrating the product in action are on the site: http://www.CoolWraps.com/.
---
Personal Creations
Live Laugh Love Photo Pillow ($29.99), Canvas ($29.99-$39.99) or Mug ($16.99) – Your college grad can embrace life, laughter and love with these customizable accessories filled with precious family memories.
Market Tote ($29.99) – High school or college grads will love shopping in style with this colorful and reusable market tote, great for farmer's markets and picnics, small loads of groceries, gardening and even as a storage container.
Hanging Cosmetic Bag ($24.99), Large and Mini Cosmetic Bag ($14.99-$19.99) and Weekender Bag ($39.99) – Available in pink, black or aqua, these bags can be personalized with a 3-letter monogram, or full name up to 9 characters.
---
Card Cubby
Did you know that over 4 billion dollars in gift cards have yet to be redeemed since 2005? That's a lot of wasted money! Unfortunately, keeping track of the family's gift cards, coupons and rewards is a task that most people push to the side of their busy schedule. This year, make their lives a little easier with Card Cubby.
The Card Cubby is a stylish miniature card file wallet that helps to easily organize gift cards with alphabetized markers so you can save time AND money. The compact case holds 40 plastic cards, or 80 business cards, and comes in a variety of textures and colors.
$24, available at cardcubby.com. 
---
Post-it Brand
The Post-it Brand offers a range of stylish and functional items for high school and college grads! Help them take daily messages to the next level with the Post-it Brand World of Color collections. For the fashionista, opt for the Post-it Brand Pattern collections of Post-it Flags and Tabs in new on-trend designs.
Post-it Brand Pattern collections
With eye-catching, colorful Post-it Flags and Tabs, organization is easy, fun and stylish! The collection features new patterns including the Gingham, Geos and Carnival Pattern collections – they are perfect to mark pages of magazines, papers, cookbooks and more.
---

Fiskars
Fiskars, famous for the iconic Orange-Handled Scissors and known for its cutting tools and superior performance has products that would make the perfect gift for dads – Fiskars PowerGear2 for the gardening dad and Fiskars Tag Maker for those who enjoy doing crafts. These gardening and crafting tools feature innovative designs that provide more cutting power and require less effort.


Fiskars PowerGear2 – Pruners, Loppers, and Shears
PowerGear2 gardening and outdoor tools feature an innovative gear design that provides more cutting power in the middle of the cut where the branch is thickest. These optimized mechanics deliver advanced durability with reinforced connections for the blades, gears and handles for more power with less effort.
---
CVSphoto.com
On CVSphoto.com and in CVS stores, customers can easily personalize wall décor with photos of family and friends using candid photos from their Facebook or Instagram accounts to infuse personality into a space. Wall art is a great way to brighten a space without the commitment or hassle of painting.
CVS offers Father's Day cards, photo books and canvas wraps, that are convenient and affordable. Hurry in and grab your personalized Father's Day cards and photo books that are available for same day pickup!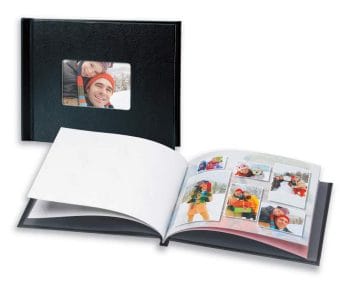 ---
Gemr
Gemr is a mix of ecommerce and a social community where collectors – of all kinds – can come together to connect and collect. Collecting is so disparate, but it's this new creation of a platform that makes collecting a virtual experience – that is as good, if not better than the days of in-person, and highlights the stories behind the items, which makes it such a unique value proposition compared to sites like an eBay.
With many people currently cleaning out their attics for spring cleaning, they might discover something from the past and not know the value of it and need an outlet to find out. Enter Gemr.
---
The all-metal Zippo candle lighter is easy to use for some of those hard-to-reach locations, and features a soft-touch ignition and adjustable flame dial. The Zippo Candle Lighter comes in the following visually-appealing colors to go along with any mother's decor: Candy Apple Red (shown above), Harvest Bronze, Brushed Chrome and Champagne. It is available on Zippo.com and Amazon.com.
---
Novosbed.com is the risk free memory foam company! What better way to spoil your dad than to give them the gift of a good night's sleep with a new memory foam pillow or silk duvet.
Novosbed.com pillows come with a zero-risk guarantee and are comparable to Tempur-Pedic quality memory foam pillows without the higher price tag. Novosbed.com also has free two-way shipping and a 3-year warranty—ensuring your valentine is going to get a good night's sleep for many years to come!
---
iCoffee Single Serve
We love the iCoffee Single Serve and highly recommend it for the coffee lover in your life. It was simple to set up and brewed a great cup of coffee in less than a minute. Since the iCoffee Single Serve features its Dial-a-Brew technology, it allows you to brew any size cup between 4 and 12 ounces in .5-ounce increments.  iCoffee Single Serve uses its SpinBrew technology to spin, steam and stir coffee grounds inside the single serve pod, releasing maximum flavor and minimizing acidic or bitter aftertaste. Best of all, iCoffee Single Serve works with all varieties of K-Cup, RealCup, One Cup and private label cups, including those for the Keurig 2.0.
Additional information can be found at www.iCoffee.com.
---
All-Clad Stainless Steel BBQ Set ($119)
Get serious about grilling at home or on the go with the portable 4-Piece BBQ. The set includes 4 grilling tools in a sturdy, metal carrying case for easy transport of tools to the grilling area. www.macys.com  
All-Clad Nonstick Round Grill Pan ($78.00)
This easy-to-use high-performance grill from All-Clad is designed with a heavy gauge, hard-coat anodized aluminum exterior for efficient, balanced heat conductivity and long wear. Solid-cast stainless steel handle. www.macys.com
All-Clad Electric Indoor Grill ($299.95)
Perfect for city-dwellers without an outdoor grill, All-Clad engineered this countertop electric grill. Because its two cooking surfaces are controlled separately, you can simultaneously grill foods like steaks and seafood that require different heat levels, from gentle warming to a sizzling sear. www.williams-sonoma.com
All-Clad Gourmet Nonstick Double Burner Grill ($79.99)
Ideal for quick meals, this nonstick pan simplifies grilling juicy steaks, fish and tender vegetables on the stovetop. Spanning two burners, it's ridged cooking surface sears in attractive grill marks, enabling excess fat to drip away. http://www.williams-sonoma.com
All-Clad 11" Stainless Grill ($149.99)
The square design gives cooks 25 percent more surface area than traditional round pans, and its ridged interior puts those desired grill marks on your food and lets the fat drain away easily. www.macys.com
Lagostina 11" Grill Pan ($149.99)
The 11 inch Lagostina Grill Pan is designed for perfect searing. Thick Triple wall construction on the whole pan guarantees perfect and even heat distribution from the base to the sides and its ribbed and grooved surface for typical sear marks and to drain fat.  www.bloomingdales.com 
All-Clad B1 Hard Anodized Nonstick 11-Inch Flat Square Grill Pan ($49.99)
The B1 Hard Anodized Nonstick Flat Square Grille Pan offers the All-Clad guarantee of exceptional performance, quality and durability in the convenience of your kitchen. This griddle is ideal for preparing pancakes, eggs and toast. www.bedbathandbeyond.com
---
Omega Juicers and Blenders
Omega Juicers and Blenders are the perfect way to whip up fresh juices, nut butters, almond milks and smoothies.
For the new grad who can't start their day without a protein shake

For the healthy dad who can't wait to utilize his grocery store finds
For the bachelor who wants to show off his skills in the kitchen
Pictured:
Omega BL390S—This blender incases an efficient 1 HP motor engineered to mix a variety of ingredients into creams, soups, smoothies and iced beverages with ease.
Omega NC900HDR—This juicer, a Macy's exclusive, can make all-natural nut butters, baby food (first comes love, then comes marriage, then comes….), soy milk, almond milk and more! This "masticating-style" juicer has an auger system that forces produce into a tight chamber, grinding and pressing the food to squeeze out the juice, ensuring you get the most value from your produce. 
Omega VRT 400—This masticating style juicer operates with a low speed squeezing system that preserves and maintains nutrients for up to 72 hours. Ideal for fast paced commercial environments, this juicer combines contemporary styling with the technology to cater to health conscious clientele.
---
Energizer Headlights
Energizer headlights for an upcoming 5th Annual Dads and Grads Gift Guide. This year for Father's Day, why not give Dad a gift he can really use! Whether it's taking an evening run, camping or doing DIY projects around the house, every dad can use a simple, but useful tool to stay hands free and get the job done.

NEW

Energizer® Vision HD LED Headlight

–  The Vision HD Headlight is just one example of the new Energizer® line of high performance headlights; the Vision HD features a 150 lumen powerful beam with 3 light modes, a new dimming feature, and pivoting functionality to direct light where you need it. It is water resistant and drop-tested to stand up to harsh conditions. Other new headlights in this line include: