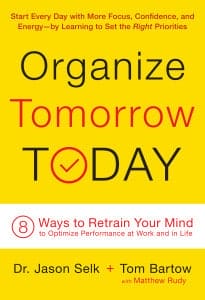 Book review of Organize Tomorrow Today: 8 Ways to Retrain Your Mind to Optimize Performance at Work and in Life by Dr. Jason Selk and Tom Bartow
What does it take to succeed? It's a perennial question: Google "success" and you get about 1,120,000,000 answers, certainly not all useful. But a new book by Dr. Jason Selk and Tom Bartow — a sports training specialist and a business coach — does have a useful answer. What sets high achievers apart is very specific: they don't multitask. They think, prepare, and prioritize. That's the revelation you'll find in Selk and Bartow's Organize Tomorrow Today: 8 Ways to Retrain Your Mind to Optimize Performance at Work and in Life (Da Capo Press). If you want to focus on being successful, trying focusing.
The authors based this book on their own years of experience coaching people to excellence. As the director of mental training for the St. Louis Cardinals, Selk was instrumental in transforming the struggling team into the winners of three division titles and two World Series Championships; he's also worked with Olympic and pro athletes. Bartow is a business coach who used to coach college basketball — so has long had athletic achievement in his sights. But he's also known as the person who rewrote the book on training financial advisors.
Often, the images of a high achiever is of a person entirely above the rank and file — as if they are somehow wired differently. Even if that's true, as Selk and Bartow point out, we can all borrow from their strategies. One of the reasons is that humans in general have what's called "channel capacity": our brains can't process more than three things at once. That's why multitasking is a myth: what we're really doing when we multitask is overloading ourselves and preventing anything from being fully accomplished.
That goes for even the smallest tasks, from texting to taking notes to jumping in and out of social media. Instead of trying to adapt to the endless age of streaming information, it's always going to be far more effective to apply our energy to one thing at a time. To help, the book is organized into a series of nicely framed chapters with topical exercises. Readers learn how to make the right decisions and prioritize; how to become our own source of motivation and time management. In terms of tackling the daily load of tasks we all face, there's another revelation: don't. Instead, Selk and Bartow suggest, do the tasks that are the most important, and do them well, leaving the balance of less critical tasks for the next day, or for a time that's not as pressured.
Given the stresses of our modern lives, this is a highly practical and helpful approach. It works on the concept of retraining our minds, giving the brain (and your mindset) the space to actually concentrate. The more we practice this, the better we'll get at working efficiently. Among the incredible plethora of self-help titles out there, this is a book well worth the read.
Balancing your personal and professional life has no more been a hectic task when you can work remotely from anywhere on any device (PC/Android/iOS) using hosted Citrix vdi available at affordable xendesktop pricing. Learn more about Office 365 Enterprise E3 suite by visiting O365CloudExperts.
Learn more at www.enhancedperformanceinc.com.