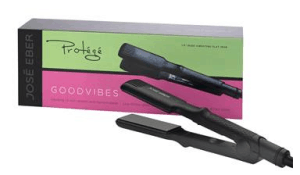 José Eber Protégé Vibrating Flat Iron
Cut the time it takes to straighten locks in half, while simultaneously repairing each strand and bring hair back to its healthiest form with the new José Eber Protégé Vibrating Flat Iron. The combination of even heat and vibration allows your hair to flow effortlessly between the plates for silky, smooth hair with absolutely no pulling, binding or kinks. 
The vibrating technology helps realign damaged hair and closes raised follicles by keeping the friction between plates and hair at bay. Stop the split ends caused by pulls and snags and repair hair from the inside, out with this professional grade styling tool.
The new iron will be available in October 2015 for $70 via www.shop.joseeberhair.com
---
Colgate Total
Colgate Total recently expanded their product line with the new Colgate Total Daily Repair Toothpaste. Colgate Total Daily Repair Toothpaste contains a multi-active formula that not only whitens teeth but also helps repair early teeth and gum damage before you may know it even exists.
---
Wahl's Lithium Ion Clipper
Compact and easy to use Wahl's Lithium Ion Clipper is a great way to help him keep his look sharp and save some money in the process. Its extended run time and cordless operation provides a versatile solution for dorm bathrooms with limited counter space and outlets. This feature allows students to clip anywhere – from dorm bathrooms to garages to outside patios. High carbon steel blades and a variety of guide combs allow you to achieve different looks and styles without any snagging or pulling. There are a number of easy to achieve styles (with instructions) for him to check out on wahlgrooming.com.
---
BASIC DERIVATION: OneSection

Let's face it, many men use their partner's skin care. Most of the time, they do so quietly because of fragrance, texture or curiosity. The new skincare line SimySkin, makes sharing simple. Featuring solutions targeted to both genders, SimySkin makes navigating the product maze more intuitive as some of the products clearly state "Him/Her."
Curious? Try adding these simple SimySkin items to your communal grooming stash:
Exfoliating Scrub for Her/Him – One of the 2 available scrubs that's tough enough for him, and gentle enough for her. Men have thicker skin (literally!) and tend to have bigger pores and more oil. This deep penetrating scrub polishes skin with crushed amber and conditions and balances skin while naturally exfoliating dead skin cells, sebum, impurities and blackheads.
Gel Cleanser Anti-Aging for Her/Him – Guys are worried about wrinkles too. This water based unisex gel cleanser tackles both his and her aging concerns while cleansing skin. Enriched with 10 natural essential oils, antioxidants, B12 and vitamins this cleanser is a simple way to hydrate and restore the skin morning and night.
Deep Hydrating Mask – Most men don't have much patience for a lengthy skincare routine, so keep it easy by applying this moisture-locking mask for an instant hydration boost. Either apply for 10 minutes and rinse off, or leave on overnight to wake up with refreshed, stronger skin. It's quick absorbing and won't leave residue on the sheets, so you get all the benefits of a face mask without sporting a green or chalky face.
---
PlayOn® Lip Crayons
In the world of lip color, the new generation of multi-tasking lip crayons is definitely having more than a moment in the spotlight and I'm excited to share that jane iredale is launching a new collection of PlayOn® Lip Crayons in seven irresistible shades for Fall 2015!
Infused with a blend of moisturizing oils for a healthy pout, the creamy formula glides onto lips with ease, delivering high-impact color and a velvety-smooth finish that stays put for hours. PlayOn® Lip Crayons are available in a versatile color palette ranging from Naughty, the ideal brick red, to Charming, the perfect bubblegum pink, and feature a sleek pencil design that's comfortable to hold for fuss-free application and touch ups on-the-go.
______________________________________________________________________________________________________________
G.M. Collin's GF Advanced Repair Serum is an innovation inspired by Epigenetic and Gene Science.  This advanced anti-aging serum incorporates Growth Factor Technology which synchronizes cellular rhythm and optimizes the skin's natural repair and protection processes, to prevent and delay the visible signs of aging. Infused with apple and other key ingredients capable of stimulating cellular growth and proliferation. ($150.00, GMCollin.com)
G.M. Collin Vital C 10% + Peptides Serum is a vaccine-like formula that contains a synergistic combination of powerful antioxidants and anti-aging ingredients providing a global protection, to immunize skin against time, protect against environmental damage and reduce the visible signs of premature aging. Key ingredients including apple help limit UV-induced DNA damage and boosts the skin's defences against environmental stressors. ($84.00, GMCollin.com)
___________________________________________________________________________________________________________________________________________________
New Offerings from FragranceNet.com
Eminence Pumpkin Latte Hydration Masque ($53.50 at FragranceNet.com) – Love pumpkin lattes, but hate waiting in long lines at your local coffee shop? Enjoy creamy, pumpkin goodness all season long with this hydrating masque formulated with pumpkin puree rich in beta-carotene to fight the effects of environmental stresses on your skin. Infused with pumpkin seed oil, Eminence Pumpkin Latte Hydration Masque, restores dry skin, promotes natural moisture balance and smells good enough to eat
Juice Beauty Blemish Clearing Serum ($35.50 at FragranceNet.com) – While nothing compares to Mom's apple pie, your skin will crave this powerful hydroxy-acid complex of certified organic apple, lemon and raw cane sugar. Formulated to sweep away acne-causing bacteria while delivering antioxidant protection, your skin is left clear, smooth and radiant.
Eminence Sugar Plum Whip Moisturizer ($63.50 at FragranceNet.com) – Visions of sugar plums will dance in your head with this delicious moisturizer that hydrates and protects to restore a youthful complexion. Key ingredient, plum juice, enriches your skin with nourishing phytonutrients as vitamin A-rich carrot oil works to repair damage, promoting a healthy, radiant look and feel.
Philosophy Ooey Gooey Cookie Shampoo, Shower Gel & Bubble Bath ($10.50 at FragranceNet.com) – Cure your craving for fresh-baked cookies with a steamy shower and this extra-sweet treat. Featuring a scrumptious cookie scent, this three-in-one formula cleanses and hydrates with a rich, foaming lather from head to toe, leaving hair and skin super-soft and sugared.
Laura Mercier Crème Brulee Sugar Scrub ($61.50 at FragranceNet.com) – This luxurious body scrub gently sloughs away dead skin cells, leaving smooth, radiant, polished skin. Features a warm and decadent combination of gourmand ingredients including delicious notes of warm caramel, spun sugar, and French vanilla bean for a sensual and enchanting experience.
Eminence Cranberry Pomegranate Masque ($55.50 at FragranceNet.com) – Cranberries are the unofficial fruit of the season and can be added to practically any holiday sweet. The antioxidant superpowers of cranberry and pomegranate combine in a delicious masque loaded with whole fruits, seeds, and juice. The high levels of vitamin C and polyphenols revitalize and protect while improving skin tone and fighting the signs of aging.
___________________________________________________________________________________________________________________________________________________
jane iredale Smell The Roses BCA (Available beginning September 2014, $29, janeiredale.com) jane iredale – THE SKIN CARE MAKEUP® celebrates seven years of partnership with Living Beyond Breast Cancer® with the launch of Smell the Roses Hydration Spray. One hundred percent of profits from the sale of Smell the Roses Hydration Spray will be donated to Living Beyond Breast Cancer® in support of women affected by breast cancer.
Recommended for all skin types, this moisturizing facial spritz features organic Rose Damascena Flower Water which is an excellent skin tonic and cleanses the skin, calms inflammation and reduces redness without disturbing its natural protective shield. The Rose Damascena Flower Oil and Extracts penetrate into deep layers of the skin where they nourish, tighten, cleanse, detoxify, increase blood circulation, calm and support the skin's functions. The refreshing and uplifting rose fragrance de-stresses and promotes an overall feeling of wellbeing.
Like all jane iredale Hydrations Sprays, Smell the Roses earned ECOCERT's Natural and Organic Cosmetics certification, which promotes the use of ingredients derived from renewable resources and organic farming in addition to using production and manufacturing processes that are environmentally sound and safe for human health. To earn certification, products must be comprised of a minimum of 95 percent ingredients of natural origin, and a minimum of 5-10 percent ingredients from organic farming. jane iredale Hydration Sprays exceed these standards, as they are 100 percent natural and 30 percent organic.
___________________________________________________________________________________________________________________________________________________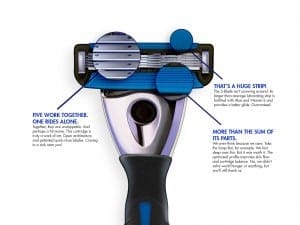 800razors.com
800razors.com is an online razor company that makes American-made razors that compare in quality to the Gillette Venus, Fusion, and Mach III, but for a fraction of the price.  For just $19,95, you can get a handle plus 12 cartridges delivered straight to your door, with no shipping fees.
Why will college students love them? Soon, students will be stocking up on dorm room essentials, including toiletries, but the tab gets expensive. 800razors.com is the perfect, wallet-friednly razor to keep them stocked up and smooth all semester long. The best part? 800razors.com's subscription service allows for students to have the razors mailed directly to their dorm, with no shipping fees. Saving money and a trip to the drugstore? It's a win –win !
___________________________________________________________________________________________________________________________________________________
Gillette
Gillette has young men across the country covered (in more ways than one) with its blade subscription program and Gillette Clinical Clear Gel deodorant.
 Subscription: Stocking up for school can be hard when a dorm room provides limited space for storage. Gillette's new razorblade subscription (available at www.Gillette.com) is a practical, hassle-free option that allows a college guy to stay smooth and stylish all year long, easily and affordably. Gillette's best blades are more affordable than you might think—about $1 a week, according to a recent Gillette survey. Pair a subscription with new Gillette Fusion ProGlide with FlexBall Technology, which features a new handle that adjusts and pivots to meet every facial contour, and uses existing Fusion ProGlide cartridges. What better way to bring his best face forward to the new chapter in his life?
Gillette Clinical Clear Gel deodorant: Starting a new school can be stressful, especially if you are on your own for the first time. To combat the tough sweat during one of life's most high-pressure moments, Gillette offers the first-ever clinical strength clear gel antiperspirant designed to provide 48-hour wetness and odor protection. Gillette Clinical Clear Gel is available in Cool Wave and Power Rush scents and is available in a broad range of traditional and online retail outlets throughout the US for a suggested retail price of $7.99.
___________________________________________________________________________________________________________________________________________________
Carmex Moisture Plus
This year students can head to school in style by packing the best beauty essentials. Carmex Moisture Plus lip balm is easy to keep on hand and ensure that smiles stay healthy. For extra credit, students can share style tips by matching the new Carmex Moisture Plus designs to their favorite supplies. With the trusted Carmex formula, these lip balms are both fashionable and functional.
___________________________________________________________________________________________________________________________________________________
Ursa Major Face Wipes
Life as a college student isn't glamorous and regular showers in the morning can be hard to schedule with classes. A quick way to transform from filthy to fresh, Ursa Major's new Essential Face Wipes are prefect for an on the go facial cleanse. The Essential Face Wipes are ideal to throw in a backpack or slip into a gym bag for after a workout. Made from ultra fine bamboo fibers, the wipe gently exfoliates the skin as the all-natural cleanser replenishes moisture and helps prevent blocked pores and blemishes. Ursa Major only uses the best natural ingredients to provide a superior healthy and clean experience.
___________________________________________________________________________________________________________________________________________________
Uberlube
Überlube is a high performing, long-lasting lubricant that is used for a variety of activities ranging from anti-chafing during sports to anti-frizz for your hair! Including style, sex and sport, Uberlube is a revolutionary lubricant with many uses. Salons now use überlube as a brilliant smoothing, finishing, and anti-frizz product for hair. When mixed with other hair products, it increases shine and versatility for styling. It also works in the pool as a protectant and chlorine block for hair. For sport training, Überlube helps to eliminate chafing and condition skin during running, swimming, and biking. Überlube is designed to transfer sensation and reduce friction while using a very small amount of product. Originally created as a personal lubricant, Überlube feels smooth and natural – it performs while in use and, when not being manipulated, will dissipate to leave skin feeling soft and moisturized.
This high-grade silicone lubricant is manufactured in the US. Please visit Überlube.com for more information.