Two Awesome Hours
With the amount of work on our plates having reached such unsustainable levels, we start each work-day anxious about how to get it all done, relegating which important tasks will have to be sacrificed—again—just to keep our heads above water. We attempt to tackle our seemingly endless to-do lists by trying to focus on getting more done in less time.

New York NeuroLeadership Institute Research Director & NeuroCoach Josh Davis, Ph.D. (media features include CBS News, MSNBC, USA Today, Bloomberg Businessweek, CNN and more) says we're going about it all wrong, and argues the answer is not to get more done faster, but to create optimal conditions for at least two awesome hours of peak productivity each day.

Drawing on neuroscience and psychology research, Davis explains that our minds operate according to complex factors that can make us truly effective when leveraged properly.

In TWO AWESOME HOURS: Science-Based Strategies to Harness Your Best Time and Get Your Most Important Work Done (HarperOne; May 2015), Davis shows us five simple strategies to create the conditions for incredible productivity and to restore sanity and balance to our lives:

·       Maximize the moments in our day when we are between tasks, intentionally choosing what to tackle next
·       Schedule tasks based on their cognitive and emotional demands
·       Learn how to direct attention
·       Feed and move our bodies for short-term benefit
·       Identify how our environment affects our focus and alertness

Employing the above optimize our psychological and biological systems and make us capable of impressive feats of comprehension, motivation, and performance. 
---
God Opened the Gate for Me
As a registered nurse, Paige Cartledge has seen her share of pain through her patients. When a fellow nurse was diagnosed with a terminal illness, Paige began writing her book, "God Opened the Gate for Me," so her sick coworker could read words of encouragement whenever he needed them. Since then, Paige realized many of her patients who were struggling with illnesses could also benefit from the daily devotions included in her book.
"When you just need a little time with God, you can pull out this book and see relaxing pictures of His creation and read words of comfort," Paige said.
About the author
Paige Cartledge, who writes under the penname Victoria Breschan, is a registered nurse who lives on her family's farm in North Carolina with her husband and two dogs. She has a bachelor's degree in nursing from Barton College. She is a founding member of The Barnabas Club, a group of prayer warriors who are focused on uplifting the spiritual and physical needs within the church body and local community (http://thebarnabasclub.com).
---
Freedom from CPAP: Sleep Apnea Hurts, the Cure Doesn't Have To
Doctors often treat sleep apnea by prescribing "continuous positive airway pressure" devices, or CPAP devices. These are intrusive, unpleasant, and as a result, rarely used. There's a better way. Licensed dentist Mayoor Patel and licensed ear, nose and throat doctor David Dillard have teamed up to dispel common misconceptions about sleep apnea and educate the world about a minimally intrusive solution to sleep apnea that doesn't involve CPAP. Their method is through their new book, "Freedom from CPAP: Sleep Apnea Hurts, the Cure Doesn't Have To."
 "We offer anyone who is interested a layman's description of sleep apnea and inform them properly about the alternatives to CPAP, which we feel are easier and more effective," Dillard said.
Common signs of sleep apnea include loud snoring, waking up throughout the night, and waking up exhausted. Until now, it has been common practice for sufferers of sleep apnea to seek treatment, only to receive inconvenient CPAP therapy.
Dillard and Patel want to emphasize the alternative options that can drastically improve quality of life for sleep apnea sufferers across the country. "Freedom from CPAP" offers the how-to guide that any sleep apnea patient or their spouse should read immediately.
For more information, visit http://www.lulu.com/shop/david-dillard-and-mayoor-patel/freedom-from-cpap-sleep-apnea-hurts-the-cure-doesnt-have-to/paperback/product-22091757.html
---
Under Paris Rooftops
Countless Americans dream of pulling up stakes and moving abroad to immerse themselves in the cultures of the world's great cities – London, Paris, Rome. But how many actually make the leap, and what is it like for them? In Under Paris Rooftops, published by Chateau Publishing House, Norman and Arleen Shabel bring readers along on their quest to fulfill a long-held dream of becoming part-time expatriates in the City of Light, and in doing so challenge and strengthen their marriage and their trust in each other.
"I had been in love with Paris ever since spending my sophomore year of college there," Arleen a painter, composer and author, explained. "Living there again has always been a dream of mine, but I never expected the journey to become such an adventure!"
"When Arleen suggested we visit Paris with the intention of moving there, I was dubious to say the least," said Norman Shabel, a trial lawyer and the author of several novels and plays. "But she convinced me to give it a chance, and I'll never question her wisdom again! I fell absolutely in love with living in the city, and I know readers of Under Paris Rooftops will do the same."
In Under Paris Rooftops, the Shabels detail their fascination with Paris, and their resulting decision to make a spontaneous trek to France and begin a confusing and potentially disastrous hunt for an apartment in the city guided only by Arleen's understanding of the French language and careful planning. Along the way, the Shabels strengthen their more than 50-year bond by learning to appreciate each other's strengths and weaknesses and trust each other more completely.
And as they learn more about themselves, each other and a city with a rich and turbulent relationship with the Jewish religion, Norman and Arleen also realize an even greater respect for their trust in each other, which is the foundation of their marriage.
Under Paris Rooftops chronicles the Shabels' exciting Parisian adventure, including the challenges of a post-recession real estate market, a flexible currency exchange rate, and learning a foreign language, as well as the undeniable pleasures of a fresh-baked baguette and French cuisine. Follow along as they carry readers through the challenges of construction in a foreign city, the strolls through the boulevards and the rewards that came with their own expatriate adventure, as they experienced an incredible environment for artistic and literary development.
---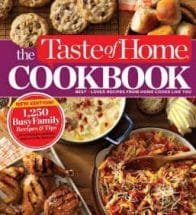 The Taste of Home Cookbook: Busy-Family Edition 
The Taste of Home Cookbook: Busy-Family Edition
(Sept.9; $29.99) is a great present for wonderful working parents and industrious cooks. Inside the Busy-Family Edition you'll discover over 1,200 best-loved recipes from today's home cooks. Whether you need a quick after-school snack, no-fuss lunch or hurry-up supper, the Taste of Home Cookbook has you covered. You'll also find hundreds of effortless holiday entrees, simply sensational desserts and easy ideas for entertaining all year long. These tried-and-true recipes, tested in the Taste of Home Test Kitchen, are sure to become mealtime staples in homes coast to coast. Best of all, home cooks can quickly find the recipes they need with the new Busy-Family Icons: 5-Ingredient Recipes, Slow Cooker Recipes, Fast Fix Recipes and Freezer Recipes. The Taste of Home Cookbook: Busy-Family Edition cover image is included. Review copies of Busy-Family Edition will be available in August.