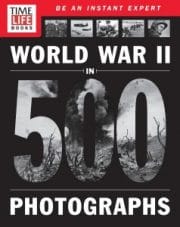 This May, Time Home Entertainment Inc. will be launching new books for both trade and newsstands with entirely new editorial content and updated packaging.
The first two books come from THEI's iconic TIME-LIFE brand which will be re-introduced, reinvented, and re-imagined after four decades this spring. They are World War II in 500 Photographs and Everything You Need to Know About the Bible, which offer access into topics like history and religion for multiple generations of readers. Both books, which will publish May 13, are unique products in the marketplace at an affordable price point – available both as paperbacks ($17.95), wherever books are sold, and bookazines ($9.99), on newsstands. Two more titles from TIME-LIFE will hit during the next fall/winter season, exploring different categories.
The third title, Big Book of When, comes from THEI's Time For Kids brand. The engaging and instructive book is a riveting new resource for young readers with answers to the kinds of intriguing questions that appeal to their sense of curiosity about when the most important events in history happened. on sale May 20 ($19.95), the hardcover book is 190+ pages full of colorful graphs, spectacular photos, and clear, engaging timelines to help kids ages 8 and up answer a myriad of questions.