Time to start sending your kids away to college. For some parents, it's your first time that someone is leaving the nest; for others, it has become second nature.
Whether your child is going into their freshman year or starting graduate school, we have a list of recommended school supplies for their dorm or apartment.
And for those parents who still have elementary and high school-aged children, our annual gift guide features several gift ideas below:
KeySmart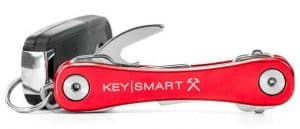 Whether you're planning some last-minute summer travel before the kids go back to school, or you're just trying to get organized, KeySmart's entire line of products has something for every occasion.
Built-in Tile™ tracker ensures you never misplace your most important items and RFID blockers prevent any personal data or information from being compromised.
Some KeySmart products include:
KeySmart Pro with Bluetooth Tile™ tracking: the ideal tool for teens who are driving to and from school
Urban Slim Wallet or Passport Holder with RFID protection and built-in rechargeable Tile™ tracker: keep your money, passport or credit cards safe while traveling this summer or fall
KeyCatch magnetic: install-anywhere key holder, which holds up to 3lbs
Alltul multitool: perfect to help you out of any bind, no matter where you are.
---
Learn to Read with BOB BOOKS® and VersaTiles® series
2019 marked the beginning of a new era for hand2mind. With more than 50 years experience as a leader in educational materials for schools, hand2mind has been bringing learning into homes with their beloved BOB BOOKS® and the iconic VersaTiles® skills practice system for generations. 
The Learn to Read with BOB BOOKS® and VersaTiles® series offer a fun puzzle-like way to practice reading! 10-12 Bob Books per set introduce kids to the fun of reading at three levels: Beginning Readers, Advancing Beginners, and Sight Words. Children can practice the skills they are learning by doing activities in their hands-on VersaTiles workbook, which uses simple pattern puzzles to help children comprehend what they are learning and build confidence in their reading abilities.
Newest editions of the collaboration between beloved BOB BOOKS® and the iconic VersaTiles® skills practice system, which allow for true hands-on learning (meaning unplugged and screen-free in order to explore, discover, and enlighten)

The latest from the multifaceted STEM at Play! Series, including a sneak peek at an upcoming 2019 partnership with K'nex

New products launched over the past two years that pair research-based content with a hands-on experience
---
iCaddy
Sick and tired of propping her tablet up against the kitchen fruit bowl – only to have it constantly fall down! – Katrina did what any aspiring entrepreneur would do. She glued together three toilet paper rolls and Voila! iCaddy was born.
Today, iCaddy is a mobile device multi-tool that serves as a stand and charging station. Plus, it includes ear buds and a hidden storage compartment. The solution folds up neatly for a backpack or travel bag.
Purchase it here: www.shopicaddy.com
---
Solo New York
Check out the newest bag collection by Solo New York. The Downtown Travel Collection is a sharp new line of bags that are designed for the busy traveler looking for a weekend escape.
Solo New York is a leading, urban-inspired designer of backpacks, totes, duffels, briefs, and sleeves.
Based on the success of the brand's Duane Hybrid backpack / briefcase – the top-selling laptop bag in the U.S., Solo New York has expanded the Downtown Collection to include a unique collection of five travel-ready bags, including three new duffels, a backpack and an accessory kit.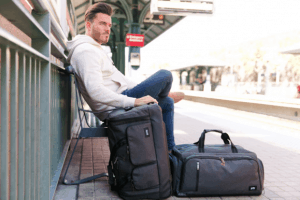 ---
Press P3 from ESPRO
As college students prepare their list of dorm room essentials, coffee usually floats to the top. And while many students may opt for the no-brainer option of a Keurig, why not spend less money and get a better brew with a French press (which is even better if your college doesn't allow Keurigs)?
ESPRO's functional and cost-effective Press P3 ($39.95) is perfect for students. The P3 allows students to achieve café-quality brews with ease in minutes while upgrading the look of any dorm room or first apartment.
The P3 houses the brand's unique double micro-filter (12 times finer than a traditional French press) to create the distinct French press flavor without releasing any of the trademark grit or sludge at the bottom of the cup. Additionally, a buffer between the filters isolates the coffee grinds to block further extraction, ensuring that the first sip tastes the same as the last, even if there were a few classes that happened in between.
---