Since Mother's Day is just around the corner, to help prepare you to find the perfect gift for mom, we've assembled our annual Mother's Day Gift Guide. A special thank you to those of who sent in your gift ideas and suggestions for this occasion.
If you're looking for a gift idea, our annual gift guide features a wide variety of ideas.
For the Organizer
CleverMade
CleverMade: ($40 for a pack of 3) These amazing collapsible totes will be the gift that keeps on giving. With versatility in mind, CleverMade Totes open and close hassle-free with built-in patented SnapHinge™ technology.
Unlike reusable bags of similar design, these totes are structured to be flop-free, meaning your life isn't about to spill over in a time-consuming mess.
Not only are the CleverMade totes perfect for shopping they are great for everyday use, from the office to the gym and any errand in between.
---
For the Fitness Lover
JBL Reflect Fit: The latest addition to the popular JBL Reflect line-up, JBL Reflect Fit Bluetooth headphone features in-ear heart rate monitoring and provides spoken, on-demand heart rate updates with a simple press of the button. It's also compatible with the most popular fitness apps so athletes can access all of their workout stats in one place. JBL Reflect Fit is designed with IPX-5 sweat proof material and a reflective cable for comfortable and safe workouts. With a battery life of up to 10 hours, athletes can power through multiple workouts before having to recharge. It also features a microphone for crystal clear calls and a vibration alert to let athletes know of incoming calls while at the gym or on-the-go.
UA Sport Wireless Flex: These wireless neckband headphones offer a sleek design, JBL's Signature Sound and impressive versatility to provide athletes with a secure fit at the gym or on-the-go. The headphones feature bend-and-stay Flex Zones in the neckband so athletes are guaranteed an adjustable fit and all-day comfort. Additionally, when rushing out the door to the gym, the headphones only require a quick five minutes of charging time for one hour of playback. UA Sport Wireless Flex are also engineered with an embedded RunSafe LED feature with three flashing modes for increased visibility and safety in low light conditions – perfect for running at night or before sunrise.
---
For the Tech-Savvy
ZVOX
ZVOX, a TV speaker that uses hearing aid technology to bring voices to the forefront so mature viewers can easily hear and understand dialogue.
There are now 95+ million Americans over 50 and according to some studies, nearly half are suffering from hearing loss. However, many baby boomers resist purchasing hearing aids because of pride, cost or other factors.
The frustration stemming from hearing loss even extends to seemingly benign activities like watching TV. Many new flatscreen TVs make matters worse with sound systems that suffer from low fidelity due to small speakers that face backwards, which can make dialogue nearly impossible to understand at normal volumes.
ZVOX understood the need for an affordable solution to this widespread issue and worked with audiologists to develop a solution. Its Accuvoice Technology speakers utilize hearing aid technology and use an advanced digital processor to analyze a TV's soundtrack. The speaker instantly activates computer algorithms that bring the voices forward when it detects dialogue.
---
For the Gadget Lover
PhotoSpring
PhotoSpring is redefining the digital photo and video experience with its portable, Wi-Fi connected, touchscreen frame. This smart automated frame, designed with parents and grandparents in mind, streamlines the way that family and friends share and display photos and videos, keeping loved ones connected.
Features:
Automatic selection and optimization of photo and video slideshows to be displayed each day
Simplified photo and video sharing through wireless companion apps for Android, iPhone, Mac, PC and web interface
Photo and video enabled slideshows
Portable 1280 x 800px resolution, touchscreen interface to browse and interact with images
Retails starting at $149, available in black and white on Amazon, Best Buy and the PhotoSpring website
Urban Armor Gear
Urban Armor Gear leading designers of lightweight mobile device cases, announced the launch of their NEW Plasma Series iPad cases available exclusively at Best Buy. The Plasma Series is designed for those who require ultimate rugged protection for their iPad in a slim yet sturdy design. The Plasma Series for the iPad provides 360-degree protection in a feather-light design and features uncompromised functionality and capability. The new Plasma Series includes a two-position kickstand for laptop mode, and Apple Keyboard compatibility. The case also boasts a dedicated Apple Pencil holder for creators on-the-go. UAG's newest Plasma case is available for Apple iPads and iPad Pros, exclusively at Best Buy stores and BestBuy.com. MSRP $69.95 – $89.95 UAG Plasma Ice Case for iPad Pro 12.9", Pro 10.5", and iPad (6th & 5th Gen)
Feather-light composite construction
Impact resistant soft core
Apple Pencil Holder
Easy access to touchscreen and ports
Apple Smart Cover/Keyboard Compatible
Two Position Kickstand supports Apple Keyboards and laptop mode
Meets military drop-test standards (MIL STD 810G-516.6)
---
For the Health-Conscious and Stylish Mom
CRYSTAL Deodorant
This new formula recently launched.
The new CRYSTAL Mineral-Enriched Deodorant is available in two new scents – Freshly Minted (smells like freshly minted money) and Mountain Fresh (smells like the lush Colorado mountains).
The new natural deodorant is (obviously) enriched with minerals, and provides effective odor protection with a light (unisex) aroma, and no harsh chemicals. It's powerful, but gentle and glides on smooth.
Bonus — it also conditions and moisturizes skin while delivering the long-lasting 24-hour protection you can trust.
It's available at www.thecrystal.com for $5.79. It's also vegan and cruelty-free! (plus, safe for the ENTIRE family)
---
Aniise Skin Care
Ultra-Immune Serum, Vitamin C with Rosehip Seed Oil – super multivitamin and anti-aging complex with Vitamin C to boost the skin's immune system. Includes rosehip seed extract to calm, brighten and moisturize the skin. Also contains collagen and natural oils.
Anti-Wrinkle Treatment – A light gentle formulation for all skin types. Contains hydrating ingredients to help diminish the appearance of the lines and wrinkles. Squalene has the ability to completely and rapidly penetrate the skin and is an antioxidant, prevents UV damage and the formation of age spots, promotes cell growth and is an anti-bacterial. Shea Butter is nourishing and moisturizing for the skin. Avocado oil enhances the skin's ability to generate collagen and moisturizes the skin.
Wrinkle-Free Eye Crème – This gentle yet potent wrinkle-free eye cream hydrates the delicate eye area without leaving any greasy residue. It absorbs quickly into the skin and fights signs of aging by protecting and repairing it. The natural combination of grape seed, green tea, chamomile and pomegranate extracts along with aloe and biotin dramatically diminishes the appearance of lines and wrinkles, while reducing appearance of dark circles under the eyes.
---
Nourishing Biologicals
Nourishing Biologicals, a luxury anti-aging skincare line, have three great products from Nourishing Biologicals out just in time for Mother's Day!
All are available online:
Nourishing Biologicals is a science-based skin care company that was created by Dr. George Sadowski, who saw a need in the market for products with active ingredients that work together to fight and prevent skin damage caused by free radicals – A.K.A. – the damaging molecules that come from light, pollution, cigarette smoke and more.
---
Waterpik® Sidekick™
The all-new Waterpik® Sidekick™ Water Flosser has all of the benefits of a full-sized device in an ultra-compact, collapsible package created for portability.
Perfect for people who have things to do and places to be, Sidekick™ tags along on vacation, travels to the office or school, stores in small spaces, and adds a little fun to oral health care routines.
---
Bath & Body Works
Mom deserves to be pampered! Bath & Body Works' new Garden-inspired collection (Pink Magnolia, Chamomile & Honey, and Wild Rose & Apple) is created from steam distilled natural oils.
Available in Floral Mist ($14.50), Body Cream ($13.50), New Botanical Body Scrub ($16.50), Mousse to Oil ($16.50), Lotion ($12.50), and Shower Gel ($16.50).
Best Mom Ever Gift Set: This set is ready to gift, complete with a Japanese Cherry Blossom (the best selling B&BW fragrance) Fine Fragrance Mist, Lotion, Bath Fizzy, and a floral cosmetic bag.
Mother's Day Gift Set: No wrapping required! Includes the Hello Beautiful Fine Fragrance Mist, Lotion and Shower Gel, and two hair scrunchies.
Candles ($24.50): Let the candle do the talking with the "Best. Mom. Ever." Fresh Cut Lilac 3-Wick and the "Mom, You're Amazing" Endless Weekend 3-Wick.
---
VADE Nutrition
Getting your protein fix this spring has never been easier thanks to VADE Nutrition.
As seen on Shark Tank, these Dissolvable Protein Scoops will have you ditching big containers and messy powders forever. These power-packed pods contain 100% high-quality whey isolate protein powder wrapped in a food-grade film that dissolve instantly when shaken or blended. VADE Nutrition's Dissolvable Protein Scoops help you build muscle post-workout and make life easier.
The steps to getting your protein fix has never been easier than toss, shake and enjoy thanks to VADE Nutrition. As seen on Shark Tank, its patent pending Dissolvable Protein Scoops will have you ditching big containers and messy powders forever. They're an on-the-go game changer that even Dallas Mavericks owner Mark Cuban and former Major League Baseball star Alex Rodriguez couldn't resist.
For more information, visit www.vade-nutrition.com.

---
Luster AM/PM Whitening Toothpaste System
New Luster AM/PM Whitening Toothpaste System is the first and only daily whitening and cleaning toothpaste system designed around morning and nighttime dental hygiene needs. The system includes two toothpastes.
Use Luster AM in the morning for instant whitening with just one brushing, fresh breath, and stain protection. At night use Luster PM to remove deep stains, kill bacteria and strengthen enamel while you sleep. Of course, the formulas also contain fluoride to fight cavities.
All in all, you get professional grade peroxide-based whitening, clean teeth, fresh breath, cavity protection and stronger enamel, all with zero sensitivity.
---
ThinOPTICS
Whether you are gearing up for a long international trip or a fun weekend getaway, we all have that worry that we are going to leave something behind. With travel season upon us, people often forget important items – like the reading glasses. Thanks to ThinOPTICS there is now a way for travelers to always have their glasses on hand.
ThinOPTICS just launched a few new products with so there is an option for everyone:
ThinOPTICS can be purchased either at ThinOPTICS.com or Amazon.com and for under $30!
---
For the Mom to Be
KYDZ Essentials
Based in Pittsburgh, KYDZ Essentials offers the right products at the right time for busy parents.
Some of their must-have products include:
KYDZ hooded baby towel—Made of 100% cotton loop terry fabric, this quick-dry and absorbent towel will surely make your special little one warm and happy!
Non-Spill Baby Cup—Take a sip out of success from the non-spill baby cup! The 10 oz. KYDZ cup includes a removable liner that can be hand washed. the KYDZ cups are perfect for kids on the go.
---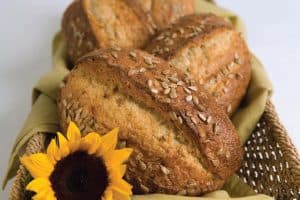 For the Foodie
La Brea Bakery Breads: These artisan-crafted breads are the perfect gift for mom. They're made the old world way, which means they take time into making one of their loaves. Use these breads to make mom brunch or dinner, or just as a snack for the mom that loves good food. You can find these breads on Amazon Fresh or your local grocery store.
Rosemary Olive Oil: Subtle and savory, aromatic sprigs of rosemary and extra virgin olive oil give this bread its soft texture and sublime flavor.
Sunflower Toasted Honey Loaf: Nutty and delicious with a golden, crisp crust. A touch of honey and whole roasted sunflower seeds add a delightful crunch.
Roasted Garlic Loaf: Rich, soft and aromatic. Roasted with whole garlic cloves and extra virgin olive oil for a perfectly moist and savory flavor.
Karv: Karv is a monthly service that offers the finest quality meats sourced from U.S. farms. Their meats are the healthiest you'll find out there with subscription-type services containing 100% Angus grass-finished beef, 100% organic free-range chicken and 100% heritage pork. In addition to proportioned, trim and lean meats, subscribers can opt to add-on entrees which are made with organic, non-GMO ingredients. Entrees like beef stuffed with kimchi can be put right on the grill, no defrosting or prep necessary. This way, you're already prepared and don't need to run to the butcher to get your grilling items!
---
For the Cord Cutter
Mohu
The Arc – is Mohu's most versatile indoor, curved HDTV antenna. Sold exclusively at Best Buy, it comes in two colors (black or white) and has a multidirectional range that captures clear broadcast signals within its 30-mile radius. It's also easy to set up! The plug-and-play operation provides a convenient enhanced TV setup giving consumers more time to tune into their favorite channels and less time spent on setup. The Arc is compatible with HDTV units, letting consumers enjoy the full quality of Full HD and Ultra HD over-the-air programs.
Leaf Glide: this HDTV antenna delivers outdoor antenna performance with the simplicity of an indoor antenna. With its a 65-mile reception range, the antenna offers unlimited access to free, OTA broadcast TV (including NBC, ABC,CBS, FOX, etc) for a one-time fee of $89.95.
Untangle.TV: is Mohu's free online application that provides suggestions on how to cut the cord based on your TV viewing behaviors. Untangle.TV provides a customized list of product recommendations – a mix of OTA and OTT devices and services – in order to help consumers save time and money by taking the guesswork out of their cord cutting journey. Users can save about $100 a month by using Untangle.TV to guide their cord cutting journey.
You can also review other antennas online.
This year, give Mom, your #1 inspirational hero, a gift that returns the favor – something that will inspire her. With over 10 billion records and 100 million family trees on Ancestry.com, you can show Mom your appreciation by helping her uncover the source of her strength.
---
For the Bookworm
Hashtag Authentic
Instagram is the fastest growing of all social media platforms, with 400 million monthly active users worldwide – half of whom are under the age of twenty-five. While some use the app as a personal networking tool, many also use it to build their creative business endeavours; whether in food and drink or fashion and lifestyle.

Sara Tasker has done just that, and since setting up her account whilst on maternity leave in 2013, has become an Instagram coach, iPhoneographer and social media influencer. Her chronicle of authentic everyday life and her mindful Me and Orla blog has developed into a business in which she provides access to free insta-tips, alongside some hugely popular paid for e-courses for independent creatives.

Hashtag Authentic draws on the lessons Sara has learned over the past five years to provide readers with tips, advice and guidance on how to turn their personal Instagram account into a profitable creative outlet. From visual storytelling and improving photography skills to archiving day-to-day life and changing the work/life balance, this book is both an inspiring manual and an interactive tool for finding an online voice, growing a tribe and becoming an influencer.

---
Dying Well
2.7 million Americans die every year, 1.2 million from cancer or heart disease, according to a recent report by the CDC. Many more are battling life-threatening conditions. Far too many people die in hospitals, in pain, isolated from their friends and families. Although 90% of those on Medicare say they want end-of-life care at home, only one-third achieve it according to a study in the Journal of American Medicine. In fact, twenty-five percent of all Medicare spending is for patients who are in their final year of life, most of that money spent in their last couple of months for care which is often of little apparent benefit.
But when author Susan Ducharme Hoben's husband was facing terminal cancer, they made a decision to savor every fleeting moment by spending the time he had left doing things he loved, surrounded by his family and friends. She chronicles this journey in her new memoir, Dying Well: Our Journey of Love and Loss (March 2018). Part love story, part "how to", part inspirational retelling of their nine-month journey from diagnosis, Dying Well takes readers through celebrations, sadness and, ultimately, a peaceful death free of fear and regret.
---
50 Ways to Draw Your Beautiful, Ordinary Life: Practical Lessons in Pencil and Paper
From the creative directors of the groundbreaking international magazine Flow and authors of the bestselling A Book That Takes Its Time comes an unparalleled guide to drawing: 50 Ways to Draw Your Beautiful, Ordinary Life: Practical Lessons in Pencil and Paper (Workman Publishing; On sale: April 3, 2018; $24.95). Inside these pages, you'll find a drawing guide filled with beautiful illustrations and plenty of "paper goodies," from bound-in tracing paper and colored paper to a daily drawing pad, a paper doll fashion sketchbook, and DIY postcards. While encouraging readers to draw inspiration from personal items that carry meaning (things on your desk, furniture in your home), 50 Ways to Draw Your Beautiful, Ordinary Life includes fun, approachable step-by-step drawing lessons from professional Flow illustrators across the globe; each exercise allows readers to put techniques into immediate practice as they develop their unique artistic style.
---
Everything Is the Worst: A Book for People Who Just Can't
The struggle of daily life is so real—making an effort is hard, and the probability of actually getting your sh*t together is basically zero. Some days you just don't feel like going to work or even getting out of bed. Or hearing one more person tell you to "Have a great day!"—seriously, what's so great about it? Introducing Everything Is the Worst: A Book for People Who Just Can't (Workman Publishing; April 3, 2018; $12.95), your new source of anti-inspiration. This collection of gorgeously hand-lettered expressions, such as "Don't be an idiot" or "Not feelin' it," reveals how most of us really feel. Also included are lists, such as "It's Okay to Give Up When…," quotes from your favorite sassy spirit guides, such as Michael Scott from The Office: "I am running away from my responsibilities and it feels good," and life advice: "Enough with the f*cking gratitude. Make a list of everything you hate. Fun!" And if you want to be crafty but not put in too much effort, punch out and string up the "Everything Sucks" banner included in the back of the book. Everything Is the Worst makes an excellent Mother's Day present for the mom who raised you to be the cheekster you are today.
---
YOU CAN HAVE IT!: More Than 125 Decadent Diabetes-Friendly Recipes
Since leaving her position as the celebrity chef on TV's The Biggest Loser, Devin has turned her focus to the 1 in 3 Americans that have either type 2 diabetes or are in a state of pre-diabetes. She's on a mission to help people eat healthier and smarter without sacrifice while championing the fight to reverse the growing number of new diagnoses in North America.
A diabetes-friendly diet isn't a special diet but a smarter diet… and with 1 in 3 Americans living with diabetes or on the brink of it, it is timelier than ever.
Using her chef secrets, tips, and techniques that helped contestants on the show lose weight and wowed customers in her restaurants, Devin has crafted easy, diabetes-friendly recipes that bust the myth that eating well means giving up the comfort foods you love. YOU CAN HAVE IT!: More Than 125 Decadent Diabetes-Friendly Recipes includes beautiful photographs, easy-to-follow tips and techniques, affordable ingredients, and mouthwatering meals; this is the cookbook every person who cares about their health (whether they have diabetes or not!) will want to own.
---
Getting My Bounce Back
Carolee Belkin Walker is a wellness blogger, podcaster, and freelance journalist whose work appears in the Washington Post, Women's Running, the Chicago Tribune, the Toronto Sun, the Huffington Post, Thrive Global, the Baltimore Sun, the Tyler Morning Telegraph, and others. She was a featured blogger for the Daily Awesome at GovLoop, and her articles on U.S. life and culture have been translated into multiple languages and published around the world. Her former trainer, Reuel Tizabi, the author of two chapters in Getting My Bounce Back, is a certified personal trainer and a doctor of physical therapy student at the University of Maryland, Baltimore.
While most people know Walker for her for her fitness and wellness writing, a fascinating and little-known detail about Walker is that she is a career professional at the U.S. Department of State. She serves assignments as a public affairs specialist and a public diplomacy writer and editor and as a consular officer specializing in assisting U.S. citizens overseas and crisis management. Over the years, Carolee's worked around the clock on the Department's task forces, including during the Haiti earthquake and the earthquake and tsunami in Japan.
Getting My Bounce Back is an inspirational story about Walker digging deep inside, discovering who she is, and seeing how far she can push herself to be strong, fit, healthy, and most importantly, resilient. Her writing is full of humorous situations as she decides to be an active participant in life and not take setbacks, or herself, too seriously.
---
The Beauty of Dirty Skin: The Surprising Science of Looking and Feeling Radiant from the Inside Out The Beauty of Dirty Skin: The Surprising Science of Looking and Feeling Radiant from the Inside Out (Little, Brown and Company; April 17, 2018) by Dr. Whitney Bowe has been featured on Good Morning America, The Rachael Ray Show, The Doctors, Dr. Oz and more. In recent years, science has shed new light on the connection between the gut and the brain. Now, for the first time, The Beauty of Dirty Skin spells out the connection between the microbiome—the balance of healthy microorganisms that inhabit your body inside and out—and skin health. Dr. Bowe provides data-driven knowledge and life-changing, actionable advice, and dispels the myths behind what it takes to have—and maintain—great skin. Topics include:
An explanation of the gut-brain-skin axis, the hidden factor of skin health
How you can turn your diet into a solution to myriad skin problems, including 5 fundamental dietary rules about what to eat and what to avoid for glowing skin
How oral probiotics are the new emerging antibiotics, and can work wonders on skin health
Why we have an epidemic of adult acne, rosacea, eczema, and premature aging today (including skin cancer!)
Why some of today's skincare products, including organics and antibacterials/antimicrobials, can inflict lasting damage
How to send signals of beauty to your skin through 3 lifestyle interventions: the power of sleep, exercise, and meditation.
With simple explanations of the science behind Dr. Bowe's findings, do-it-yourself practical skincare strategies, and a life-changing 3-week program, The Beauty of Dirty Skin will forever change the way you look at loofahs, Diet Cokes, fat-free milk, energy bars, and antibiotics.
---