With the holidays just around the corner, we wanted to help you find the perfect gift for those on your list with our annual Holiday Gift Guide. A special thank you to those of you who sent in your holiday gift ideas and suggestions for this season.
If you're looking for a gift idea, our annual holiday gift guide features a wide variety of gift ideas in the categories below:
Technology and Electronics
Gadgets
Newborns and their Parents
Stocking Stuffers
Health and Wellness
Kitchen
Kids
Games
Fashion and Style
For the Home
Books
---
Technology & Electronics
Mohu
Mohu, The Cord Cutting Company has devices sure to please your favorite TV-lover as cord cutting grows increasingly prevalent and cost-effective for American households. In fact, 1 in 8 U.S. households who cut the cord save an average of $103.10 per month.
Mohu offers an extensive line of antennas that provide consumers free access to dozens of channels (including ABC) – virtually eliminating the need for cable (on top of all of your costly live TV subscriptions…)
Beyond their range of leading HDTV antennas – including Leaf50, Sail, Striker – Mohu acknowledges that cord cutting is only as good as the self-help you can get, which is why they created the first FREE online cord cutting application that shows users how to cut the cord via Untangle.TV. Untangle analyzes cord cutters' viewing behaviors to recommend a custom mix of over-the-air (OTA) and over-the-top (OTT) devices and services needed to watch the TV they prefer, at a cost they control.
The Leaf50, Sail and Striker are the perfect gifts to share with your favorite entertainment junkies this holiday, sans the painful cable subscription costs. Additionally, Untangle.TV will allow them to determine the best devices and streaming services to suit your entertainment needs.
---
JBL and Harman Kardon
JBL LIVE 400BT ($99.95): Elevate a commute with JBL's signature sound and the smarts of Amazon Alexa and the Google Assistant.
Urban noise technologies, TalkThru and Ambient Aware, help stay aware of your surroundings and have a quick chat with the barista all without missing a beat.
Harman Kardon Citation ONE ($199.95): For those that like to entertain during the holidays, this is the "it" tech gadget, pulling triple-duty as an immersive home audio speaker, next-generation smart assistant and sophisticated centerpiece.
---
Sonic Bomb
No more sleeping in!
Wake up each morning to The Sonic Bomb Wireless Vibration Alarm which contains the universe's most powerful bed shaker and can connect wirelessly to your phone. You can set multiple alarms and notifications with its easy-to-use app.
The user-selectable alarm duration goes from 15 seconds to 10 minutes. The user-selectable snooze time is from five to 30 minutes. The user can choose their vibration pattern and strength per their interest.
You can turn off the alarm sound on your phone and only use the vibrator. You can name your different alarms. When you wake up, you will not be disturbing others and can stay charged with the strength of the battery life.
The battery, itself, lasts six months when used every day. If not used every day, it could last up to two years. It is covered under a one-year warranty.
---
Nixplay
Nixplay is the WiFi-connected frame everyone loves to give as a holiday gift and it just launched new frames for the first time in years.
The new hardware is incredible, with updated screen resolution, a built-in wall-mountable stand, new sizes and more.
Now Nixplay users can see their photos and videos in stunning 4K right on their wall this holiday season; more info here.
A NEW WALL-MOUNTABLE SMART FRAME THAT IS TRULY SMART: For the first time ever, every Nixplay Smart Frame comes standard with a proprietary wall-mounting and detachable cord-stand system. Motion and light sensors turns the frame on/off automatically; Works with Amazon Alexa, just ask for the playlist you want.
SCREEN RESOLUTION FOR DAYS: Nixplay's new Smart Photo Frames have the most advanced screen technology and highest resolution in any Nixplay frame ever. Ranging from HD – all the way to 4K -the Nixplay Smart Photo Frame is the best way to view your most precious photos and videos.
STAY CLOSE TO FAMILY: Share photos and videos from your phone or by email to the Nixplay Smart Frame, wherever it is; A great gift for new parents, grandparents, newlyweds, college kids or any families separated by distance.
SHARE PHOTOS AND VIDEO PRIVATELY, SAFELY: Share images to your loved ones' frames and invite others to share pictures to your frame; Send unique photos or playlists to separate frames and grow your private family sharing network.
MANAGE THE SMART FRAME USING YOUR MOBILE DEVICE: The Nixplay App for iOS and Android gives you full control over your frame; Connect to Google Photos to ensure your frame is always up to date; Dropbox, Facebook and Instagram also supported from website. Magnetic remote included.
SLEEK AND MODERN: All-new matte black, metal and wood effect finishes makes the Nixplay Smart Photo Frame a perfect addition to any home or environment.
Available at: Nixplay.com OR Amazon.com
Price: From $179.99 – $349.99
---
GoFish Cam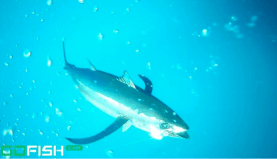 Take the guesswork out of fishing to entice people of all ages and experience levels. GoFish Cam is a wireless underwater HD video camera that sits on your fishing line and reveals all the underwater action.
Novice and expert anglers can study the footage to improve their techniques, plus easily show off their trophy catch videos on social media
---
Gadgets
CLCKR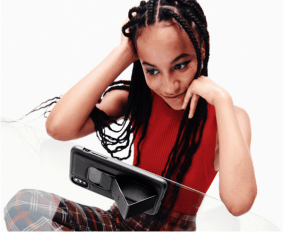 There's a brand new phone stand and grip called CLCKR that would perfect for the tech gadget lover in the family. This convenient accessory allows multiple viewing options and a more comfortable hold for your device, and when not in use it folds down flat for easy storage.
CLCKR is designed to suit any style, offered in an array of colors and designs such as Neon Yellow, Rose Gold, Holographic and more.
---
ChargeHub
Need a new charger for your smart devices?
The ChargeHub X3 3-Port USB Charger can power up to 3 USB devices simultaneously and FAST with a single power supply.
The package includes (1) ChargeHub X3, (1) 6ft Detachable Power Cord, (1) User Manual, (1) Clear Lens with Removable Film, and (1) Year Limited Warranty by Limitless Innovations. $39.99
The ChargeHub HomeBase Power Bank Docking Station is an at-home charging solution that powers the whole family on-the-go! This Docking Station charges 4 power banks PLUS one additional device using the USB Charging Port.
Each power bank has a durable aluminum case and is color-coordinated with a metallic-finish for easy identification. Its powerful 4000 mAh battery capacity will keep your devices charged throughout the day. The storage drawer conveniently stores your cables and maintains an organized space.
$59.99
The ChargeHub Powerstation 360 can charge up to (10) USB devices simultaneously, including (4) USB's, (6) AC Outlets, and provides up to 4000 Joules of Surge Protection with Lifetime Connected Equipment Warranty.
It uses patented SmartSpeed Technology to provide an optimal charge while the (6) AC outlets (125V / 10A / 60Hz / 1250W) positioned in a circular pattern, provides more space between each outlet to maximum functionality. $59.99
For more information, visit www.limitlessinnovations.com.
---
adidas Phone Cases
Just in time for the holidays, adidas Sports dropped their new lineup of iPhone 11 cases.
Inspired by active lifestyles, this range of protective anti-slip and anti-shock cases offer premium protection – ideal for workouts and life on-the-go.
The new collection includes three new, sporty designs including a built-in grip case, an elastic pocket case and a lightweight clear case.
---
Zippo
Zippo HeatBank
Zippo HeatBank™ 9s (MSRP: $49.95)

The HeatBank 9s is the latest addition to Zippo's growing portfolio of best-selling reusable hand warmers, with a range of options starting at under $20.

Offering a run time of nine hours, six heat settings deliver gentle warmth of up to 120°F/50°C
Delivers dependable, dual-sided warmth at the press of a button with the convenience of a power bank
Perfect heat solution for any outdoor activities, cold-weather commutes or even chilly offices.
Powered by a rechargeable lithium-ion battery and is capable of charging any USB-compatible device, including smartphones and tablets.
Curved design allows it easily fits in and out of pockets, making it a travel companion that's built to last
Zippo Fight Fire with Fire Collection
Zippo Fight Fire with Fire Collection (MSRP Range: $45.95 – $62.95)

Zippo has launched a new windproof lighter collection, each featuring sustainably sourced wood emblems, made in partnership with WOODCHUCK USA. Each lighter sold from the Zippo Fight Fire with Fire collection will directly contribute to the restoration and protection of forests around the world, with the goal of helping combat the effects of deforestation caused by wildfires.
—The collection features 10 unique designs including a Brushed Chrome lighter with front and back real wood cedar emblems and Brushed Brass finish lighter outfitted with a real wood mahogany emblem. Each lighter comes with its own certificate and unique code so you can see where your tree is planted around the globe.
---
Cleer Stage Portable Speaker
Cleer Stage Portable Speaker is the perfect gift for someone who wants good quality sound when they listen to music from a portable Bluetooth speaker!
It's waterproof and Bluetooth and can be hooked up to multiple Bluetooth speakers.
Some of the features include:
ALEXA CERTIFIED: Connect to Amazon Alexa intelligent voice control via the Cleer Connect App* to play music, hear the news, set alarms and timers, answer questions, control compatible smart home devices, and more. *Note: To access Alexa voice services, you need to have the latest version of the Cleer Connect app and have it open on your mobile device
RUGGED GOOD LOOKS, SHOCKPROOF & WATER RESISTANT: Cleer has designed the Stage to go anywhere you go. Small and lightweight, Stage is easy to set up and use via Bluetooth or auxiliary input via the included 3.5mm audio cable. Built with IPX7 water-resistance to guard against the elements or the occasional spill.
BLUETOOTH 4.2 WITH NFC: Stage provides portable audio and Alexa control anywhere with its 15-hour battery, rechargeable with the included Micro USB cable. Keep the Stage playing all day long when plugged into any USB power source.
FULL RICH SOUND: Stage features a digital amplifier, dual 48mm drivers, and passive radiators to deliver amazing audio. Indoors or out, Stage delivers powerful room-filling audio to stream your music. With IPX7, enjoy great sound anytime, anywhere from your Bluetooth connected device.
UP TO 15 HOURS OF PLAYBACK: Stage's built-in rechargeable battery provides up to 15 hours of playback, making it perfect for parties, travel, or relaxing outdoors.
---
Eyesafe
Digital screens give off dangerous blue light waves that not only impact our sleep schedule, but also cause serious eye irritation and blurred vision.
Protect the eyes of your friends and loved ones with these innovative Eyesafe products that will filter out the blue light from screens without distorting the color.
---
For Newborns and their Parents
Owlet Baby Care
Owlet Baby Care, a smart baby monitor system, has been giving parents peace of mind since 2015 when it introduced its Smart Sock. The first-of-its-kind heart rate and oxygen level tracking system uses clinically-proven pulse oximetry and is a must-have on every new parent's baby registry.
Owlet has been recognized as one of Entrepreneurs "100 Brilliant Companies" list and as a finalist in Fast Companies "2017 World Changing Ideas Awards." It has also been awarded by top parenting media including: BabyCenter Moms' Pick Awards, The Bump Best of Baby Awards, Babylist Best Baby Products, and What to Expect Best Baby Awards.
---
teetherpop
At the shower and after baby was born, parents likely received everything needed for those first few months. Now it's time for the next phase.
At around 6-8 months old, baby will likely be ready to start eating pureed foods. (Consult baby's pediatrician to be sure.) This is also the time when little ones may start the teething. A perfect gift for baby—and parents—is teetherpop®, a patented, freezable teether designed for children six months and older.
teetherpop can be filled with fine purées, homemade smoothies, freshly-juiced fruits and veggies, Mother's milk, water, or baby's favorite drink. When frozen, teetherpop offers soothing relief for teething babies and is a less messy substitute to traditional popsicles for toddlers. It is also a creative option for storing breastmilk.
Made in the U.S.A. of high-quality, medical grade, non-toxic silicone, teetherpop has small, flexible slits in a unique reservoir allow liquids to flow as baby teethes. teetherpop is free of BPA, PVC, latex and phthalate, so parents can be assured that what their children are putting in their mouths is safe. The product has recently been awarded The National Parenting Center's Seal of Approval and a Tillywig 2019 Toy Award for Parents' Favorite Product.
teetherpop is made in Ashland, Ohio using U.S.-sourced and FDA-approved medical grade materials. Dishwasher safe and the teether reservoir does not retain odors or stains. Available in an array of five fun colors. To learn more about teetherpop™, visit www.teetherpop.com.
---
Smart Beat
Smart Beat is a new first-of-its-kind baby monitor that can detect a baby's breathing without wearables is a must-have for new parents. Smart Beat is a video baby monitor with breath detection to track movement with such precision that it can measure the depth and duration of every individual breath. Founder Nate Ruben, whose son was born premature and at high risk of Sudden Infant Death Syndrome, came up with Smart Beat to give other parents peace of mind.
---
Mace Corporation – No Leak Baby Bottle
The Nevada-based Mace Corporation has revolutionized the baby bottle industry with their aMACEing Zero Leak Baby Bottle! The patented design releases when you squeeze the nipple. When the baby is feeding, the milk flows gently. No spills, choking or over-feeding. By eliminating leaks, the bottle helps prevent tooth decay and ear infections from babies being left with bottles that leak milk after they have stopped drinking.
---
eClip
eClip is an innovative device that is easily attached inside the car to help remind parents to remove their baby from the car seat. It is the first low-cost device that helps prevent parents and caregivers from accidentally leaving a young child in the back seat of the car. Using low-energy Bluetooth and advance patent pending technology, eClip is able to detect when you walk more than 25 feet from your car by alerting you through an interactive app on your smartphone. The eClip also monitors the temperature in the back of your car to keep it safe and comfortable for your baby.
---
Stocking Stuffers
Pudus Slipper Socks
Featuring extra-fluffy sherpa lining and non-slip grippers, Pudus Slipper Socks collection wraps your feet in warmth so you can lounge in comfort and style.
With over 75 trendy styles and one-size fits most design, you will be sure to find something for everyone – making them the perfect gift!
Zion's Health's ClayDry Deodorant
Another essential stocking stuffer is a new deodorant! Did you know you can absorb those underarm odors with clay?
If you're looking for aluminum-free, vegan options in deodorant, look no further than Zion's Health's variety of ClayDry Deodorants that use essential oils and ionic clay minerals to keep you fresh.
They come in scented and unscented varieties too.
---
Couples Edition Card Game
The new "Couples Edition" card game by Our Moments makes a great gift for couples feeling overwhelmed by daily distractions who want to reconnect. The Our Moments Couples Edition is meant to spark meaningful conversations between couples simply by asking a question and focusing and listening to your partner's answer.
Each card has a question that gets couples talking. Examples include: "What's something you've tried that you'll never ever try again?" "What's your idea for a perfect vacation and can we make it happen?"
Available on Amazon for $18.95: https://www.amazon.com/Our-Moments-Couples-Conversation-Relationships/dp/B078RDNFSC
---
Forceflex Sunglasses
Choosing the right gift for co-workers and acquaintances is stressful. You have to avoid anything controversial or that which someone might deem offensive. You have to spend enough so you don't look cheap, but not so much that you look like you are trying too hard. Give a lame gift and no one will ever want you to pick their name from the hat again.
The answer is Forceflex® High Performance Eyewear. Sunglasses practical—everyone can use a good pair. They are stylish for men and women. Best of all, the price just right for co-workers, friends, and the neighbor who clears the snow off your car every winter.
Manufactured by a leading tactical military eyewear company, Forceflex sunglasses are built to last. Providing the highest military-grade impact protection rating available, Forceflex's patented I-Form™ elastomer technology makes these sunglasses nearly indestructible, no matter how many times they are dropped, stepped on, bent or thrown against the wall.
The unique material makes Forceflex 6x the scratch resistance of other sunglasses, and the most adjustable. Their flexibility allows them to conform to any size/shape head and face comfortably, eliminating pressure points from the bridge of the nose to the back of the ears.
Patented Intrablock™ UV provides 100% protection against UVA and UVB rays in and around eyes; and patented TXS™ Optics are engineered for zero lens distortion. Forceflex sunglasses are light as air, but tough as steel, shielding eyes on the shooting range or the driving range.
The sunglasses are available in two unisex styles, full frame and half frame, in all black. Additional colors and styles are currently in development. Available on Amazon.
---
Health & Wellness
GoFit Therapeutic Massage Bar
The GoFit Therapeutic Massage Bar ($24.99) supports recovery after a workout from anywhere or massage your muscles after a long flight.
Flexibility and recovery are vital components for any training program. A great way to increase flexibility and speed up post workout recovery is through target-point therapy or self massage. The GoFit® Massage Bar is a great tool to awaken tired muscles pre-workout and to help knead aching muscles, post workout. No matter how hard you workout, run, ride, or play, the GoFit® Massage Bar is a great way to relieve stress and rejuvenate muscles.
Rollga 18″ Foam Roller
The Rollga 18″ Foam Roller ($39.99) is a great gift for the runners in your family. Runners know the importance of recovery, and a foam roller is the perfect gift to help.
This tool allows runners to mimic getting a deep tissue massage from the comfort of their own home, at a much cheaper cost.
This foam roller has a unique patented design that cradles your body for quick results with more comfort and ease. Rollga bypasses the bone structure, such as the spine, shins and hips, to unlock hard to access trigger points. Rollga also allows for muscle displacement to ensure the muscle fibers are guided and protected from the damaging shifts and pressure. At 18 inches, Rollga is big enough to treat your whole body and small enough to fit in your backpack.
Choose from endless models with the firmness, texture, portability and technology such as vibration to fit your needs.
---
EverSmile Whitening Products
No matter how you whiten, regular life with eating and drinking will slowly add color back to your teeth. Diligent hygiene and regular whitening maintenance with a gentle product can help your teeth stay their whitest.
EverSmile's WhiteFoam, AlignerFresh, and WhitenFresh all contain 3.8% hydrogen peroxide to break up staining agents before they have a chance to set in to your teeth. Whether you're in aligners, braces, or just looking to keep your smile pearly, regular use can help your smile be its best and brightest!
---
H20COACH
Stay motivated to keep on track with your daily dose of water with H20COACH! With the Drink More H20 bottle, you can see time markers with motivational phrases to keep you on track. This 36oz bottle shows you where you should be by the hour while encouraging you to start again when it's time.
Need a little more flavor? This beverage holder includes a fruit infusion option, too!
The Drink More H20 bottle features:
Time tracker on the bottle so you can see how much you should drink by the hour
Lightweight with a convenient carrying strap that makes it easy to take on the go
Stylized shape so it fits comfortably in your hand!
Includes a fruit filter for infused water
Holds 36 ounces
Choose from 4 transparent colors that let you see your water levels: Pink, Gray, Blue and Green
BPA Free and no chemical tastes or odors
Durable and ready for hiking, the gym, the office, traveling and more
$21.97 – available on Amazon.com/h2ocoach
Thirsting for more? Check out the Gallon Jug for your full day of water!
This full gallon bottle features:
Holds 128 ounces
Convenient time goal markers directly on the bottle to remind you when to drink more
Motivational messages
Flip top spout
Carrying strap to make it easy to take on the go!
Leak proof with silicon bands for extra durability against falling
BPA Free and no chemical tastes or odors
Choose from 4 transparent colors that let you see your water levels: Pink, Black, Blue and Transparent with Black
$26.97 – available on Amazon.com/h2ocoach
Visit: http://amazon.com/h2ocoach or H2OCOACH.com.
---
Aneros
Aneros, the leading sexual health and wellness company, and their line of wellness products, are always striving to make sexual health a major part of total health.
Since 1996, Aneros has been committed to bringing customers high-quality devices that promote sexual health and wellness, led by its patented line of therapeutic prostate massagers, the only products of their kind to be evaluated in a medical study for their effectiveness. Additionally, the Aneros Forum was created for both new and advanced users to continue discourse on the value and benefit of prostate massage.
If you or someone you know suffers from prostatitis, Chronic Pelvic Pain Syndrome, or symptoms associated with BPH, you should know that the practice of self-administered prostate massage can be used as an alternative modality of treatment. Sex educators, holistic practitioners and an increasing number in the medical community are coming to embrace the use of prostate massage for sexual wellness and vitality.
---
Salonpas
For anyone suffering from pain, the holidays can exacerbate their symptoms with all the planning, shopping, cleaning and partying. A stocking stuffer from Santa that is filled with Salonpas will reduce pain and may foster holiday cheer!
By putting the medicine right at the site of pain, bypassing the stomach and liver, Salonpas can use less medicine to deliver an effective dose. Check out the full product suite from Salonpas which includes Salonpas® HOT, Salonpas® Lidocaine Plus Pain Relieving Liquid, Salonpas® Lidocaine Plus Pain Relieving Cream, Salonpas® Lidocaine Pain Relieving Gel-Patch, Salonpas® Pain Relieving Patch, Salonpas® DEEP Relieving Gel, Salonpas® Pain Relief Patch, Salonpas® Pain Relieving Gel-Patch Hot, and Salonpas® Pain Relieving Jet Spray.
By putting the medicine right at the site of pain, bypassing the stomach and liver, Salonpas can use less medicine to deliver an effective dose. Try it and we think you will agree that Salonpas offers powerful relief when and where you need it.
---
Nasopure
You wash your hands, eat your veggies and stay away from sick people, all in an effort to stay healthy. But there's one more thing you can do to stay healthier – wash your nose. That's right, washing your nose is good for you, and there's a multitude of studies to prove it. Nasopure is the comfortable way to breathe better, naturally.
Nasopure's buffered saline nasal wash is designed to flush away the allergens, irritants and infectious particles you breathe in every day. Your filter, the nose, processes 10,000 liters per air each day. Does it make sense to clean this filter? Science Says Yes. Nasopure washes the nasal passages before these irritants have a chance to invade the body and wreak havoc – got you it now? If so, get it tomorrow by shopping on Amazon Prime.
---
Pure Synergy
Below are a few ideas from the all-natural, organic supplement company Pure Synergy.
Organic Beet Juice Powder provides natural energy and an antioxidant boost while supporting liver and heart health.
SuperPure Turmeric protects joints and aids in a faster workout recovery so they can hit that ab class with you tomorrow!

Gifting Your Health-Nut Coworker:

For that special someone who's always counting their steps and orders the healthiest lunches, Organic Carrot Powder is for them. This immune booster is a tasty way to nourish their eyes and skin while providing needed antioxidants.
Or, if they are Kale-crazy, Organic Kale Powder assists in detoxification, nourishes eyes and skin and supports healthy cells. Great in smoothies or in salad dressings.


Gifting Your Foodie Friends:

Allow them to create their own yummy recipes with Pure Synergy's Berry Power. This organic powder is deliciously sweet with no added sugars. Just 1.5 teaspoons, this powder promotes optimal heart and blood vessel health, supports the immune system, healthy skin, vision and brain function. Add it to yogurt — or a foodie cocktail.
---
Kitchen
Innovia® Paper Towel Dispenser
We can all relate to this:
You're in the kitchen with raw chicken juice dripping from your hands or holding tight to a toddler who just used the grape jelly as finger paint. With one hand, you quickly reach for a paper towel and end up unwinding half the roll. It's frustrating! It's wasteful! It's untidy! But, fortunately, it never has to happen again!
The Innovia® Paper Towel Dispenser makes kitchen clean-up easier than ever. With just the wave of your hand, it dispenses paper towels on demand, just like the automatic paper towel dispensers you see in public restrooms. It's the technology you didn't know you needed but can't live without — and it's this holiday's must-have kitchen gadget!
The Innovia dispenser is compatible with most household paper towel brands, is available in a variety of colors, and comes in both countertop and undercabinet models. The Innovia Paper Towel Dispenser costs just $99.99 and can be purchased on Amazon or at www.innoviahome.com.
You can also get these discounts on the website:
11/28—12/1: $20 off + free shipping with promo code BLACKFRIDAY20
12/2: $23 off + free shipping with promo code CYBER23
12/9—12/14: $10 off + free shipping with promo code FINAL10 (12/14 is the last day for standard ground shipping to arrive in time for Christmas)
---
Martha & Marley Spoon
Martha & Marley Spoon is the perfect way to step-up your gifting game this holiday season. Ideal for busy parents and on-the-go couples it offers the ultimate convenience for people who simply have no time to plan or grocery shop, but love to cook!

Martha & Marley Spoon delivers fresh ingredients and 30-minute recipes straight to your doorstep and accommodates various diets ranging from kid-friendly to vegetarian. Our rotating weekly menu offers up to 4 meals a week and 20 different recipe choices that are sure to keep taste buds on their toes.
Check out the menu and order a Martha & Marley Spoon box for a loved one this holiday season.
---
Wellslock
Wellslock created the world's first single-latch storage container, with lids that glide into place.
With patents in nine countries (and patents pending in over 30 countries), this unique construction not only makes opening and closing containers easier and quicker, but the design ensures an airtight seal, prevents moisture retention and extends food freshness and shelf life. The restaurant-grade and BPA-free containers stay latched and are leak proof. The lid has one latch that is secured to the container; they remain intact even when dropped — proving its durability.
Single lock for easy one-handed operation and locks all four sides
Leakproof with airtight silicone seal lid good for storing soups, sauces, and liquids. Silicone seal is removable for easy cleaning. Resistant to odors, stains, and shattering for lasting quality.
Simple and stackable design with only one lock for efficient compact and side-by-side storage. Easy empty lid stacking for drying or storing. Microwave, dishwasher, refrigerator, and freezer safe for convenient daily use.
Shipment Dimensions: 6.89 L x 14.37 W x 10.43 H (inch) / 4.67 lbs
Material is pure copolyester, BPA free plastic, and FDA approved and hygienic solution
Fresh n' Lean
We've all done it – spent insane amounts of money and time trying to get rid of pesky acne and clogged pores. They tell us that we HAVE to have xyz ingredient, we MUST spend insane amounts of money on doctors and facials – don't forget to use a towel after washing your face, and NEVER pop a zit! The reason we keep trying a million new things and spending all of our money to get clear skin is because nothing external is really going to solve our skin issues in the first place.
Like most things, skin issues are an internal issue that needs to be addressed as such. So, throw away those over priced treatments and face zappers – it's time we finally assess what we're putting into our mouths each day, because food CAN be medicine or it CAN be poison – you decide.
The dietitians and physicians at Fresh n' Lean, the nation's largest organic ready-to-eat meal delivery service, understand the importance of using food to promote health and beauty.
Kids
KIBO
Whether you are buying for kids or grandkids, KIBO robot kit is an educational alternative to iPhones or tablets that many young kids are being gifted these days.
The KIBO robot kit, from KinderLab Robotics is a unique robot toy that engages even the youngest children in active STEM/STEAM Learning. With KIBO, 4-7 year olds create, design, decorate and bring their own robot to life.
KIBO kids' imaginations soar—all without requiring screen time! For the first time ever – KIBO is now available on Amazon.
Designed for open-ended play, KIBO lets kids make almost anything – a character from a story, a carousel, a dancer, a race car – anything the child can think of. They plan a coding sequence using the programmable wooden building blocks, scan their sequence with KIBO, press its button and watch their creation go.
We found KIBO simple to use. The setup took about 10 minutes and provided hours of fun for our 6-year-old daughter. In fact, the instructions were so simple and easy to follow along, that we let her assemble KIBO and just supervised her. It was a welcome respite from the iPad or Netflix and Disney+!
Even if you are unsure of any assembly instructions or how to use KIBO, go to YouTube where KinderLab has several short (under 3-minute) videos on how your kids can use KIBO.
It's a bit pricey (just under $700) but your kids are learning to build and code.
When children build, code and decorate their own robot, they are learning invaluable skills that will lead them on the path for success in STEM/STEAM and future careers.
Developed by Dr. Marina Bers after 20 years of child development research at Tufts University, KIBO is used in 54 countries and has been tested and approved by thousands of children and their caregivers.
For more information, visit https://kinderlabrobotics.com/kibo/.
---
Perry Mackin Backpacks and Lunch Bags
Influencers are raving all over the Instagram about the stylish, durable and water-resistant, Perry Mackin's backpacks and lunch bags that are ideal for the whole family (adults included!).
The lunch bags are fully insulated interior keeps food cool or warm and the backpacks ensure belongings stay secure with a top zipper and easy to operate magnetic strap closures.
Plus, both are available in eight colors, including Pink, Mustard, Blue, Black, Mint, Khaki, Navy & Metallic Gold.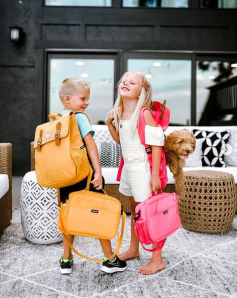 Perry Mackin Charlie Lunch Bag ($24.00)
Available in eight colors
Made of WATER-RESISTANT coated fabric
Top zipper closure; front exterior pocket ideal for utensils and napkins; one side exterior mesh bottle pocket
Fully insulated interior keeps food cool or warm
Measures 11″L x 7.5″H x 4″D inches. Includes a messenger strap
The perfect accessory to complement Perry Mackin's Charlie Kids School Backpack
Perry Mackin Charlie Kids School Backpack ($48.00)
Available in eight colors
The Perry Mackin Charlie backpack is perfectly sized for children ages 6-11. Your little one will be the coolest kid in school! A generously sized interior has room for all their supplies while two exterior bottle pockets hold beverages to keep them hydrated
Made of WATER-RESISTANT polyester. Durable synthetic leather detailing
Front exterior zipper storage pocket; Two interior pockets
Top zipper with magnetic strap closures
Measures 11L x 13.5H x 4.75D inches
---
Games
SolidRoots White Elephant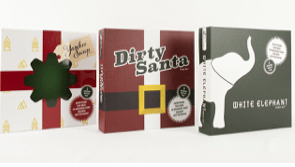 The biggest gift giving time of year is the Christmas/Hanukkah season. Gifts are exchanged at work, school, and with family. A well-planned gift exchange takes a little of the stress out of holiday shopping, while adding entertainment value to the office staff or family gatherings. Whatever you call it in your town, game maker SolidRoots (https://solidroots.com/) has taken the gift swap to a whole new level with a party kit to make anyone a Hostess with the Mostess!
Say hello to SolidRoots White Elephant ($24.95).
A White Elephant gift exchange is a popular Christmas event where people vie to walk away with the best present. It also goes by Yankee Swap, Dirty Santa, and a plethora of other names. If you live in the NE part of the country, you might host a Yankee Swap. Southerners are known to host a Dirty Santa where dirty refers to "stealing" one of the gifts.
TV's The Office fans might recall the iconic $20 gift swap episode. Comedy Central loved the episode so much they posted their own studio gift swap featuring snippets from the beloved episode: https://youtu.be/-50x5Pyf4Rw
Style & Beauty
Obagi
What better way to treat your loved ones this holiday season than with some luxurious R&R gift sets? This year, Obagi is offering two limited-edition holiday kits that combine Obagi's best-selling products with latest innovations and include some of Priyanka Chopra's favorite products. The holiday kits include the following:
Eye Cream Limited-Edition Holiday Kit:
Nu-Derm® Foaming Gel (2 oz)
Nu-Derm® Toner (2 oz)
Professional-C Microdermabrasion Polish + Mask (5 g): This multitasking polish + mask contains an unprecedented level of 30% L-ascorbic acid (same edits here) to unveil dramatically brighter, smoother and more youthful-looking skin. Don't take our word for it – 88% of clinical study participants experienced a more luminous glow after just one application!
ELASTIderm® Eye Cream (0.5 oz): For firmer, more resilient-looking eyes, refresh your skin's appearance with ELASTIderm Eye Cream, formulated with clinically proven ingredients. This rich cream uses Obagi's proprietary bi-mineral complex and malonic acid to address elasticity, firmness, fine lines and wrinkles, and crepey texture around the eyes. Get ready for the holiday season with smoother, tighter-looking skin around the eyes.
Eye Serum Limited-Edition Holiday Kit:
Nu-Derm® Foaming Gel (2 oz)
Nu-Derm® Toner (2 oz)
Professional-C Microdermabrasion Polish + Mask (5 g): This multitasking polish + mask contains an unprecedented level of 30% L-ascorbic acid (same edits here) to unveil dramatically brighter, smoother and more youthful-looking skin. Don't take our word for it – 88% of clinical study participants experienced a more luminous glow after just one application!
ELASTIderm® Eye Serum (14 mL): With countless holiday parties approaching, don't let your eyes give away your busy schedule! This unique formulation contains a bi-mineral complex of copper and zinc with malonic acid plus caffeine to help reduce the appearance of under-eye puffiness!
---
Romance in a Box
Sometimes it just takes a little old-fashioned romance to bring spark back into a relationship. And with the most romantic time of year around the corner, Romance in a Box will make it easy by shipping straight to your door an elegant Chanel-esque matte magnetic-close box with velvet interior in a fun variety of themes including: Breakfast in Bed, Cozy Night In, Luxury Romance, Spa for Two, and Naught Night.
They also offer proposal and hotel room decor and anniversary gifts by year. All the products in the box are handpicked and curated to the theme, for a beautiful at-home romantic experience your significant other will love. Just add a bottle of champagne and you're all set!
Whether it's for an intimate New Year's Eve staying in, Valentine's Day, an anniversary or a surprise treat anytime, Romance in a Box can help you score big in the romance department. Learn more at: https://romancehelpers.com/

---
For the Home
Moso Natural
Moso Natural is an eco-friendly, all-natural bamboo charcoal bag that serves as the ideal alternative to traditional air fresheners that typically include harmful chemicals and artificial fragrances. Guaranteed to keep any space fresh for up to two years, give the gift that keeps on giving with Moso Natural.
Moso Natural 600gr Bags
Very simple and effective solution- experience odor-less results within hours of placement!
100% Sustainable- once the Moso Bag is completely used it can be opened and spread throughout the garden to promote plant growth!
Reusable for up to 2 years!
Chemical free, fragrance free and non-toxic.
Covers 300 square feet!
Available in natural and charcoal.
MSRP $22.95
Available online at www.mosonatural.com
Moso Natural 500gr Bags
Very simple and effective solution- experience odor-less results within hours of placement!
100% Sustainable- once the Moso Bag is completely used it can be opened and spread throughout the garden to promote plant growth!
Reusable for up to 2 years!
Chemical free, fragrance free and non-toxic.
Just right for large spaces such as bedrooms, living rooms and kitchens.
Available in natural and charcoal.
MSRP $19.95
Available online at www.mosonatural.com
Moso Natural 200gr Bags
Very simple and effective solution- experience odor-less results within hours of placement!
100% Sustainable- once the Moso Bag is completely used it can be opened and spread throughout the garden to promote plant growth!
Reusable for up to 2 years!
Chemical free, fragrance free and non-toxic.
Perfect for areas such as lockers and gym bags.
Available in natural, charcoal, or green.
MSRP $9.95
Mini Moso Natural 50gr Bags
Very simple and effective solution- experience odor-less results within hours of placement!
100% Sustainable- once the Moso Bag is completely used it can be opened and spread throughout the garden to promote plant growth!
Reusable for up to 2 years!
Chemical free, fragrance free and non-toxic.
Great for small spaces such as shoes, gloves or gym bags.
Includes two Mini Moso Bags!
MSRP $9.95
Available online at www.mosonatural.com
---
VEO Active-Probiotic Surface Cleaner – Taking Clean to a Microscopic Level that Lasts
We hate to point this out, but the clean you're getting from other products starts to diminish within just a few hours after cleaning. Launching this month, VEO Active-Probiotics Surface Cleaner combines cutting-edge biotechnology and the power of nature to deliver a microscopic level of clean that's unprecedented and leaves your surface deeply hygienic for up to three days. Every drop unleashes potent probiotics that go to work quickly to biodegrade dirt and grime deep within crevices, without harsh fumes or toxic ingredients. Now that VEO is fighting dirt and grime on your kitchen surfaces, what will you do with all of that spare time you're not spending cleaning the same surfaces again, and again, and again? Available in two scents and sizes at www.veocleaner.com and Amazon.

FurZapper – No Effort Pet Hair Remover
Pet owners love their furry friends, but no one loves the hair they leave behind! FurZapper is an easy solution to removing pet hair from clothes, pet bedding, blankets and more. Just toss it into the washer and dryer with your laundry and let it work its magic. This tacky, flexible disc is just sticky enough to gently collect and pull fur, hair, dust and debris from items as they tumble through the cycles. It's non-toxic, re-usable, hypoallergenic and 100% made in the USA. So, if you're tired of washing and drying your clothes and still having to use a lint roller, try FurZapper! Available at www.furzapper.com, Walmart and Amazon.

Stuff 'n Sit – Soft Storage Seat
Families can take control of their kids' stuffed animal collections by wrapping up dozens of them in one comfy pouf ottoman and instantly clean up a room. For older kids, Stuff 'N Sit is a space saver for storing off season clothes and blankets while also creating a stylish seat. Each ottoman is designed with strong, soft cotton fabric and an extra-long reinforced zipper, and comes in a variety of fun colors and prints. The Original Stuff 'n Sit holds 50 toys, the Large 75, and the Extra Large holds up to 90. Your extra throw pillows, blankets, and favorite dress up costumes are all equally stuffable! Make clean-up fun and create an extra seat at the same time with the Stuff 'n Sit! Available at www.creativeqt.com.

TubShroom – Prevent Clogs in All Drains
These magical drain protectors have a cult-following on Amazon for a reason! Shrooms are little gadgets that prevent clogs in all your drains! The shroom's silicone design makes it flexible enough to fit any drain and allows water to still flow freely. The shroom's job is to catch every hair, or every particle, every time. The best part of all is that unlike other drain protectors –the shrooms hide hair and/or other stuff from sight! These nifty little, inexpensive gadgets save you time and money from having to hire a plumber or use harsh drain cleaners chalk-full of scary chemicals. Shrooms are super easy to use and clean too. This means you never have to worry about clogged drains again anywhere in the house including the kitchen. For more information please visit: https://www.tubshroom.com/

The Perfect Sleeve – Ironing Assistant Improves Speed and Outcome
The all-new Perfect Sleeve makes ironing your clothes as easy as 1, 2, 3. This nifty little gadget provides perfectly symmetrical, laser-straight creases when you iron your clothes which will save you time and money from going to the Dry Cleaners. Simply slide in the stainless steel framework into the sleeve of the shirt you are ironing and then there is no need to flip the garment over to do the other side; thereby reducing the time it takes to iron your clothes. Shirts, blouses, sweaters and even pant legs will look like they were pressed by a professional without the expense or time of going to the cleaners! See it in action here: https://vimeo.com/322149081

Duop – One Cleaning Tool Does it All
The Duop is the single gadget that handles dusting, mopping, scrubbing and glass-cleaning all in one. It is so versatile it can be comfortably used to reach high spots via its lightweight, telescoping pole and gets up close by popping the head off to hold the Quick ball handle in your hand. The varied microfiber pads rotate 360 degrees and are removable, washable and reusable. Using Duop means faster wiping and more scrubbing power. The Duop heads clean up to 10 times more area per swipe than rags and sponges. And they keep your hand away from the grime. Duop can be used both damp and dry. Works with water alone or with cleaning solution. When it's dirty peel it off, wash it, and re-use it. More information at https://www.theduop.com/and see it in action here.

ReVent Fans – Preemptive Strike Against Mold & Mildew
What's the best way to fight mold and mildew in the bathroom? Stop it from happening in the first place! Excess humidity and water vapor can lead to mold, mildew, and can crack and peel paint and wallpaper and warp cabinetry, and having a good fan is vital to limiting humidity. ReVent Fans are the first-ever vent fan that can detect humidity levels. The humidity sensing controls turn on the fan when humidity is present and turns it itself off when the room is dry. With a bonus – the shield adds a subtle design look to any room. Visit http://www.reventfans.com.
---
Books
Yoga: A Manual for Life
Yoga: A Manual for Life (Bloomsbury Sport; 978-1-4729-6321-5; on sale January 28, 2020) is by former dancer and expert yoga trainer Naomi Annand. This exquisite coffee table book contextualizes the ancient practice of yoga in the modern world with elegant images and authentic text. A standalone practice companion filled with accessible and easy-to-follow yoga sequences for all abilities, Yoga: A Manual for Life is for anyone interested in yoga, mindful movement and meditation, and exploring how these practices fit within the modern world.
As well as an extensive guide to poses, this book features numerous picture-led sequences with specific targets in mind: to combat stress and fatigue, to ground, to uplift, to inspire creativity and to sleep better. These sequences are underpinned with essays on yoga's relationship with different aspects of life, such as yoga and discipline, yoga and self-care, and yoga and difficulty. Peppered throughout Yoga: A Manual for Life are essays on yoga and mindful "life hacks"—small changes in your life that can have a big impact on your wellbeing. In recent times there has been a great rush in the yoga world to embrace the digital with online classes, apps and web-guides to the practice. Increasingly, though, people are starting to realize the practice isn't particularly compatible with the screen, and that digital guides stop them from being mindful and present in the moment.
Yoga: A Manual for Life is the ultimate guide to taking yoga's message of radical self-care off the mat and into daily life. It is an opportunity for people to turn off their laptops, put away their phones and follow simple, clearly laid out sequences that will truly help them disengage from technology and hone their concentration and focus.
Naomi Annand was a dancer in the Royal Ballet company until her career was curtailed by injury. This traumatic, sudden and very early end to what had been the sole focus of her life since she was twelve prompted her to take herself around the world searching for therapeutic tools to heal her body and mind. It was on this journey that she discovered the extraordinary therapeutic power of yoga, and she has been teaching ever since. In 2012, she set up her own studio, Yoga on the Lane, in Dalston, where, along with her cohort of teachers, she teaches students of all stripes, and runs a highly regarded teacher training program.
---
Healthy As F*ck

The holidays are coming and according to the Calorie Control Council, the average American eats 4500 calories and 230 grams of fat on Thanksgiving Day. How can we combat the temptation to overindulge during the holidays?
Award-winning trainer and author of the new Healthy As F*ck (Sept. 2019) Oonagh Duncan cuts through the wellness clutter and offers a refreshing and gloriously unapologetic conversation about health, fitness and the one thing that separates those who have lost weight and kept it off from everyone else: their habits.
Duncan is a multi-award winning personal trainer and the founder of Fit Feels Good, Inc. She has worked as an Associate Fitness Editor for Chatelaine magazine, a contributing writer for Fitness magazine, and has been a regular guest on CBC's The Goods and The Steven and Chris Show. She has been a keynote speaker at the Metro Toronto Convention Centre, the Diva Girl Conference, and The Canadian Department of Citizenship and Immigration.
Currently, Oonagh helps hundreds of people change their bodies through her Toronto bootcamp company and her groundbreaking online program, The 28-Day Transformation Challenge. This program—the culmination of her fitness expertise—is the basis for the system outlined in HEALTHY AS F*CK
---
Better Selling Through Storytelling
If you haven't launched a podcast for your business, you're missing out on a huge marketing opportunity. When done correctly, a podcast can build your network, attract more clients, and energize sales. John Livesay, host of "The Successful Pitch" podcast, is revealing how to use podcasting as a networking and marketing tool.
"A podcast is a great way to create a loyal base by establishing relationships with your guests and listeners," says Livesay, who has worked with brands like Coca-Cola, Gensler, and Coldwell Banker. "Your program is an extension of your organization's brand. It's an opportunity to display your knowledge and skills, showing why your brand is not just important—but a necessity for consumers."
---
Detoxeliious
Balancing our lives can be challenging. We want more energy, but we are tired of all the latest trendy and fad diets. Detoxification means ensuring your entire body is functioning at an optimal, balance level.
When our bodies are in balance, we feel energized and refreshed. Award-winning market researcher, health coach and certified yoga instructor Dena Dodd Perry has just released her first book Detoxelicious: EASY SOUL FOOD INSPIRED 10-DAY DETOX CLEANSE RECIPES AND FITNESS FOR SUPER BUSY PEOPLE, a self-help food-fitness book that will assist readers make their food-fitness journey easier and delicious.
DETOXELICIOUS is an easy soul-food inspired guide centered on foods that detoxify, fitness and mindfulness. It is a detox 101 resource book that is supported by healthcare professionals which promotes healthy living and healthier food designed to be dairy-free, sugar-free, grain-free, meat-free and carb-free.
To learn more about Dena Dodd Perry, visit her website, www.DenaDodd.com.
---
The Hadley Academy for the Improbably Gifted
Growing up isn't always easy… and most of us aren't tasked with saving the world. From New York Times bestselling author Conor Grennan comes the adventure-packed and highly entertaining fantasy debut for young readers, The Hadley Academy for the Improbably Gifted [October 8, 2019, Harper Collins/Tommy Nelson].
Jack Carlson is dreading a class presentation when he suddenly finds himself transported to the Hadley Academy, a secret institution that tracks teens with unlikely gifts and trains them to protect the world from a secret squad of killers. But Jack isn't the only one who doesn't know what he's doing at Hadley. Despite indications that he is the one prophesied to end the ancient Reaper War, Jack appears to have no extraordinary abilities. When dark, mysterious forces grow, humanity seems to depend on Jack and his new teammates. Can Hadley's rawest recruits push past personal struggles and enormous doubts, develop their dormant powers, and stop the spreading evil?
Grennan's action-packed novel doesn't only captivate readers with a riveting plot, relatable characters, and humorous dialogue; the diverse cast of characters will appeal to a wide audience, including those who sometimes wonder what their own gifts might be.
The Anti-Cookbook
ACB, better known as The Anti-Cookbook is written by two past college roommates and is filled with hilarious stories about them learning to cook, and then teaching their own children how to cook. Most importantly, the Anti-Cookbook shows that creating meals doesn't have to be a daunting task.

The Anti-Cookbook also:
• Breaks down recipes in an easy to follow format
• Shows how cooking doesn't need to be complex
• Reminds us that food is not only nourishment, but a chance to sit around the table, share stories and create memories

Created with the idea that cooking should be fun and NOT difficult, The Anti-Cookbook is filled with easy-to-follow recipes that are yummy and healthy.
The Instant Pot Diabetes Cookbook
THE INSTANT POT DIABETES COOKBOOK, the newest collection of recipes from bestselling author and food consultant Nancy S. Hughes and the American Diabetes Association.
The book features easy and lightning-fast recipes optimized for the Instant Pot, the modern-day answer to the pressure cooker. It features dishes for every meal of the day, and they each follow the dietary standards of the ADA so they're good for the whole family.
A celebrated cookbook author and recipe developer, Nancy has created more than 18,000 recipes throughout the years and is a nationally recognized authority on food and diabetes.
Packed with 'set and forget it' recipes that are both healthy and approachable, Nancy helps readers create classic favorites and refreshing new recipes fast. Ideal for both weeknight meals or large gatherings with families and friends, the 90 recipes included deliver both flavor and efficiency making diabetes-friendly meals a snap.

Each recipe includes detailed instructions that walk readers through every step of cooking with the Instant Pot™ and helpful 'Pressure Points' included throughout help readers understand the unique features of the counter-top cooker. The book also includes cooking times for a variety of ingredients so nothing is under or overcooked, and complete nutrition information for each recipe to make diabetes meal planning easy.

Each recipe in THE INSTANT POT DIABETES COOKBOOK meets the nutrition guidelines set by the American Diabetes Association. It will prove to be a valuable tool for those managing their diabetes and anyone looking to have a healthier relationship with food.
A celebrated cookbook author and recipe developer, Nancy has created more than 18,000 recipes throughout the years and is a nationally recognized authority on food and diabetes.
---
Hilariously Infertile
Stand up comedian and teacher Karen Jeffries has taken a unique take on infertility by poking fun at her own infertility. Karen is the author of the book Hilariously Infertile. She wrote the book based on her experiences with infertility.
The book is a mission to make others who have struggled with infertility, laugh as they stare into the harsh, scary, and often sad world of infertility. Karen knew she had to write the book after being turned down by numerous agents and publishers. Many of whom replied back that infertility is not a big enough market. The bottom line, just like miscarriages, people feel that it is still a taboo subject matter.
That reinforced to Karen that so many people were at home, suffering in silence. So she started writing and took to social media. Karen shares her experiences often with her followers on social media which has over 55k followers and religiously watch her live videos. For more information, visit https://www.hilariouslyinfertile.com.
Rock the Recession
Recession experts Jonathan Slain and Paul Belair are helping savvy business owners make plans now. Authors of the new book, Rock the Recession: How Successful Entrepreneurs Prepare for, Thrive During, and Create Wealth After Downturns, Slain and Belair can get you ready for a recession.
---
Own Your Anxiety
Dating in 2019 is stressful. You scrutinize yourself over every word you text, and every photo on your social media and sites and dating profiles. It's no wonder why personal relationships is one of the most common causes for anxiety—but you can actually use this anxiety to your advantage to snag that final rose.
Julian Brass, celebrity anxiety coach and author of the bestselling book Own Your Anxiety: 99 Simple Ways to Channel your Secret Edge, says embracing your anxious thoughts and actions in the dating scene and beyond can help strengthen your relationship with your loved one—and yourself.
"When you chose to invest in a relationship, and hear the voice of someone who cares about you, anxiety dissipates," says Brass. "That's what it's all about when it comes to love."
---
1,000 Books to Read Before You Die: A Life-Changing List
1,000 Books to Read Before You Die: A Life-Changing List (October 2, 2018; $35.00) by James Mustich is a "treasure chest for book lovers everywhere" (Library Journal, Starred Review) and "the ultimate literary bucket list" (Washington Post) of 1,000 must-read books across genres and eras, each accompanied by a short, thought-provoking description of why the book is essential. A must-have for any personal library, 1,000 Books to Read Before You Die definitively answers the question: "What should I read next?"
Atlas Obscura, 2nd Edition: An Explorer's Guide to the World's Hidden Wonders
Atlas Obscura, 2nd Edition: An Explorer's Guide to the World's Hidden Wonders (October 15, 2019; $37.50) by Joshua Foer, Ella Morton, and Dylan Thuras—Praised as "a joy to read and reread" (Neil Gaiman), Atlas Obscura is a phenomenon of travel books: "Odds are you won't get past three pages without being amazed" (San Francisco Chronicle). Now the best gets better and the weirdest gets weirder with this completely revised and updated second edition that includes 120 new entries that offer readers even more of the most unusual, curious, bizarre, and mysterious places on earth. In addition, the second edition includes a full-color gatefold Atlas Obscura road trip map, with a dream itinerary—and paints a rich panorama of what a marvelously strange world we live in.
How to Raise a Reader
How to Raise a Reader (September 3, 2019; $19.95) by leading book authorities Pamela Paul, who oversees all book coverage at the New York Times, and Maria Russo, editor of children's books at the Times, is an indispensable guide to welcoming children—from babies to teens—to a lifelong love of reading. Written by two women who have not only lived and worked in the world of books but are mothers of three children each (all of them very different kinds of readers), it's filled with concrete practical tips, strategies that work, been-there wisdom, and inspirational advice. Covering everything from tips on how to engage a reluctant reader to how to organize the home to encourage reading and build a library to reasons not to push Harry Potter too soon, it includes a multitude of recommendations for every age, stage and mood.
Outback: The Amazing Animals of Australia: A Photicular Book
Outback: The Amazing Animals of Australia: A Photicular Book (October 1, 2019; $26.95) by Dan Kainen and Ella Morton takes readers on an eye-opening adventure in the land Down Under exploring eight of the country's most fascinating animals. Using Photicular® technology that's like a 3-D movie on the page, Outback whisks readers to the vast, remote world of wild Australia, where they are introduced to some of the better known native Australian animals like the kangaroo and the koala, as well as some unfamiliar creatures like the galah and the peacock spider.
The Atlas Obscura Explorer's Guide for the World's Most Adventurous Kid
In the New York Times bestseller The Atlas Obscura Explorer's Guide for the World's Most Adventurous Kid (September 18, 2018; $19.95) by Dylan Thuras and Rosemary Mosco, curious kids embark on the journey of a lifetime—and see how faraway countries have more in common than ever expected! Travel to every continent on earth to visit the weirdest, coolest, and most off-the-beaten-path destinations from snake island in Brazil to the world's coldest town in Oymyakon, Russia.
Paint by Sticker Kids: Unicorns & Magic
Paint by Sticker Kids: Unicorns & Magic (April 30, 2019; Age range: 5–9; $9.95) is a recent addition to the bestselling Paint By Sticker series, with more than 1 million copies in print and now with glitter stickers! As with paint by number, creation is simple. Find the sticker, peel it, and place it in the right numbered space. This boredom-busting activity book features a dazzling array of magical creatures including an enchanted cottage, a mystical wizard casting a spell, a sparkling mermaid, and more. And with Paint by Sticker Kids: Christmas (October 1, 2019; Age range: 5–9; $9.95) the fun continues. From a sparkling Christmas Tree to a fluffy snowman, this activity book is packed with ten playful illustrations that will get every kid in the holiday spirit!
Guitar: The World's Most Seductive Instrument
Guitar: The World's Most Seductive Instrument (October 1, 2019; $35.00) by David Schiller captures the soul, the significance, the history, the magic, the raw mojo of the guitar in all of its beauty and variety. Here music lovers will find historic instruments—Eric Clapton's Brownie, George Harrison's hand-painted Rocky, Prince's Yellow Cloud, Willie Nelson's Trigger, the Hauser that was inextricably bound up with Andrés Segovia's preeminent artistry, and so much more. Marrying pure visual pleasure with layers of information, Guitar is a glorious gift for any guitar lover. Complete with an irresistible hardcover slipcase, and a die-cut edge that reveals three tuning keys of the spectacular Art Deco–influenced headstock of a John D'Angelico New Yorker acoustic.
Eight Dates: Essential Conversations for a Lifetime of Love
Eight Dates: Essential Conversations for a Lifetime of Love (February 5, 2019; $24.95) by Drs. John Gottman and Julie Schwartz Gottman, coauthored by Doug Abrams and Dr. Rachel Carlton Abrams is a guide to building a strong, lasting relationship from the world's leading marriage experts. Offering empowering ways to discover the love each partner wants and deserves, this extensively tested program of eight fun, conversation-based dates will result in a lifetime of understanding and commitment, whether a couple is newly in love or has been together for decades.
Umami Bomb: 75 (Mostly) Vegetarian Recipes That Explode with Flavor
Americans LOVE umami, even if they don't realize it: From smoky bacon and ketchup-slathered cheeseburgers to anchovy-rich Caesar dressing and buttery garlic bread, umami flavor permeates many of the most beloved dishes. But most people associate the Japanese term for this fifth taste (along with salty, sweet, sour, and bitter) with meat. Now, award-winning cookbook author Raquel Pelzel explores how to bring the savory taste typically characteristic of cooked meats to vegetable-forward dishes in Umami Bomb: 75 (Mostly) Vegetarian Recipes That Explode with Flavor (September 3, 2019; $19.95)