With the holidays just around the corner, we wanted to help you find the perfect gift for those on your list with our annual Holiday Gift Guide. A special thank you to those of you who sent in your holiday gift ideas and suggestions for this season.
If you're looking for a gift idea, our annual holiday gift guide features all of our gift ideas in one place, so you're sure to find something to help you spread holiday cheer near and far:
---
The Happy Planner featuring Disney Princesses Collection
2021 Disney Princess Have Courage Classic Vertical Happy Planner – 12 Months
Cost: $32.99
Purchase here: https://thehappyplanner.com/collections/disney-princess-collection/products/2021-disney-princess-have-courage-classic-vertical-happy-planner-12-months
Have courage. Designed with artwork inspired by strength and courage of Disney Princess characters.
The collection takes inspiration from all 12 Disney Princess characters, creating an enchanted palette of jewel tone hues and whimsical floral prints for a modern twist on the classic stories we all know and love. The Happy Planner journals, planners and stickers are designed to add fun, color and inspiration to your day-to-day routine. Make lists like Cinderella or daydream in your journal like Rapunzel, there's a princess — and a planner — for everyone.
This 2021, 12-month planner comes in The Happy Planner Classic size with a vertical layout. Features monthly calendar pages and weekly spreads with 12 dividers featuring Disney prints. Pages include space for creative planning and scheduling.
12-month dated Classic size planner going from January 2021- December 2021
Classic is the perfect size for a busy planner who also wants space to decorate their spread with fun stickers and sticky notes
Vertical layout blocks make it easy to section off tasks by the day or categorize all parts of your life with your work schedule, home chores, and family duties
12 dividers featuring bold prints and foil accents with artwork and Disney quotes inspired by Jasmine, Mulan, and Belle
Dimensions: 9.75" L x 7.75" W x .5625" H
---
Vitality Extracts
Release your stress! We often underestimate how major stress and anxiety take a toll on our health and we have yet to determine how the pandemic will impact our mental health. What we do know from current studies, if left unmanaged, both can lead to physical ailments such as headaches, digestive issues, skin problems, chronic pain and more. This is where Vitality Extracts – Signature Blend Bundle steps in, to provide essential oils that are pure, safe and free of chemicals. Created by a group of health and wellness enthusiasts, these aromatherapy oils are optimal for natural healing from stress and anxiety. Along with essential oils, the brand makes diffuser jewelry from natural stones so beginner users to expert practitioners can experience long-lasting benefits in an attractive, non-invasive way.
Price: $69.95
---
Clean Republic
Clean home = Clean mind! Cleaning and organizing your surroundings is also a form of self-care. Clean Republic – All-Purpose Everyday Cleaner is committed to making a healthier, safer, and more sustainable world for every single person. Clean Republic has received an EPA endorsement of their Disinfectant + Sanitizer, for use against SARS-CoV-2, the virus that causes COVID-19, as well as MRSA, HIV, and Norovirus. Clean Republic is the cleaning product choice for the San Francisco 49ers, Marriott Preferred Vendor for Marriott & Gaylord Hotels, U.S. Tennis Association, and Colorado Hospital association, among many more organizations and universities. When commercial cleaning companies wanted the same product that worked for hospitals, Clean Republic delivered. When homes and families wanted Clean Republic, we created a Home Strength All-Purpose Cleaner for everyday use, On-the-Go formula, and Hand Cleanser disinfectants to penetrate the cell walls.
---
TerpNutrition
Allow Full Spectrum CBD ease any pain, inflammation, anxiety, and stress! Health and wellness coaches and TerpNutrition – Daily Drops founders, Megan Loda and Ben Pasquel, understand the importance of recovery and have found that full plant medicine works most effectively on our bodies. Normalizing the use of Full Spectrum CBD supplements as a primary recovery product for athletes worldwide, TerpNutrition provides an alternative solution to living a healthy and balanced life with the use of hemp-derived products.
---
Persik
You'll need a cleaning cloth to apply your Clean Republic! Founded in 2013 on the philosophy of Comfortable and Quality Products for the home and kitchen, Persik – Pure Sky Ultra Microfiber Cleaning Cloth only offers products that are well designed, are of necessity, are aesthetically welcoming, and add to the comfort of the home and everyday living. Persik's foundation is to meet its commitment to making premium products for a feel-good home.
Price: $11.99 – $29.99
---
Dreams Aren't This Good
DREAMS AREN'T THIS GOOD craft salsa is now available nationwide at https://dreamsarentthisgood.com/. What started out as a gourmet salsa flying off New York City grocery store shelves is now turning into a full on lifestyle brand with a cult following, complete with a line of DATG merchandise.
A huge music fan, founder Matt Bennett pays homage to pop culture by naming his exotic salsa flavors after his favorite pop songs–The Fighter (garlic cilantro) for the Gym Class Heroes song, Just Dance (jalapeno pineapple) for the Lady Gaga song and Now or Never (avocado pepper) for the Outasight song. Also a New Yorker and design buff inspired by the sights and sounds of his city, he worked with a team of graphic designers to design labels inspired by the colors of the New York City subway system.
DREAMS AREN'T THIS GOOD aims to develop many more flavors and eventually become the "Ben & Jerry's" of salsa.
---
Vena CBD
Everyone can benefit from a little more self-care in their life and nothing scream self-care more than relaxation. Vena CBD developed a variety of CBD infused product bundles that encourage, stress relief, better slumber and most importantly, much needed time for ourselves.
Bundle up and save 40% on Vena CBD's Revive, Restore and Relieve Bundles:
Bring your Mornings to life– Revive ($60):
Rise + Shine
1000mg Tincture
Ease Monthly Discomfort– Relieve ($65)
Wing Woman
Soaking Salts
25mg Gel Capsules
Road to Recovery– Restore ($70):
25mg Gel capsules
750mg Cooling Cream
---
Evive Smoothie Cubes
Delicious plant-based breakfasts are on the rise with Evive – the innovative Canadian brand that's just launched in the US to deliver healthy smoothies straight to your door.
Evive's convenient smoothie cubes make it easy to whip up a nutrition-packed snack, healthy breakfast, or energizing smoothie bowl for a tasty superfood solution. This breakthrough concept lets you simply pop the cubes into your favorite plant-based milk, water, juice, and more, let melt, and shake!
– Made with a carefully formulated blend of high quality organic fruits and vegetables, superfoods, and plant-based protein
– Frozen & FREE delivery straight to your door
– No shopping, chopping, measuring, or blending!
– No added sugar, artificial flavors, or preservatives
– Gluten-Free
– Vegan-friendly
– Non-GMO
Available in 6 unique flavors:
– Asana – Get glowing skin with antioxidant rich cherries, blueberries, acai, and pumpkin seeds
– Aztec – Energize your body and taste buds with pear, cocoa, goji berries, and dates
– Samurai – Protect against free radicals with raspberries, beets, and chia
– Sapphire – Support your brain and glowing skin with spirulina pineapple and baobab
-Touk-Touk – Get carried away with anti-inflammatory sea buckthorn berry, turmeric, coconut, and pineapple
-Yogi – Detox, build, and repair with pear, kale, hemp seeds, and spirulina
Evive is rolling out in New York, Massachusetts, Philadelphia, and Washington to start, with plans to expand nationwide. Also currently available in the Canadian market, Evive already has more than 300,000 clients that enjoy the convenience of delicious smoothie cubes delivered to their door!
Learn more at: evivenutrition.com
---
43 CBD Solutions
43 CBD Solutions is much more than an organic brand. It was a name started by friends looking to spread the idea of a natural product that could help others. Today, it is a family of individuals who joined together to better the health and wellbeing of themselves and the community. It is a name backed by 100% trust and transparency with third-party lab testing, organic oil, sustainable processes, and natural farming. The mission has always been to create high-quality artisan CBD oil that was crafted from hemp grown at local farms in Colorado.
---
VitaFusion
Now is the time to support your immune system, with America's # 1 Gummy Vitamin Brand, vitafusion Power C. Feel good knowing that these gummy vitamins are helping to support your immune system and you'll love the natural tangy orange flavor. vitafusion Power C gummies provide an excellent source of vitamin C – as much as 10 tangerines!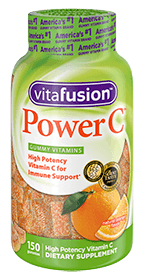 Contains NO high-fructose corn syrup, NO artificial sweeteners, NO gluten, NO dairy and NO synthetic (FD&C) dyes
Winner of the 2018 ChefsBest Best Taste Award. The ChefsBest Award for Best Taste is awarded to the brand rated highest overall among leading brands by independent professional chefs.
---
ErgoFoam
By now, you're intimately familiar with the flaws of your home office. A creaky chair, a too-small desk, a screen that strains your eyes; the mental wear is greater than the sum of its parts. Often neglected is the small but mighty foot rest, a crucial part of any ergonomic set up. And while it's gained popularity as a tool for better posture, too many products on the market fall short of their claims and their price tags.
ErgoFoam is a unique ergonomic footrest designed to support your feet, improve posture, and increase circulation. ErgoFoam was awarded "Best Under-Desk Foot Rest of 2020 by Wirecutter" and named as "the most comfortable and supportive" model of its kind by the New York Times.
Available in varied sizes, ErgoFoam's foot rest offers firm support in the specific position you need, relieving leg pain, offsetting seated load, and reducing back fatigue. Flipped over, the rest becomes a rocker, and your Zoom meeting becomes a chance to infuse some movement in your desk-ridden day.
---
InnoGear
With all the time we're spending at home, we want to keep it healthy and odor-free. The diffusers from InnoGear do just that. They not only humidify your home, but they help remove odors, and with the healing benefits of essential oils, can also work to reduce stress, enhance moods, induce calm, and help relieve congestion.
InnoGear has added two new diffusers to their product line-up – both are available in two beautiful wood grains.
InnoGear Essential Oil Diffuser
Has two mist options (strong and light), as well as a timer
Whisper Quiet
Holds 400 ml of water: the large tank runs 5-6 hours in strong mode and 8-10 hours in weak mode, ensuring all night humidification.
4 Timer settings
Automatic shut-off when the water is out
BPA-Free
InnoGear Cool Mist Humidifier:
7-color changing lights that can be one color fixed.
300ml capacity with powerful mist to provide rapid humidification.
4 Timer settings
Whisper Quiet
Automatic shut-off when the water is out
For both diffusers, just fill the tank, add a few drops of essential oil, and you're ready to go!
Available on Amazon.
---
Kingston DataTraveler 2000 Encrypted USB Drive
The DataTraveler 2000 is designed to be secure, with an alphanumeric keypad that locks the drive with a word or number combination, for easy-to-use PIN protection. It would not just work as a USB storage but also help to protect your kids' homework and school work. It prevents data leaking/document lost so other people won't be able to steal the works you've done and take the credit away from you.It's a safe storage for students to use no matter where they are doing their school work
Key Features include:
Alphanumeric keypad makes it easy to lock your drive
Full Disk AES 256-bit hardware-based encryption
Can be used on any device with a USB 2.0 or USB 3.1 Gen1 (USB 3.0) port
FIPS 197 certified
Administrator (Admin) PIN – Enables Admin access to the drive and ability to issue new User PIN if user forgets PIN
Read-Only Access – Admin can pre-provision a drive with pre-loaded content as read-only for the User
---
Nucleum: 7-in-1 USB
Use the mouse, monitor, and accessories you've grown to love with your new notebook. With a single USB-C hub you can connect up to 7 devices at once and keep your creativity flowing.
The Nucleum has you covered whether you want to connect to a larger monitor or need to offload footage. With the Nucleum you can also power up your MacBook while also running your external hard drive and charging an iPhone.
Below are the key features of Nucleum:
7 ports of potential from one USB-C connection – Ports include: USB-C (power input), USB-C (data), HDMI, USB-A (x2), SD, MicroSD
Add more pixels using the 4K HDMI output
Power delivery pass through to charge your connected device
Small and light, makes it easy to take with you
Designed for content creators with the included SD and microSD slots
---
1MORE Colorbuds
The ColorBuds are packed with features at a low price point of $99.99, including:
Bluetooth 5 technology and featuring aptX and AAC for an optimized listening experience with Android and iOS devices.
Environmental Noise Cancellation (ENC) technology to suppresses ambient noise so your voice remains crystal clear for phone calls.
A lasting battery with each earbud supporting up to six hours of usage and a portable charging case that provides a full day of music playback or talk time. Topping off with fast charge technology means a charge of only 15 minutes will result in an additional 2 hours of use.
Added IPX5 sweat and water resistance to handle everything from workouts to the great outdoors.
Available in 4 colors: Midnight Black, Twilight Gold, Spearmint Green or Sakura Pink
1MORE Stylish Bluetooth Pro Headphones
1MORE Stylish Bluetooth Pro Headphones ($49.99 MSRP) which improves upon the original Stylish Bluetooth headphones with:
Better battery life
IPX5 water resistance
Fast charging capabilities
Magnetic clasping earpieces to form a functional and necklace-like accessory.
As consumers have come to expect with 1MORE headphones, the Stylish Bluetooth Pro are expertly tuned by Grammy-award winning sound engineer, Luca Bignardi, so that listeners hear exactly what the artist intended.
---
Envirosax
Parents need to know about Envirosax bags and how these bags can help college-bound kids live a sustainable and comfortable life while helping the environment. Envirosax bags are a high-quality reusable bag that can match any fashion design clothes you wear and a perfect solution to plastic bags! Lighter than a lipstick, stronger than a suitcase. (https://envirosax.com/)
A perfect go-to bag with unique designs to fit your everyday style. From a grocery shopper bag, traveling bag, beach bag, or just an everyday tote, the Envirosax can fit all. Made from lightweight polyester, our bags are designed to hold more than 44lbs. It's completely water-resistant and folds to 2″, just the perfect size to fit any bag you have.
With a wide range of designs and prints, these bags can sure be a head-turner. Another factor that makes our bags unique is that they are printed using eco-friendly dyes and printing methods. Super strong fabric material that can be washed even with hot water.
Price:
1 bag is $10.99
Pouch (5 bags) is $49.99 (discounted price)

Free shipping for 5 bags and more
Designs: Please check the website for designs available.
Website: https://envirosax.com/
---